Profession
National
Technology
Audit Data Analytics creating a revolution in Canadian auditing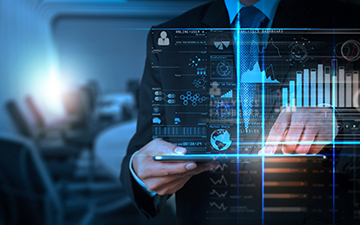 ADAs are making an impact felt around the world
TORONTO, July 4, 2019 – Technology's ability to gather and process information has never been greater, with increasingly comprehensive and complex streams of data generated from all areas of an organization. However, producing data is only useful if it can be used to improve decision making, whether those choices are strategic, financial or operational in nature.
As Kaylynn Pippo, principal of research, guidance and support at Chartered Professional Accountants of Canada explains, "Larger quantities of data alone aren't necessarily valuable; leveraging the tools for analyzing the data is where the value comes in."
That's where Audit Data Analytics (ADAs) are making an impact felt around the world. The use of ADAs is vital in maintaining the relevance of the financial statement audit, while helping to improve its efficiency and effectiveness.
CPA Canada has published several tools and resources to promote awareness, understating and effective implementation of ADAs for the benefit of Canadian accountants. In its Guide to Audit Data Analytics (ADAs), ADAs are defined as "the science and art of discovering and analyzing patterns, identifying anomalies and extracting other useful information in data underlying or related to the subject matter of an audit through analysis, modeling and visualization for the purpose of planning or performing the audit."
What it boils down to is sorting and analyzing massive amounts of data, often in new and useful ways, that profile companies' transactions in ways not possible in a manual audit.
Today, audit teams are already using ADAs for tasks as varied as journal entry and general ledger analysis, to process mapping and tracking customer demographics. As Canadian auditors become more skilled in using ADAs, the possibilities for adding value appear endless.
"There are so many reasons why ADAs are important now and will be in the future," says Nicole Deschamps, senior manager, audit and assurance at Deloitte LLP and a member of CPA Canada's Audit Data Analytics Committee. "They are definitely here to stay and are an important part of how audits are done."
In its recent study, "An inside look at how auditors in Canada are using data analytics," CPA Canada collected the views of CPAs already deeply engaged in the use of ADAs. Virtually all participants use ADAs to perform more precise risk assessments, which inevitably should increase the auditor's ability to detect misstatements, whether they were caused by mistakes or fraud.
Regarding the benefits of using ADAs, they reported:
• ADAs improve identification and assessment of risks of material misstatement and contribute to the performance of substantive procedures when the data volume is large.
• ADAs provide management with useful insights as a by-product of the audit since they may involve looking at entire data populations.
• ADAs provide the audit committee with useful insights from the audit while meeting stakeholder expectations.
The study concluded that the "use of ADAs will be a key factor in enhancing the relevance and value of the financial statement audit and in continuing to improve audit quality … auditors, regardless of their firm size, are encouraged to:
• continue learning about ADAs;
• ensure they (or their team members) have the appropriate skills/training to execute ADAs;
• start using ADAs in their audit engagements today (if they are not already doing so) and/or continue to push the boundaries in exploring new ways of using ADAs; and
• identify and speak up about challenges encountered when using ADAs in the financial statement audit."
Of course, for some people, technology means change and with change comes uncertainty — and, in some cases, fear. Some auditors are still trying to get a handle on how to properly apply ADAs, even though some of their clients are already using analytics internally. To keep up with the pace of change and meet clients' rising expectations, it's clear auditors need to forge ahead in applying ADAs. "ADAs can really play a role in providing value to clients and I think many clients are expecting that added level of service," says Pippo.
That won't diminish the role of auditors if they purposely transition away from extensive manual testing, and leverage technology to better analyze and present all this rich and growing data and information. CPAs can ride the Big Data wave to become even more highly valued contributors to organizational success and healthy capital markets. Using ADAs is the key to unlocking this potential.
"Ultimately, it's about continuing to move the bar forward and challenging yourself to use ADAs," says Deschamps.
Perry Jensen is manager, media relations, at Chartered Professional Accountants of Canada (CPA Canada). To support its members and others in this area, CPA Canada has compiled several tools and resources to promote awareness, understating and effective implementation of ADAs at cpacanada.ca/dataanalyticsinaudit.