Business
National
Profession
Editorial: Morneau out, Freeland in as Trudeau cuts his losses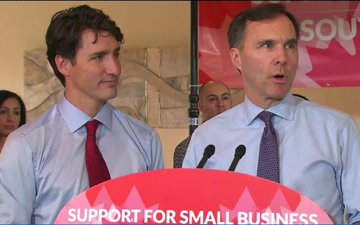 To many Canadian accountants, Morneau would be an ideal, high net worth client
TORONTO – Well, it finally happened, even if it took two years too long. On Monday evening, Toronto-based Member of Parliament Bill Morneau announced that he was stepping down as Finance Minister, saying that he has never intended to serve in more than two federal elections, and that he plans to run for head of the Organisation for Economic Co-operation and Development (OECD).
The announcement came two years after Canadian Accountant predicted (back in 2018) that Morneau would be shuffled out of Cabinet. "No other minister in the Trudeau government had as much impact — most of it negative — on the accounting profession in 2017 as the current finance minister," we wrote. "His failure to implement Justin Trudeau's campaign platform of tax reform damaged the Liberal government and Morneau himself. Watch for Morneau to be quietly shuffled into another Cabinet post (international trade?) this spring."
The mystery is why it took so long in the first place. Selling his party's platforms and policies was never a strong suit for the milquetoast Morneau. His media appearances were bland affairs, during which the aloof Morneau — whom colleagues defend as a nice person — never demonstrated passion or commitment and never seemed at ease with the media. Nowhere was this more evident than in 2017, when the Liberals had an opportunity to enact real tax reform, and fumbled the ball through mixed messages and self-inflicted wounds.
The accounting profession and tax practitioners mounted a serious and ultimately successful campaign against the tax changes in 2017. But the real damage was done by Morneau himself. Morneau's ethical problems as finance minister were legion — and they all had to do with money.
The wealthy Morneau inherited a successful family business from father Frank Morneau and, to his credit, grew Morneau Shepell through mergers and acquisitions. The bad optics began in 2015 with the Morneau family selling company shares just prior to a major tax change announced by Morneau himself.
Then came the news in 2016 that Morneau Shepell had a (completely legal) subsidiary in the tax haven of the Bahamas. At the height of the tax reform campaign in 2017, came the news of Morneau's villa in the south of France — owned by a shell corporation. And finally, the news this year that Morneau had close ties to the WE Charity, accepted an all-expenses paid trip to Ecuador, and did not recuse himself from the government's decision to award a $900-million contract to WE.
Ironically, to many Canadian accountants and tax lawyers, Morneau would be an ideal, high net worth client, with an avid penchant for shell corporations and corporate treaty shopping. But to the Canadian middle class, Morneau is more likely viewed as a hypocrite, a virtue-signalling, self-serving member of the infamous one per cent — just the kind of person the Liberals had promised to target through the catch-all political slogan of "Real Change (Now)."
The idea that Bill Morneau could be head of the OECD — which has spent the last three years working on domestic tax base erosion and profit shifting (BEPS) — is frankly laughable.
Enter Chrystia Freeland as Canada's first female finance minister. Freeland is a political rockstar, a pugnacious, charismatic personality who battled (some would say bested) Donald Trump to a draw during NAFTA renegotiations. As a journalist, her focus was on the dangers of plutocracy. In short, the exact opposite of Bill Morneau.
But it will be interesting to watch what the Liberals do from here. The Liberals won the last election with a promise to fight climate change. Rumour has it that Morneau was opposed to green economic initiatives. With Canada's big banks heavily invested in the oil patch, that sounds plausible. But Freeland, born and raised in Alberta, is not aligned with the more progressive voices of the party either.
Politically, Morneau was, in the technical jargon of economists, a "sunk cost." Following the WE Charity fiasco, his value as a politician was irrecoverable. But the Liberals are still leading in the polls and apparently have Mark Carney waiting in the wings. Now was the time to cut Morneau loose. Even if it was two years late.
Editorial opinion by Canadian Accountant.