Profession
National
Management
St-Jean to replace Thomas as head of Canadian accounting profession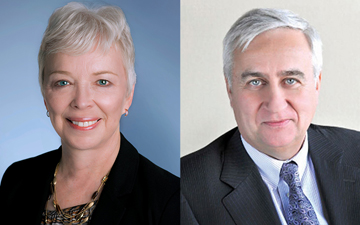 CPA Canada has announced the appointment of Charles-Antoine St-Jean its new president and CEO, replacing Joy Thomas
TORONTO, June 23, 2020 – In a statement released Tuesday evening, Canada's national accountancy organization, the Chartered Professional Accountants of Canada (CPA Canada), announced the appointment of Charles-Antoine St-Jean, FCPA, FCA, as its new president and CEO, effective July 20, 2020. St-Jean will replace Joy Thomas, FCPA, FCMA, who has served as president and CEO of CPA Canada since 2016.
Thomas' four-year tenure as head of the Canadian accounting profession was marked by a mix of turbulence and accomplishment. Barely one year into her new role, she was required to testify before the 2016 Commons finance committee hearings into offshore tax evasion schemes, a period of intense scrutiny of the tax profession and its ethics.
Thomas then guided the accounting profession's largely conservative membership base through a period of corporate social responsibility and sustainability initiatives as well as a push to reform the Income Tax Act. In the past year, however, CPA Canada has faced intense criticism and negative media coverage over the failings of the September 2019 Common Final Examination, and the recent cybersecurity breach and theft of member data.
According to CPA Canada, Thomas informed the Board in 2019 of her desire to transition out of her role, "having dedicated close to 25 years as a senior leader within the Canadian accounting profession." Early in 2020, the Board engaged an executive search firm and began an extensive search, culminating in the selection of St-Jean.
"The Canadian accounting profession has grown stronger and more relevant because of Joy's contributions," explained CPA Canada Board Chair Amanda Whitewood, FCPA, FCMA. "We are all proud of the significant role Joy has played in strengthening and growing the profession both here in Canada and internationally."
In its press release, CPA Canada stated that "Thomas played a crucial role in unifying Canada's three long-standing legacy accounting designations under the CPA banner. Under her leadership, CPA Canada has strengthened its influence with the federal government and internationally. With Joy at the helm, the organization also launched the Foresight initiative — an ambitious consultation effort with leading stakeholders to help shape the future of the accounting profession."
St-Jean extensive public sector experience
A legacy chartered accountant, St-Jean joined Ernst & Young LLP (then Clarkson Gordon) in 1976, building a portfolio of notable public sector clients such as Canada Post Corporation, the Canadian Broadcasting Corporation and the Canada Customs and Revenue Agency. In 2004, Prime Minister Paul Martin appointed St-Jean as the new Comptroller General for Canada, a position that was re-established in 2003 after the "sponsorship scandal," a series of illegal contributions to the Liberal Party. In 2007, after serving as the Comptroller General of Canada for three years, St-Jean rejoined EY in the fall of 2007.
St-Jean has served as Chair of the Public Sector Accounting Board of Canada since 2017. In 2019, Ontario's Conservative government appointed him as Chair of the Corporate Audit Committee, which was tasked with finding government waste and duplication. The appointment became controversial, however, when it was learned that St-Jean would be receiving $2,500 per day in compensation, a 67 per cent pay increase over his predecessor under the former Liberal government.
"Charles-Antoine comes with an exceptional track record and has the leadership and professional skills the Board believes are required to lead CPA Canada forward," says Whitewood. "He will work with CPA Canada's strong internal team and the CPA bodies across Canada and Bermuda, bringing a fresh perspective as we tackle the challenges the profession faces today and in the future."
Said St-Jean, "I am honoured and humbled to take the baton from Joy and to continue to build on the success of what is a trusted, respected and influential organization. I can draw upon my past experience as it closely aligns with CPA Canada's mission and mandate and it provides an excellent platform from which to move forward."
Outgoing president and CEO Thomas stated, "After more than 20 years of working within this incredible profession, I cannot think of a better way to exit than with the knowledge that Charles-Antoine is taking over the helm as CEO. The Canadian accounting profession has earned a stellar reputation globally and we are well poised to be leaders in shaping the future. Our best is yet to come."
Colin Ellis is a contributing editor to Canadian Accountant.