Practice
Culture
Management
MNP scores again on Canada's Best Employers List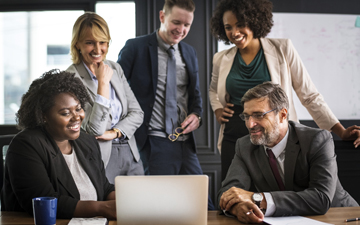 Why don't more accounting firms make the best employer list?
TORONTO, November 8, 2018 – Canadian accounting firm MNP LLP has been named one of Canada's Best Employers by AON Human Capital for the 11th consecutive year. The mid-tier national firm is the only accounting firm to rank in this year's list and one of the few accounting firms in the annual ranking that began in the year 2000.
MNP Credits its "Different by Design" approach for its positive work environment. "As an entrepreneurial firm, we never set limits on what can be achieved, or which direction team members want to take their career," says Karen Cooper, vice-president of human resources, MNP.
"Different by Design is a philosophy that is deeply rooted in our culture. MNPers are as diverse and unique as the communities we live in and the clients we serve," explains Cooper. "Our team members have given us the perspectives, insights and ideas that have helped us to become the fastest growing national professional services firm in Canada."
MNP was one of five companies that placed in the Gold Level, which awards companies in the 67-75 percentile of all companies that Aon surveys. It performed strongly in the collaboration, work tasks and employment brand categories.
"We believe that when you are passionate about your career, you are more innovative, effective and provide the best experience to the highest standards for clients," says Jason Tuffs, chairman and chief executive officer, MNP LLP.
MNP also supports its team members through its balanced lifestyle approach. In addition to MNP's commitment to creating a fun and gratifying work environment, the firm is fully invested in strengthening the communities where we live and work from coast-to-coast. Through community giving, volunteer efforts and sponsorships, MNP is continually seeking new ways to get involved and create a positive impact.
The homegrown national firm, which is based in Calgary, first placed on the list as Meyers Norris Penny LLP in 2009. The rebranded MNP LLP is now the largest mid-tier firm in Canada, having expanded eastward into central Canada. The rarity of an accounting firm placing on the annual list, let alone 11 years in a row, is a testament to the culture at MNP.
It's not unusual for law firms such as Bennett Jones, Stikeman Elliott, and Gowling WLG to place in the annual rankings. A Big Four firm has not made the list since 2009 (Deloitte & Touche LLP) or Ernst & Young LLP in 2004.
"We are exceptionally proud to have our firm recognized," says Tuffs. "This award highlights that through our commitment to our people, we continue to stand apart when it comes to attracting and retaining both team members and clients."
By Canadian Accountant staff with files from Aon Human Capital.