Profession
Practice
National
MNP Leads All Canadian Audit Firms in 2016 New Clients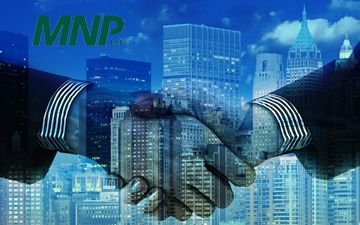 PwC leads in new clients by market cap and audit fees, says Audit Analytics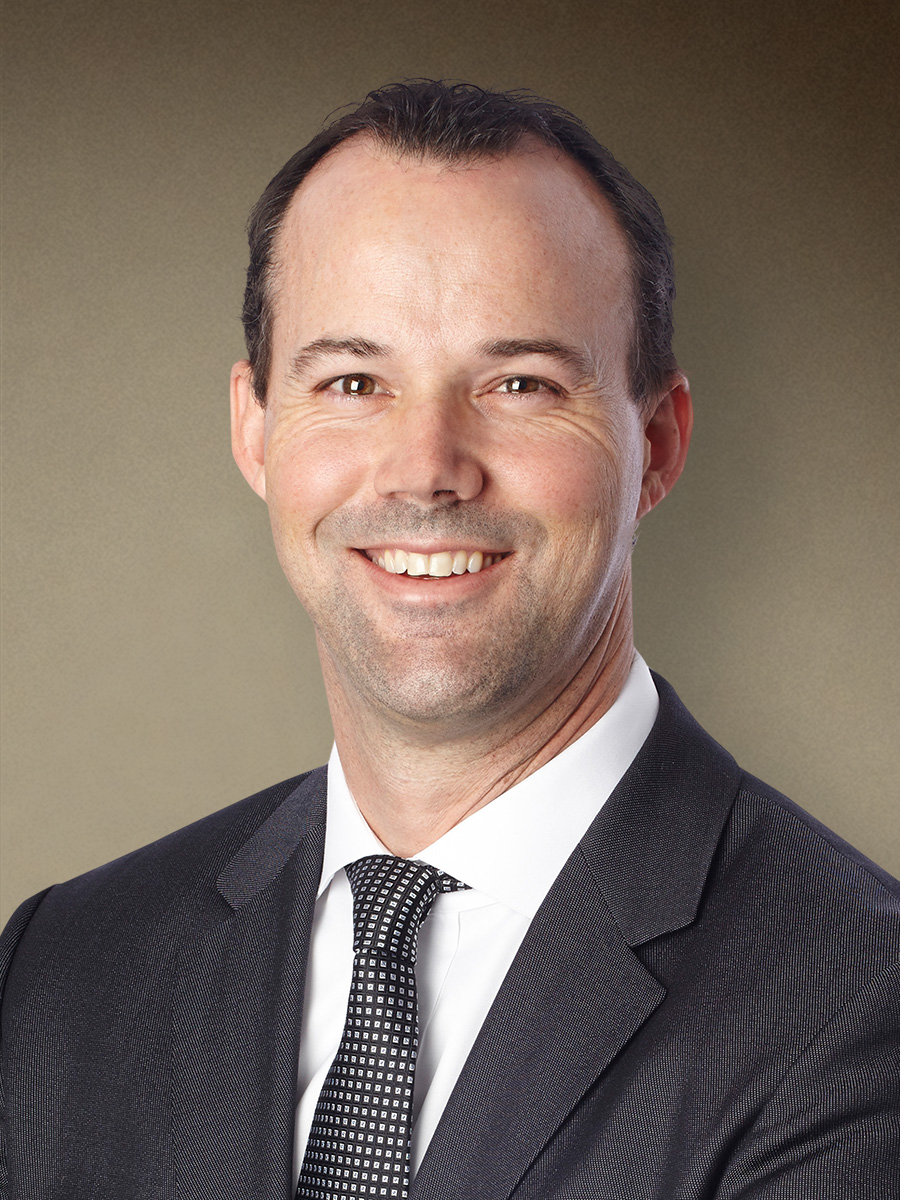 Jason Tuffs, Chief Executive Officer, MNP
TORONTO – MNP LLP of Calgary continues to build its presence nationally, leading all Canadian auditing firms by netting 35 clients out of 50 new engagements, according to SEDAR analysis provided to Canadian Accountant by Audit Analytics ("2016 Client Gains & Losses").
"We're very pleased with this ranking as it reflects MNP's commitment to continually provide high quality audit services to our clients," said MNP chief executive officer Jason Tuffs.
Following closely behind MNP was Vancouver-based Dale Matheson Carr-Hilton LaBonte (DMCL), which netted 32 clients overall on 37 new engagements. "Our audit group is pleased to rank second in Canada," said the firm in a group statement. "We strive to provide high-quality assurance services that deliver true value and underpin stakeholder confidence."
Another Vancouver-based firm, Davidson & Company LLP, netted 16 clients on 31 new engagements. Toronto-based UHY McGovern Hurley LLP netted 13 clients on 14 new engagements.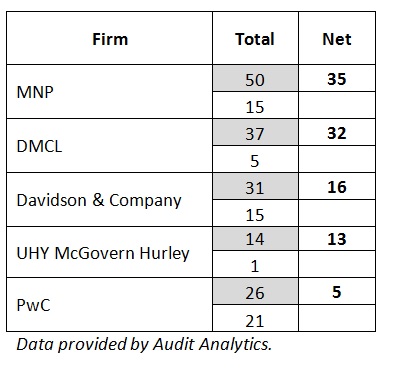 PwC scores a big client in ARC Resources
Among the Big Four, PwC had the most successful year in gaining new clients, netting five clients overall from 26 new engagements. That allowed PwC to dominate the annual rankings of new audit fee totals and new audit clients by market capitalization, at $4.5 million and $12.3 billion respectively (all figures in Canadian dollars).
ARC Resources, a Calgary-based oil and gas company, was a significant addition to the PwC roster. Its $8.1 billion market cap was almost twice as much as the rest of PwC's new clients, earning twice as much in audit fees as the company's second largest billing.
KPMG scored Calgary-based Baytex Energy as its biggest company by market cap, while EY brought on small-cap company Sierra Wireless.
MNP continued its impressive run by placing fourth in new market capitalization and second in new audit fees, as its 50 new engagements accounted for $472.6 million and $3.1 million respectively. Its new clients ranged widely from energy and mining companies to tech, media and investment firms.
Small cap mining and resource companies dominated the list of new audit clients at DMCL, Davidson & Company, and UHY McGovern Hurley.
The full report from Audit Analytics will be available on August 21 at www.auditanalytics.com/blog. That reports lists gains and losses from the top seven firms in Canada and from which firms they were acquired. We will issue an update to our readers when that report is live.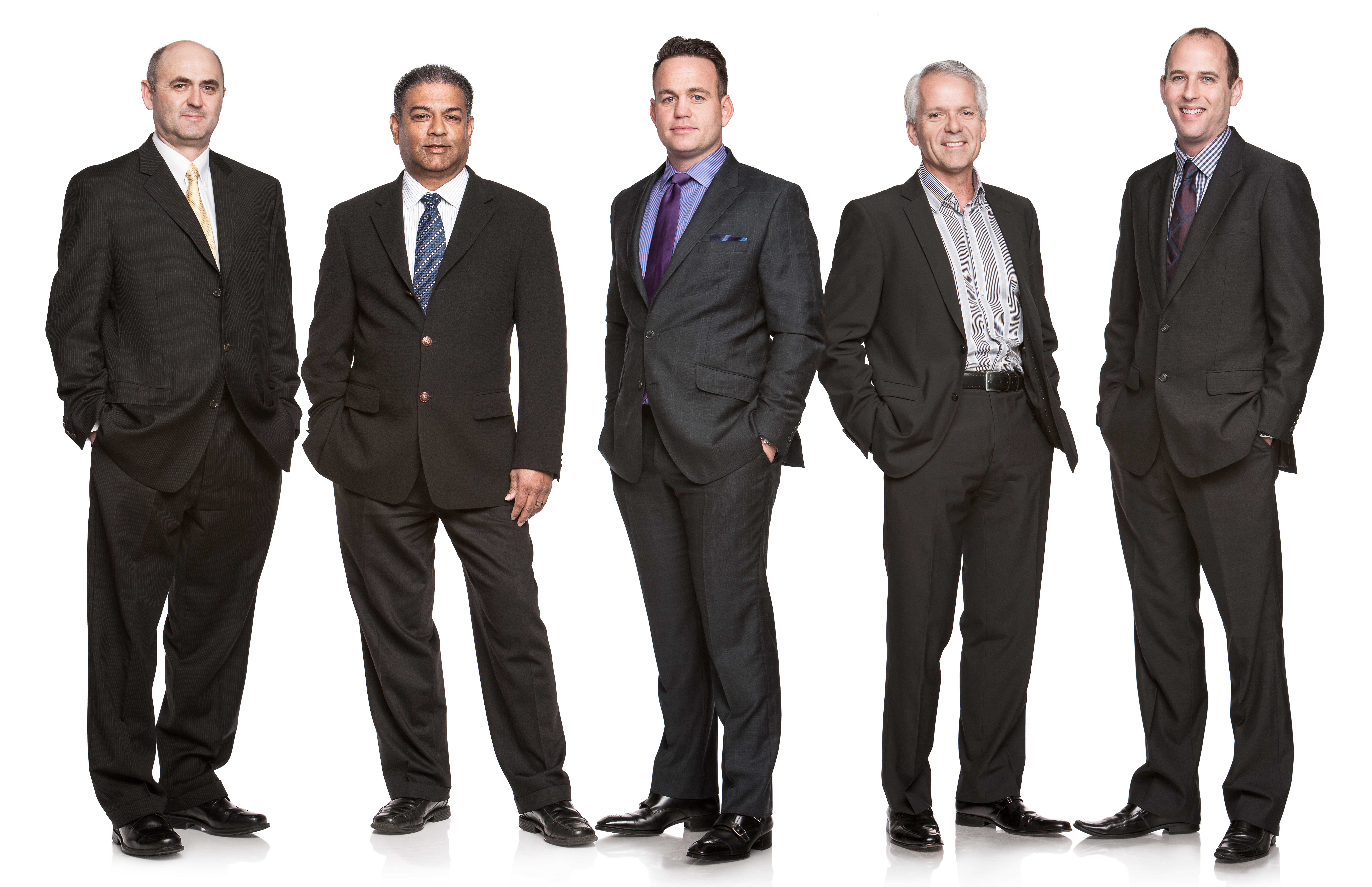 Left to right: DMCL partners Barry Hartley, Rakesh Patel, David Goertz, Reginald LaBonte and Matthew Gosden.
2016 Client Gains and Losses are provided by Audit Analytics, which provides insight into the Canadian audit marketplace through market intelligence, due diligence, compliance monitoring and trend analysis. Its Canadian databases provide detailed research and expert analysis on nearly 4,000 companies filing with SEDAR. Contact them at 508 476.7007, info@auditanalytics.com or www.auditanalytics.com.
Colin Ellis is the editor-in-chief of Canadian Accountant. By subscribing to our free special reports, you receive early access to articles such as these, prior to publication.