Practice
Management
Culture
Shifting to virtual: 3 tips for providing feedback to virtual accounting teams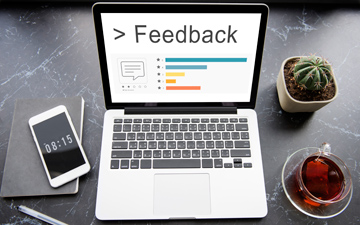 Structured performance feedback is vital to virtual teams, says Sofia Arisheh
Editor's Note: This post is the first article in a series, Shifting to virtual: Best practices for managing a virtual workforce, focusing on human resources strategies for accounting firms that are transitioning to virtual workplaces. Links to the other posts are provided at the end of this article.
Langley – As we continue to navigate the tricky waters of COVID-19, many accounting firms are now changing the way in which they do business, transitioning from the traditional approach of working in a physical office environment, to the new reality of working virtually. This requires a shift in mindset and the ingenuity to continue to execute on leading and managing people — successfully and seamlessly — especially when providing feedback to virtual teams.
Providing face-to-face feedback to employees is tricky enough. When done virtually, it's an art form, adding a heightened level of complexity to the exchange. The challenge becomes giving feedback that is honest and direct — both positive and constructive — that motivates team members to action feedback and elevate performance. This is no small feat with virtual performance feedback.
So how do we give feedback virtually? Here are three tips to double down on the fundamentals of giving feedback to virtual teams.
Utilize video
Video is the next best thing to face-to-face feedback. It is a platform that allows us to continue to engage in conversation and gauge voice, tone and body language. This leads to more meaningful dialogue, strengthening the connection between you and your teams.
Make sure the meeting time is appropriate, considering time zones and/or work-from-home commitments.
Send out an agenda ahead of time with the purpose of the video call, outlining the specific file(s) you will be providing feedback on.
Set up the video call, ensuring that video and audio work and that the environment maintains confidentiality, limiting any distractions.
Be aware of your body language, remaining focused on the screen and the conversation.
Have a clear outcome and be clear on expectations moving forward, answering 'what's next?'
Set-up regular check-ins
"No news is good news" is a philosophy that will quickly erode your feedback culture. Feedback that is frequent and ongoing is an integral component to building a culture of continuous feedback, trust and communication, minimizing performance surprises and preventing big misses. This becomes even more paramount in the virtual workplace. Ultimately, employees want to perform well, improve, grow and develop. To do this, they need support and regular check-ins to discuss their performance, goals, progress and future plans.
Set up recurring one-on-one weekly check-ins (preferably video calls), providing ongoing opportunities to have conversations on performance and development.
Encourage team members to direct the weekly conversations, taking ownership of their learning and growth
Record notes or discussion points, allowing you and your team members to virtually access and reference actionable commitments and track progress accordingly
Create a feedback habit
Feedback, good or bad, needs to be effective and frequent. As we manage the day-to-day, we tend to take team members' performance for granted, often neglecting to give accolades for a job well done. According to Gallup studies, employees who received positive feedback were 3.9 times more likely to be engaged. By reprogramming the way in which we give feedback, going above and beyond the necessary processes, timelines and paperwork, to a more frequent feedback methodology, we reap the rewards. Namely, a higher engagement rate, improved productivity, lower turnover rates and greater profitability.
Establish peer-to-peer recognition channels virtually, empowering team members to do great work and be recognized.
Build in a 'kudos' section into your running agenda, whether one-on-one or team virtual meetings, promoting a culture of continuous feedback and recognition.
Leverage technology to recognize performance, using chat, instant messaging, video and audio conferencing and emails.
Accounting firms are being forced by current circumstances to rise to the unique challenges of leading a virtual workforce. If we want to continue to amp up engagement and productivity of our virtual teams, we need to give feedback, both effectively and frequently, tailoring the delivery to meet the complexities of a virtual environment.
Sofia Arisheh is principal of Upskill Consulting, a boutique human resources firm located in Langley, British Columbia, specializing in professional services and providing HR consulting and training to small to mid-sized accounting firms. Read all the articles in this series (to date):
Shifting to virtual: Best practices for managing a virtual workforce
Part One: Shifting to virtual: 3 tips for providing feedback to virtual accounting teams
Part Two: Shifting to virtual: 3 tips for onboarding new hires virtually
Part Three: Shifting to virtual: 5 tips to conduct effective virtual meetings
Part Four: Shifting to virtual: 4 tips for transitioning in-person training to virtual learning
Part Five: Shifting to virtual: 3 tips to foster and promote team collaboration