Profession
National
Practice
Accounting industry resilient, surpasses pre-pandemic levels: StatCan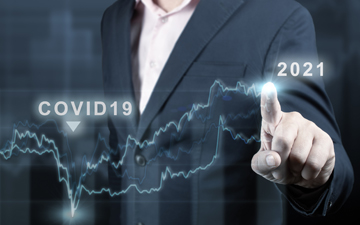 The accounting, tax preparation, bookkeeping and payroll services sector posted modest but stable revenue growth in the past three years
TORONTO, July 22, 2022 – While many service industries suffered through the economic downturn of the 2020 pandemic year, the Canadian accounting industry posted positive growth and has emerged stronger in the post-pandemic economy. According to a new study conducted by Statistics Canada, which cites Canadian Accountant as one of its references, the 2021 revenue of most professional and administrative services industries analyzed surpassed pre-pandemic levels, including accounting, tax preparation, bookkeeping and payroll services.
The Canadian accounting industry proved remarkably resilient during the first year of the pandemic. While many industries posted steep revenue declines, the accounting industy was one of just four out of 12 cited in the StatCan study to post positive growth. The accounting industry posted a 2.6% increase in revenue for 2020, which was more than engineering services but lagged software publishing and the data processing industries.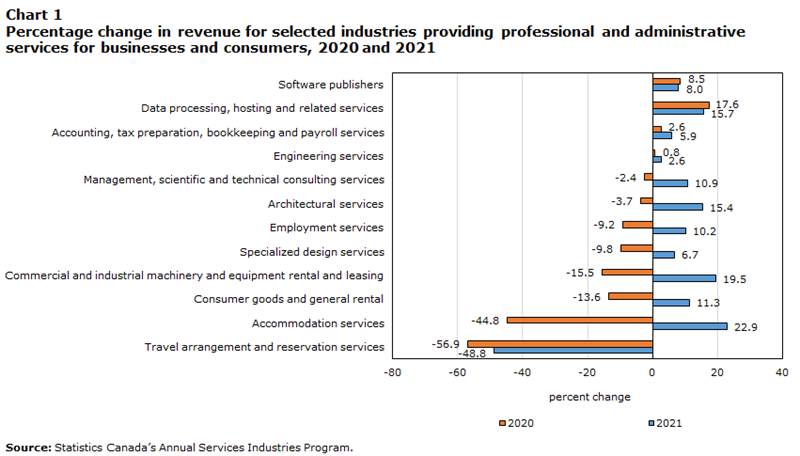 The accounting services industry posted modest, stable growth throughout the pandemic and post-pandemic economy. Click on image to enlarge. (IMAGE: STATISTICS CANADA)
As borders closed and Canadians stayed indoors, the travel and reservation sector posted a 56.9% loss in revenue during 2020, the worst performing of the professional and administrative service sectors. At the other end of the spectrum is the management, scientific and technical consulting services sector, which experienced a modest downturn of 2.4% in 2020, and bounced back by double digits in 2021.
According to StatCan, "Some changing trends likely helped the [accounting] industry progress through economic volatility, shifting tax deadlines and government support programs. Over time, this industry has been expanding into non-traditional lines of business, such as advisory and consulting services. Furthermore, as the pandemic forced changes in typical business models, many accounting companies adapted their operating methods (work from home, virtual interactions and cloud-based efficiencies)."
Accounting services industry posts stable growth post-pandemic
As the StatCan study notes, the Canadian economy has been beset by a number of post-pandemic business obstacles, such as supply chain disruptions, labour shortages, skill gaps and inflationary pressures. Despite these challenges, however, the accounting services sector posted 5.9% revenue growth in 2021, the second lowest growth out of the 12 service industries studied by StatCan.
This suggests that growth has been slow in the accounting profession post-pandemic. Only engineering services posted lower growth, and even the travel services sector — beset by multiple challenges — posted a higher increase in revenue than accounting. While the bounce back is occurring at varying speeds and is still far from complete in some sectors, the 2021 revenue of most professional and administrative services industries analyzed in the StatCan study surpassed pre-pandemic levels.
The accounting services sector posted the fourth highest revenue increase of the 12 sectors in terms of percent change relative to pre-pandemic levels seen in 2019. As the study notes, "In general, an accommodative monetary policy, a resurgence of business non-residential investment and an economy-wide recovery helped selected service industries surpass their pre-pandemic revenue levels in 2021."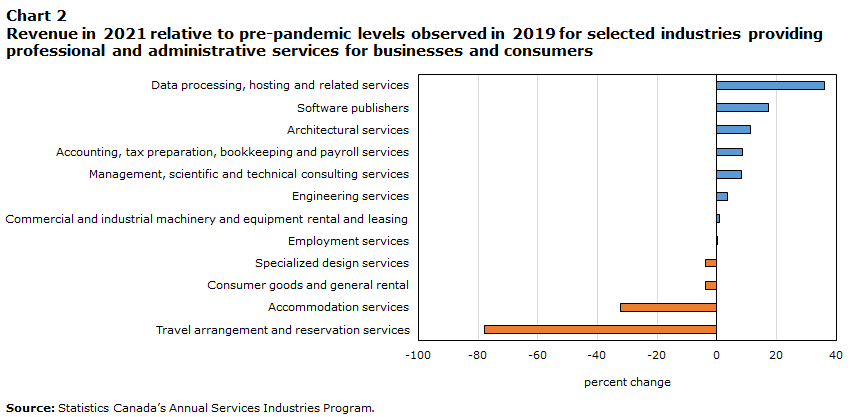 The accounting services industry posted the fourth highest growth from pre-pandemic levels of the 12 sectors analzed in the study. Click on image to enlarge. (IMAGE: STATISTICS CANADA)
Economic challenges continue, however: "Technological and digital advances are playing a role in alleviating some of these challenges, but price and labour pressures are priorities for many businesses operating in the service sector." While the accounting services sector has not seen the lucrative revenue growth of the software publishing and data processing industries, it has proved resilient in tough economic times, and has emerged post-pandemic with stable, albeit low, revenue growth.
Colin Ellis is a contributing editor to Canadian Accountant. Read Forging ahead during the pandemic: How selected service industries bounced back in 2021, by Marie-Christine Bernard, Vivian Lin, Shannon O'Brien and Marie-Élisabeth Pires.