Profession
Practice
Strategy
COVID-19: How SME accounting firms will change post-pandemic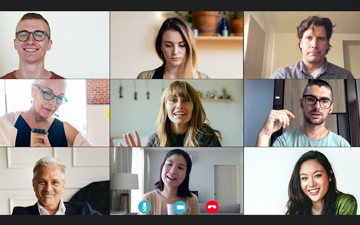 The fifth and final story in our series on how the coronavirus crisis is accelerating change at accounting firms across Canada
OTTAWA – From online communication to working from home to paperless workflows, the COVID-19 pandemic is accelerating change at small to medium-size accounting firms across Canada. But post-pandemic, what kind of permanent change will occur after this crisis has passed? In this, the fifth and final part of our five-part series focusing on sole practitioners and SME firms, Canadian accountants say the changes already underway prior to this crisis are most likely to be further embedded into practitioners' future routines.
Steven Flynn, a partner with Andersen Tax LLP in Vancouver, believes the options for remote client and staff interactions represent a viable long-term arrangement for the future of his office. For firms in large cities, there are advantages, in addition to the technology, for staff who don't live close to the office because it cuts down on commute time, which provides greater family flexibility.
Social distancing and office space
Flynn notes that, while there could be financial advantages associated with more staff working from home, there are other factors to consider. For example, while it may appear that less space is required in the office for fewer employees, that might be offset somewhat if social distancing is going to become more permanent. Workspaces may need to become more spread out.
Over the long term, employers are going to have to examine the office space they have and question whether in-office employees are comfortable. The challenge will come, Flynn says, as firms ponder questions like, "'How much is the right space? And what kind of layout should you have?' It will make a big impact," he predicts, noting that such questions are already under consideration by the firm's partners.
Jason Kingston, a principal with DSK LLP in Kitchener, Ont., believes there could be long-term changes resulting from the Covid-19 adjustments, including an increased percentage of clients who want to continue to conduct business electronically.
"We didn't have a lot of adjustments to make," says Kingston of working during the pandemic. "We already had the portal system in place. We already had DocuSign set up, though CRA only gave us permission this year to actually use that. So this year with COVID we asked clients to choose the electronic option. I think a lot of them, when it comes time next year, are going to say 'That was easy. Let's do that again,'" predicts Kingston.
He also believes that having more staff working remotely from home is a viable long-term arrangement for the future. "We were already partially doing it. I think this forced a few staff members who had not really expressed any interest in working from home. We asked them to, so they did, and I know in a couple of cases they've actually quite enjoyed working from home. So they may ask to continue to do so when things get back to normal," Kingston says.
DSK was previously considering increasing office size in Kitchener and Cambridge. But having more staff work from home "may allow us to put those plans on hold," he says. "Production's been there. Workflow's been there. Communication. I see no reason why we wouldn't allow that to continue if that's their preference," he adds.
Small firms and sole practitioners
Catherine Barrie, a sole practitioner in Barrie, Ont., explains that geography — for firms in smaller cities or clients in remote areas — also also plays a role in terms of dictating the technology that will work best in firm-client interactions. "As time goes on and we utilize more cloud-based technology, it gets easier to do more work from home. But we would need to invest in better technology. Many people living in rural areas still don't have high-speed Internet. Our telephone system would need to be updated so people could work off-site and sound like they were there," Barrie says.
But, for the foreseeable future, most of the staff will continue coming into the office, as clients will eventually need to once again access a physical location where they can come and meet with the staff and know they are there to help them, she explains. "I think once things are able to get back to normal — or whatever normal is going to look like — things in my office are going to look a lot like they did prior to this," predicts Barrie.
"We may make some different decisions about software and telephone systems as we replace things. Some of our clients may prefer to use the Internet to conduct business with us now that they know it is possible. However, our business, like many others, is based on having good client relationships. We need to be available to our clients and many people need face-to-face meetings to maintain close relationships," she elaborates.
The personal touch is still important
Even though technology and other factors have irrevocably changed the traditional paper-based accounting office, there is agreement among Canadian accountants that the personal touch is never going to go out of style.
"I think the one thing we need to be cognizant of as business owners is even though we have all these great electronic and remote tools that allow us to do more work with less personal interaction, it really is that interaction that builds the relationship with the clients," says Kingston. "If we just become the other end of an email address or the other end of an electronic portal, that's not really a relationship.
"So that's something that is very much in my mind — that a special effort should be taken with the clients I don't connect with personally this year or next year because of COVID — to make sure we do connect with them once we're back to normal," he stresses.
Larry Hemeryck, a sole practitioner in Simcoe, Ont., says most of his clients are already looking forward to personal meetings resuming next year — in fact, two have already enquired about appointments in April 2021!
"Clients often emphasize that they appreciate the time we take for them. In the 1970s and 1980s and even into the 1990s, we were on the road visiting clients probably half of tax season. That has dwindled down to help us become more efficient, but at the cost of being less personal. Our strength is in client relationships," he says.
Jeff Buckstein, CPA, CGA is an Ottawa-based freelance business journalist. Image by rawpixel.com. This article is the first in a series on accelerating change in Canadian accounting offices. Read the full series in order:
Part One: COVID-19 is accelerating change at Canadian accounting firms
Part Two: COVID-19 pandemic promotes paperless public practices
Part Three: WFH: COVID-19 is accelerating remote work at accounting firms
Part Four: COVID-19: Accounting firms are finding efficiencies amidst disruption
Part Five: COVID-19: How SME accounting firms will change post-pandemic