Global
Business
Profession
As Big Four consulting grows in China, Canada struggles with audit access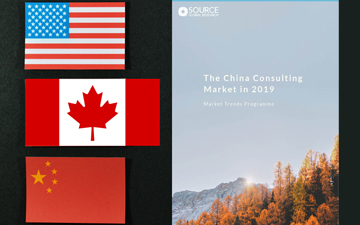 Accounting firms reap revenue as regulators rail against lack of transparency
TORONTO, November 7, 2019 – The Big Four accounting firms are reaping consulting revenue in China at a time when audit regulators are struggling to achieve audit transparency. That's the key takeaway from reports released recently from Source Global Research and Canadian Public Accountability Board.
The advisory revenues of the Big Four accounting firms have passed US$2bn in China according to The China Consulting Market in 2019, a market trends programme just released from Source Global Research. While the Chinese consulting market grew by 13.4 per cent to almost US$6bn in 2018 (US$5.98bn), revenue growth from the consulting arms of the Big Four (Deloitte, EY, KPMG, PwC) outperformed the market, with revenues increasing 15.9% to pass US$2bn for the first time.
Accounting firms now generate more than a third of all global consulting revenues in China. "In the last four to five years, our business has more than doubled in size," says Reynold Liu, Head of MC at KPMG. "At the same time, the consulting industry has to pay more to retain talent, and that's eating into our profitability. However, we are correcting this by growing our asset-based revenues."
Despite a cooling Chinese economy, Source Global Research reports there was demand from clients for support to respond to government reforms and market disruption, expand domestically and overseas, and make the most of changing consumption by China's newly affluent middle class.
"Access to global knowledge bases and ideas and solutions from other markets remains a strong selling point for the accounting firms, particularly among multinational corporations," says Ashok Patel, editor at Source Global Research. "And their appeal to China's state and privately owned enterprises, was given an additional boost by firms' efforts to revise their organisational structures in 2018, creating a more effective platform for them to expand their China operations and capture even more work."
The reports points out, however that "while consultants remain largely positive, there are signs of creeping anxiety." The ongoing trade war between China and the United States has resulted in a further slowing of GDP and is expected to continue through 2020. Part of this growing tension can be attributed to the issue of audit transparency.
Big Four Dominate in China
"The Big Four dominate [consulting] in this part of the world," says Xuong Liu of the global professional services firm Alvarez & Marsal. "In more developed markets there are a whole host of platforms that have been set up by professionals that maybe came out of the Big Four and are growing into major firms, together with boutiques and in-country only firms. That has not really started in China."
Source estimates that strong growth is set to continue in China's consulting market and the accounting firms are expected to lead the way with revenue growth of around 16 per cent in 2019 and 2020. But according to Professor Paul Gillis, the pre-eminent foreign analyst in China's accounting industry, Chinese state support of indigenous accounting firms will challenge Big Four hegemony in the coming years.
Gillis' 2018 book, 2018 book The Big Four: The Curious Past and Perilous Future of the Global Accounting Monopoly, is considered the definitive guide to accounting in China. According to Acuity, a magazine published by the Chartered Accountants Australia and New Zealand, Gillis "expects the indigenous firms to poach staff from the Big Four over the next two years and make their move on Big Four clients in 2020, when the next regular audit rotation arrives for large firms."
Lack of access creating more tension
As the Big Four continue to reap the rewards of consulting in China, regulators continue to complain they can't get access to audit work performed outside Canada. In its 2019 Fall Inspections Report, the Canadian Public Accountability Board (CPAB) stated:
"On the matter of access to audit work performed outside of Canada, CPAB continues to experience barriers as we conduct our inspections. Investors should be concerned when foreign laws and regulations impede or reduce the level of auditor oversight that they have come to expect in Canada. Certain countries, including China, continue to prevent CPAB from inspecting the audit work of Canadian public companies conducted in their jurisdictions."
In fact, as reported by the Financial Post, China appears to be of particular concern to Canadian securities and audit watchdogs. Newly proposed rules compelling "enhanced access" by the Canadian Securities Administrators "would not open up China, though, which has long irked outsiders over a lack of access to the audit files of Chinese companies."
Last month, CPAB CEO Carol Paradine attributed stalled negotiations with China to "the whole trade environment between Canada, China, the U.S., et cetera, has had an impact on that." One week after Paradine's statement, U.S. President Donald Trump appeared to support the idea — first floated by Florida Senator Marco Rubio — of "kicking off" Chinese companies from American stock exchanges because, in the words of Senator Rubio, "you can't trust a Chinese audit."
As the Big Four continue to reap the rewards of their head start in the Chinese accounting and consulting market, trade and transparency concerns may ultimately trump their status.
By Canadian Accountant staff.