Profession
Business
National
Trump backlash drives Canuck consulting attractiveness, benefits Big Four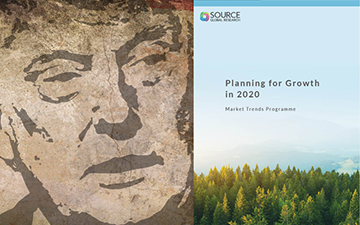 Canadian consulting market now ranks seventh in global survey
TORONTO, October 23, 2019 – The attractiveness of the Canadian consulting market continues to climb on the world stage as Trumpian anti-immigration sentiment drives talent to the Big Four accounting firms in Canada. That is the key takeaway from Planning for Growth in 2020, a new report by Source Global Research, a research and strategy firm for the global professional services industry.
Canada's consulting market made the biggest gains in this year's ranking of the most attractive consulting markets in the world, climbing from joint 10th place to joint 7th place in the last 12 months. This year, Canada was the only market in the world to increase its talent score, at a time when finding and retaining high-level talent at consulting firms is considered a challenge globally. The booming Canadian tech scene is "drawing a flood of highly-skilled digital workers" at a time of anti-immigrant sentiment in the U.S., where President Trump's hard-line stance on immigration has led highly skilled workers to pursue Canadian visas, increasing the flow of digitally savvy talent to the north.
"Debuting in our rankings at 10th place last year, this year Canada climbs to an impressive 7th place largely because of a significant increase in revenue per consultant as clients move ahead with an ambitious digitisation agenda," says B.J. Richards, Senior Editor at Source Global Research. "A strong — if slowing — economy is also helping to support a propensity to buy score that's well above average, and immigration policies that are friendly to young, digitally savvy workers are helping to ensure that firms can keep pace with demand."
As reported by Canadian Accountant, the Big Four accounting firms continue to dominate Canada's consulting market through above-average growth in the $4.1 billion industry (all figures in U.S. dollars) in 2018. Strong growth of 7.3 per cent in 2018 by the Canadian Big Four (Deloitte, EY, KPMG, PwC) helped Canada's consulting market pass the $4 billion mark for the first time. The market saw strong growth overall in 2018, with revenues rising 5.5 per cent to bring the total market value to US$4.1 billion.
Canada's consulting market was also ranked fifth in the world for one of the four criteria used to compile the rankings: clients' propensity to buy. This relates to the size of Canada's consulting market relative to GDP. According to Richards, "an explosion of boutique firms and high-tech players set on offering business solutions is helping to make this an increasingly competitive market for those offering consulting services."
Georgina Black, a partner and national leader of management consulting at KPMG, summed up the market's performance: "We've seen an increase in demand across all our service lines, including technology, people and change, supply chain, customer, and operations."
The market attractiveness index and the supporting report draw on a survey of senior users of consulting services in 17 major consulting markets in North America, South America, Europe, Africa, the Middle East, and Asia-Pacific. Countries/regions are ranked on four criteria—Talent, Growth prospects, Average revenue per consultant, and Clients' propensity to buy.
Earlier this year, a separate Source report, The Canada Consulting Market in 2019, found that it was another very good year globally for the consulting arms of accounting firms — a group dominated by the Big Four — which grew faster than any other firm type in 2018 (up 7.3% to US$1.7bn) due to client appetite for wide-ranging, multi-year transformation programmes, which fall soundly within the Big Four's wheelhouse. Strong growth in the financial services and risk markets — the traditional heartland of these firms — has also been a factor helping to drive good levels of demand, as has an uptick in interest in managed services and assets.
By Canadian Accountant staff. Collage with image by Maret Hosemann from Pixabay.