Business
Profession
The Top 10 Canadian Accountant opinions & editorials of 2017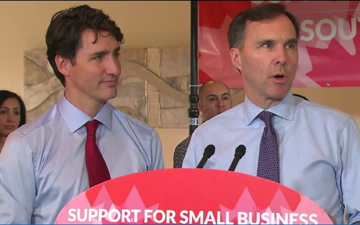 The most popular opinions and editorials on Canadian Accountant from the past year
TORONTO, January 2, 2018 – Everybody likes a good opinion, even if they don't share it. In 2017, there was a lot to talk about, and our writers didn't hold back from expressing themselves. Without further ado, the top 10 Canadian Accountant blog posts of 2017, in reverse order:

Canadian Accountant columnist Merge Gupta-Sunderji's blog post on accounting stereotypes hit home for a lot of CPAs in 2017. (iSTOCK)
Canadian Accountant columnist Merge Gupta-Sunderji wrote three blog posts for us in 2017 and all three placed in the Top 10. Beancounters, number crunchers, pencil pushers. Merge has a way with words.
This one was a surprise. David Parmenter, the King of KPIs, contacted us from Australia in 2017 and said he wanted to write for Canadian Accountant. We knew he was popular but not this popular.
Tax lawyer David J. Rotfleisch is an editor's dream. His opinions are always thoughtful, balanced yet provocative, and he doesn't hold back in this withering criticism of sacred cows. Here, David took a wide-angle perspective on the tax profession in the midst of so much talk on tax avoidance and evasion.
How can you resist with a title like that? National treasure Al Rosen takes a typically contentious look at the budding marijuana industry and finds a reason to opine on on his favourite topic: IFRS and its risks to Canadian investors.

It wasn't just the kick-ass photo that resonated with readers of Merge Gupta-Sunderji's blog post on personal branding. (iSTOCK)
It wasn't just the kick-ass photo. It was Merge Gupta-Sunderji's talent for speaking to her peers in the profession and providing a game plan to think about personal branding. We like listicles at Canadian Accountant and apparently you do too.
The sorry sight of Finance Minister Bill Morneau was front and centre throughout the whole sordid tax mess of 2017. Our editorial on tax reform failure laid the blame squarely at the feet of the finance minister, calling him "a political liability who should resign but will likely just be shuffled out, as was Allan MacEachan, more than three decades ago."
Leave it to the wonderful Merge Gupta-Sunderji to make us all feel better about ourselves after a rough year. As a CPA herself, she's a terrific public speaker on the subject of leadership and career advancement in accounting and finance. Shameless plug: Invite her to speak your next conference.

Canadian Accountant columnist David J. Rotfleisch said the Canada Revenue Agency had set sail once again for another CRA fishing expedition, hoping to snag a few online pirates for hiding their treasures from the taxman. (CANADIAN ACCOUNTANT ILLUSTRATION)
It wasn't just the clever illustration. It was David Rotfleisch's warning that the CRA has gone fishin' once again, hoping to reel in the little pikers using PayPal instead of going after the big fish swimming in offshore waters.
And here's David again, with the second most popular blog post of the year. It was the first op-ed we ever published by David J. Rotfleisch and right away it put Canadian Accountant on the map.

Finance Minister Bill Morneau took to the road in late 2017 to convince Canadians of his changes to the tax code. It turned out to be disastrous, as crowds turned hostile in Oakville, Ont. (LIVE COVERAGE PHOTO)
Ta-dah! Our attempt to explain to the world why Bill Morneau and the Liberals had offended so many accountants seemed to strike a chord. It was written in October, long before the finance minister's reputation imploded over his personal finances, but it seemed to capture the tone-deaf attitude of Liberals that would lead to the defeat of their tax proposals.
Many social media commenters took offence to our suggestion that the tax controversy had not really hurt the Liberals, pointing to polls that showed the Liberals and Tories virtually neck and neck. But our instincts were right — the Liberals have won three out of four byelections recently, largely at the expense of the NDP.
Colin Ellis is the editor of Canadian Accountant.