Profession
Academia
Thought Leaders
More diversity among inductees of 2022 Canadian Accounting Hall of Fame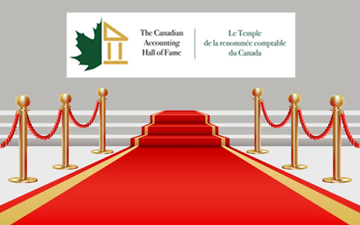 Selection committee addresses omissions noted by Canadian Accountant in 2021
TORONTO, May 8, 2022 – The Canadian Academic Accounting Association (CAAA) has announced its 2022 inductees into the Canadian Accounting Hall of Fame (CAHF). Among the 11 new inductees are selections that have addressed omissions and missed opportunities noted by Canadian Accountant. The CAAA has addressed the notable lack of gender diversity that occurred in its first year (one of 12 inductees was female), with four women included among the 11 inductees of 2022:
Founders of the Profession
Ellen L. Fairclough
James J. Macdonell
Francis G. Winspear
Leaders of the Profession
Paul G. Cherry
Sheila Fraser
Michael Gibbins
Richard F. "Dick" Haskayne
Louis Ménard
Patricia L. O'Malley
Gordon Richardson
Guylaine Saucier
2022 inductees includes prominent female accountants
The three Canadian accountants inducted as "Founders of the Profession" begins with the first female cabinet member in Canadian history: Ellen Fairclough. One of the first women in Canada to earn a professional accounting designation, her omission in 2021 was one noted by Canadian Accountant, as Fairclough is a significant figure in Canadian political history.
Fairclough once wrote that one of the first Canadian female accountants "found it necessary to 'defect' to the United States to earn a living in her chosen profession," due to discrimination within the profession. Her CAHF biography includes the unattributed quote: "If you are a woman doing the same work as a man and earning the same wage for that work, if you are a First Nations voter, if you were able to enter Canada as a refugee in the early 1960s, then one of the people you can thank is Ellen Fairclough."
The 2022 inductees also includes the only accountant likely to be recognized by the broader Canadian public: Sheila Fraser. Ironically, Fraser's tenure marked a turning point in the public profile of auditors general, as explained in our 2018 special report, Canada's activist auditors general. As Emmett Macfarlane, an associate professor of political science at the University of Waterloo, noted: "Sheila Fraser's tenure is, I think, in the modern era of the Auditor General's office, certainly the big turning point. Suddenly the public is aware of who this person is in a very pronounced way."
Inductee biographies make for interesting reading
The CAHF has published reader-friendly biographies of the inductees that balance professional accomplishments with a few personal notes. These profiles are helpful in explaining why certain accountants were inducted into the Hall of Fame. For example, we learn that Louis Ménard, among his noteworthy accomplishments, is widely known for publishing a dictionary of accounting terms. Or that James J. Macdonell helped ensure that the Canadian Association of Management Consultants "avoided the creation of factions [audit and non-audit firms] within consulting, as had occurred with the accounting and industrial engineering consultants in the USA."
The biographies also take note of philanthropic activities, such as those of Francis G. Winspear and Richard F. "Dick" Haskayne, who built institutional legacies over the course of their careers. The biographies also note family details.
The 2022 inductees are broadly representative of regions across Canada, rather than a concentration in Ontario, and include inductees from academia and business as well as public accounting. (The 2022 non-academic inductees are noteworthy for their career achievements coupled with policy, standards or education work.)
Areas of consideration for the CAHF in the future would be diversity of legacy designations (many biographies extensively note Big Four accounting experience and contributions to chartered accountancy governing institutions) and broader racial diversity in recognizing historical barriers to the profession.
Colin Ellis is a contributing editor to Canadian Accountant.