Profession
Academia
National
Canadian accounting academics honoured by CAAA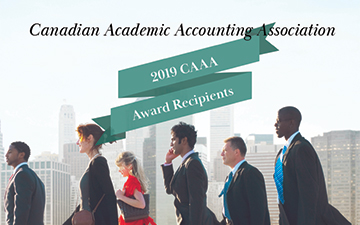 Academic contributions to accounting profession recognized
TORONTO, April 29, 2019 – The Canadian Academic Accounting Association has announced its 2019 award laureates, recognizing academics in the field of accounting that embody the values and mission of the Association — innovators who are committed to promoting and encouraging excellence in education and research in their field. The winners will be celebrated at an Awards Lunch at the CAAA Annual Conference in Ottawa on May 31, 2019.
Professor Alan J. Richardson, FCPA, FCGA, of the University of Windsor has been recognized with the George Baxter Award for Outstanding Contribution to the CAAA. The award recognizes exemplary contributions to the Canadian Academic Accounting Association through participation on the Board of Directors or through various committee and task force work that illustrates a dedication to helping CAAA accomplish its mission.
Richardson was the founding editor of Canadian Accounting Perspectives (now Accounting Perspectives). He has published numerous studies over the course of a career spanning four decades, including several on the institutions of the Canadian accounting profession and international standards setters, most recently on the consolidation of the accounting profession in Canada. (Richardson has been a supporter of Canadian Accountant through interviews and insight.)
Professor Jim Barnett, FCPA, FCA, of the University of Waterloo, was awarded the L. S. Rosen Outstanding Educator Award, named in honour of Al Rosen, a frequent contributor to Canadian Accountant. The award recognizes contributions to Canadian accounting education through excellence in teaching, educational innovation, publications, guidance for students, and involvement in professional and academic societies and activities.
Barnett is a recognized authority on Canadian taxation and currently sits on the CPA Canada Income Tax Education Committee. He is a co-author of the 38th edition of Introduction to Federal Income Taxation in Canada.
Professor Yves Gendron of the Université Laval was recognized with the Haim Falk Award for Distinguished Contribution to Accounting Thought, for excellence in scholarly achievement that clearly contributes to the advancement of accounting thought. "Professor Gendron contributed to the emergence of a thought-provoking literature aimed at documenting and theorizing the rise of commercialism in the field of public accounting," said Professor Steven Salterio and Professor Bertrand Malsch of Queens University.
Audrey Bistodeau and Martin Dubuc of the Université du Québec à Trois-Rivières were recognized with the Howard Teall Award for Innovation in Accounting Education. The award recognizes educators who go "above and beyond" to create original learning activities and to motivate students to pursue future learning opportunities, with unique and innovative approaches to accounting education.
Bistodeau and Dubuc created an online game in which students use fun activities, on their own schedule, to develop their understanding of fundamental accounting concepts.
By Canadian Accountant staff, with files from the CAAA.