Business
National
Technology
Canadian accounting firms leaders in workplace transformation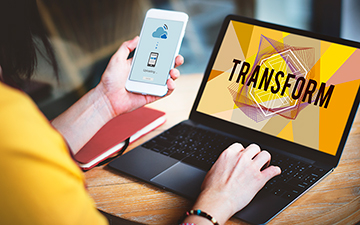 Professional service firms integrating multiple digital solutions
TORONTO, July 23, 2019 – The professional service industry is "facing the winds of change" of workplace transformation but is a leader in the integration of multiple digital solutions. According to a new study by the International Data Corporation (IDC)and Telus Business, which surveyed 203 medium-sized organizations, including 30 professional services firms, digital transformation leaders enable work anywhere and anytime, prioritizing automation and cloud-enabled solutions to improve collaboration.
The study found that Canadian business falls into four distinct stages of workplace transformation in the digital era:
Skeptics, who are unaware of, or uncertain about, the level of workplace transformation taking place today. They don't understand its advantages and how fast they are falling behind competitors. Just six per cent of professional service firms fall into this category.
Beginners, who are starting their transformation journey. They might be building roadmaps and implementing one or more foundational digital solutions. Twenty-seven per cent of professional service firms fall into this category.
Implementers, who understand the need to transform their workplace. This group has already implemented one or more digital solutions. Twenty-seven per cent of professional service firms also fall into this category.
Leaders, who have integrated multiple digital solutions and seen sustained improvement in key metrics. According to the survey, 40 per cent of professional service firms are in the Leaders category, the highest of all Canadian businesses.
Change is coming. Be prepared.
Many Canadian accounting firms not only expect workforce transformation but are prepared for it. Twenty per cent expect extensive change in the age and experience of their workforce in next three years and 37 per cent indicate they are "very prepared" for it. A further 57 per cent say they are "somewhat" prepared.
A lack of skilled workers is a top challenge to the growth of the Canadian economy, according to the Q2 2019 edition of the CPA Canada Business Monitor. While 38 per cent of professional services respondents report facing a skills shortage (compared with 44 per cent across other industries), they are more likely to rely on outsourcing, recruiting firms and automation (like machine learning for flagging issues in audits or ediscovery) to close the gap.
When it comes to seeking solutions, professional service organizations are far more likely than their peers to work with professional service companies specializing in IT to launch and support digital solutions, with 63 per cent doing so versus 44 per cent nationally — but they're only slightly more likely than other industries (40%) to rely on IT outsourcing.
Enabling technology to support change
As Marshall McLuhan said, "We shape our tools, and then they shape us." Canadian accounting firms, like other professional service firms, are preparing for workforce change by adopting knowledge automation at a greater rate than the national average; embracing physical automation by investing in automation to improve productivity; enabling mobile work environments to allow employees to collaborate wherever projects take them; and ensuring infrastructure readiness by regularly upgrading IT, network and mobile infrastructure to supporting process and automation changes that serve digital workplace initiatives.
According to the report, "Early adoption of digital solutions and process governance has translated into increased productivity and profitability. Owning a leadership position in all facets of innovation, quality and customer experience enables a business to control all competitive levers and move entire industries forward."
As we have seen with the consulting marketplace in Canada, the Big Four professional service firms are not only leading the market in digital transformation but embracing digital solutions within their own firms, often through acquisition of smaller tech companies that specialize in artificial intelligence, machine learning and other forms of automation. That is, they are both adopters and adapters.
"Workplace transformation creates an opportunity for massive growth and is forcing organizations to prioritize their attention, efforts and resources to it — without delay," states the report. Canadian accounting firms appear ahead to be ahead of the game.
Colin Ellis the managing editor of Canadian Accountant. Download "Workplace Transformation Study:Aligning People, Process and Technology in the Digital Era" from IDC and Telus Business. Image by Rawpixel.com.