Technology
Software
5 tools every tax preparer needs in their arsenal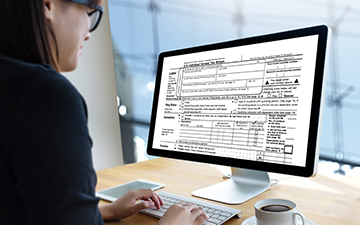 From project management platforms to external hard drives
From filing returns to determining deductions, preparing tax returns requires specialized knowledge to help you get through day-to-day duties. Luckily, there are many helpful tools to streamline your schedule and help you manage the ins and outs of a successful practice. For Canadian tax preparers, here are five tools you need to keep your clients coming back.
Project Management Program
Managing all your meetings, appointments, phone calls and tasks can become incredibly difficult once business starts to boom. That's where project management programs come in. Software like Asana and Trello allow you to schedule your days in virtual calendars so you can quickly see all your tasks in one place. Assign projects to other staff members, track how much time it takes to complete an assignment, and see a history of all your completed tasks in one simple application.
The tools are especially useful if you run a tax preparation company that has dozens of professionals working with different clients. Specific settings create different calendar views for managers and employees, allowing work to be collaborative while also maintaining a hierarchical structure. The easy-to-use interfaces resemble that of your smartphone, so the onboarding process is incredibly simple for each. Whether you're two weeks out from the April filing deadline or if you're in the middle of October, project management programs can make a big difference for your business.
Tax Preparation Software
Naturally, no tax preparer would be ready to take on clients without the proper preparation software. ProSeries tax software for professionals offers an easy workflow to streamline the process and ensures you file correctly the first time through. There are special tools like the "Missing Client Information" alert and the automatic "Client Advisor" tool. These tools make your clients happy and make you a better tax preparer.
Tax preparation software is an important part of any Canadian accountant's business. As reported by Canadian Accountant, nine of 10 Canadians file their income tax returns electronically. Your tax software should facilitate efficient workflow, provide customized solutions and support you in filing returns quickly and confidently.
Conference Call System
Even if you work on your own and don't have to schedule meetings with managers or fellow employees, a conference call system is a must for any tax preparer. Clients with complicated family relationships or businesses with multiple financial advisors may want to schedule calls where several people are on the line at once. GoToMeeting provides a simple solution to all your conferencing needs. With video chat capabilities, screen sharing modes, and custom email invitations, this tool is perfect for the busy professional who needs to keep multiple taxpayers happy at once.

Nine of 10 Canadians now file tax returns electronically. Tax preparers need an arsenal of digital tools for a successful tax practice. (SHUTTERSTOCK)
A Business Website
To build a loyal client base and spread the word about your services, you're going to need your own business website. Programs like Weebly and Squarespace offer plenty of customizable website designs that are perfect for the vast majority of people who don't have a degree in computer coding. Make sure to keep the layout, color scheme and content professional so potential clients view you as someone worthy of their business.
A great way to drive traffic to your website is to write helpful blog posts that answer common taxpayer questions. Establishing yourself as an authoritative voice on a particular tax subject can help to drive more clients to your business.
External Hard Drives
Apart from digital tools, tax preparers also need an arsenal of physical supplies as well. Since Canada Revenue Agency audits can take place several years after a specific tax return is filed, you have an obligation to save all your client's information on an external hard drive for a certain amount of time. The storage capacity of each drive varies from one to another, but you'll want at least 1TB of space to get the most bang for your buck. It's likely you'll have several external hard drives over the years as digital documents pile up, so make sure to keep your drives organized in an efficient manner where they can be accessed at any given time.
The tax preparation profession can sometimes feel like a battlefield, so make sure you have all the right tools in your arsenal to ensure you come out on top.
Eliza Picot is a Denver-based financial consultant and blogger who spent four years as a bookkeeper while working for her MBA. She now tours North America helping firms of all sizes and pays for her travels with her writing.