Practice
Strategy
Global
Why accountants are discussing global trends with clients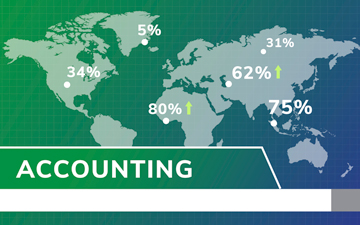 Part I: Accounting firms see broader scope as a value-added service
This is part one of a two-part series. Read part two of the series: Accounting firms look globally to serve clients locally.
OTTAWA, Nov. 14, 2019 – Tracking and reporting on global economic threats and trends may not, at first glance, appear to be in the accountant's bailiwick. But as the Canadian accounting profession's scope continues to widen, it has become part of the comprehensive, value-added services that consummate accounting firms and practitioners are providing to personal and business clients.
"I'm usually encouraging the discussions with clients by saying 'Did you hear what's happening?'" says Dawn McGeachy, a partner with Colby McGeachy Professional Corporation in Almonte, Ont.
"For example, I might elaborate on that by saying something like 'Look at this signal coming out of the Bank of Canada.' Or 'We've been in a bull market for a really long time, and if we look at that historically, that's going to come to an end at some point within the next year or two,'" she adds.
CPAs see more than numbers
CPA Canada advertising has, in recent years, emphasized that members of the accounting profession provide more than just analysis of numbers — they also bring insights and ideas to clients to help make them more successful, says John Hughes, national leader of private enterprise for MNP LLP in Toronto.
Take a small business owner client, for example, who must be able to respond quickly in a rapidly changing global world with newer and better technologies being introduced all the time.
"The biggest value that CPAs bring is their knowledge and business insights about what is happening in similar and other industries that may benefit the business owner and their family and their company," elaborates Hughes.
The traditional ways of doing things still have a purpose. Hughes notes how, for example, the historical cost model remains important for tracking expenses and explaining what happened in the past. But it is only one of many services that clients need.
"I think what business owners, certainly the ones we deal with, are really looking for, are insights and ideas. They want to know, 'What is that information telling me? What happens if, for example, interest rates move up a point or two? What impact will that have on historical financial statements, and my business, and my ability to operate?'" he says.
Accounting clients are looking for indicators
Jim Lutes, a Saint John, N.B.-based managing partner for EY Canada in the Maritimes, expresses a similar viewpoint.
The traditional accounting model does a great job of coalescing historical financial information that is relevant to financial decisions, he says. But when an entrepreneur operates either a private or public business they must always look forward and be monitoring leading indicators and anticipating future events. So financial information also needs to be proactive. Therefore, accounting professionals need to be looking at items that are indicative of future context rather than managing in the rear view mirror, explains Lutes, who is also a national corporate finance M&A partner at EY.
Lutes is also a former chief operating officer of a high-growth manufacturing company who brings first-hand knowledge of what it is like being on the other side of the table.
"When I was running a company, I was always looking around the corner for the indicator of something that I should anticipate. The historical financial information can be helpful. But the reality is, by the time it arrives, it's somewhat stale-dated. There were just so many things that were outside of the accounting jurisdiction, or the statutory financial statements that really bore on the decisions that I needed to make every day," he recalls.
Jeff Buckstein, CPA, CGA is an Ottawa-based freelance business journalist. Read part two of the two-part series: Accounting firms look globally to serve clients locally.