Profession
Practice
Strategy
WFH: COVID-19 is accelerating remote work at accounting firms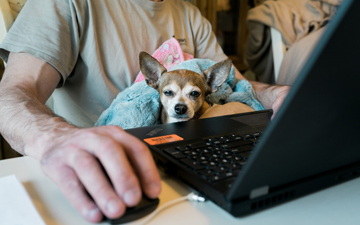 Part three in a series on how the coronavirus crisis is accelerating change at accounting firms
OTTAWA – From social distancing, online client meetings and paperless offices, the COVID-19 pandemic is accelerating long-term change at small to medium-size accounting firms and the offices of sole practitioners across Canada. But social distancing is not only impacting accounting practitioners and their clients during the current pandemic lockdown. Many accounting firms sent staff members to work at home, further eroding the physical ties to the traditional accounting office, where employees traditionally worked all day, every day. In fact, "working from home" has become so common during the current pandemic that it has earned its own acronym, WFH, which has entered the pandemic lexicon.
At DSK LLP in Kitchener, Ont., about half of the 23 office staff members are WFH, with the rest, including many of the personal tax return staff, having remained in the office. "We were, during tax season, pretty tight in our locations during previous tax seasons, so having more space and a bit of a quieter environment this year helps concentration," says Jason Kingston, a principal with DSK.
This has also required some adjustments, such as greater utilization of applications like Microsoft Teams for instant messaging and for video chat among staff members — but this has worked well, Kingston notes.
At Andersen Tax LLP in Vancouver, a couple of months before the shutdown in January 2020, the firm gave its staff the option of WFH two days a week so long as they had the proper set-up for high-speed Internet, at least two monitors, and data security. "We've accelerated that now," says Steven Flynn, a partner with Andersen Tax.
Currently only two Andersen Tax partners and one principal work in the office, with the other 22 employees at home. As a result, "we're trying to find ways to work with each other on certain files. The video conferencing applications in Zoom and others allow staff to share screens and work together as best as possible," notes Flynn. "We try our best to make sure all of our staff have video cameras in the house. They do now. We're trying to push clients to do the same thing with us although not everybody wants to be on video," he concedes.
Only three members of Larry Hemeryck's team, including him, are still working in the office. Hemeryck is a sole practitioner in Simcoe, Ont. The other four staff members, many of whom live with people who are particularly vulnerable to Covid-19, are WFH.
"We lose the comradery of everyone being together in one building. We lose the height of accomplishment when a job is well done. We lose the communications with each other about client problems, decisions and events. We lose touch with each other's families and their lives. This all has a tendency to slow down production and degrades the work/office experience. I'm confident these values will return once the team is back full time," he says.
Catherine Barrie is also a sole practitioner. Her practice is located in Barrie, Ont. Although several of Barrie's six employees are set-up to WFH, only one person is doing so on a permanent basis. "We talk/email a couple times a day. It is taking a bit longer to get through checking any work she has completed as she picks up/drops off about once a week. I sometimes have to find papers or information for her that she's left at the office and scan them to her. But it is working fine for the time being," says Barrie.
"The remainder of the staff are either newer and need to be able to ask questions or are involved in the personal tax preparation process to the degree that it is easier for them to physically work at the office," she explains.
Jeff Buckstein, CPA, CGA is an Ottawa-based freelance business journalist. Photo by Allie on Unsplash. This article is the third in a series on accelerating change in Canadian accounting offices. Read the full series in order:
Part One: COVID-19 is accelerating change at Canadian accounting firms
Part Two: COVID-19 pandemic promotes paperless public practices
Part Three: WFH: COVID-19 is accelerating remote work at accounting firms
Part Four: COVID-19: Accounting firms are finding efficiencies amidst disruption
Part Five: COVID-19: How SME accounting firms will change post-pandemic