Practice
Business
Provincial
Canada's MNP LLP growing again through merger with London-based accounting firm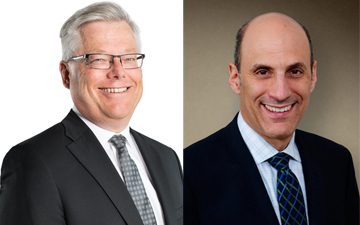 Merger continues major changes in Canadian accounting public practice
TORONTO, Jan. 3, 2018 – Canada's fifth largest accounting and business consulting firm, Calgary-based MNP LLP, has announced a merger with an unnamed firm based in London, Ontario. The news continues major changes in Canadian accounting public practice, most notably the December 2017 acquisition of Collins Barrow Toronto by global accounting giant RSM.
MNP will create a new region, known as Southwestern Ontario, formed by the London-based firm's five offices in Arkona, Clinton, London, Stratford and Strathroy. It will be led by Doug Greenhow (pictured above, left), the new MNP Regional Managing Partner, a 36-year veteran of Collins Barrow in London, where he was most recently a tax and managing partner.
"We have always been totally committed to the success of Canadian businesses, so we are delighted to be joining a firm that is the very epitome of that," said Greenhow via email to Canadian Accountant. "MNP is unique in that it has that large national presence and access to hundreds of experts and specialists, coast to coast, but it has also continued to maintain its culture and relationship-based approach to doing business."
Continued Greenhow, "In joining MNP our clients will get the best of both worlds — a firm that offers leading mid-market expertise nationally and globally (through its alliance with Praxity), as well as bringing real, local perspectives and insights. We are really excited to be joining a like-minded firm with the same commitment to delivering personalized solutions to clients."
According to Jeremy Cole (pictured above, right), MNP's executive vice-president for Ontario, Quebec & Atlantic, "All five of the merged in office locations will remain open; each serves important communities and the merger enables us to enhance the services MNP offers to our clients across each of these areas."
Now the largest of the mid-market firms in Canada, homegrown MNP continues to build its presence across Eastern Canada. It entered the Ontario market in 2008 and has since added 12 more locations. The new Southwestern Ontario region will build upon the firm's existing presence in Waterloo, Cambridge, Burlington and St. Catharines, which will form a newly created South Central Ontario region.
"The merger reinforces MNP's commitment to these locations and the communities we live and work in within Southwestern Ontario," wrote Cole via email to Canadian Accountant. "The strength of the manufacturing sector, rich agricultural lands, and the proximity to the U.S. border has made the region a vitally important part of the province's economy and we are looking forward to helping more businesses across each of these geographies, and their surrounding areas, to reach their full potential."
Due to legal agreements, MNP was unable to provide name of the London-based firm or any details relating to the merger talks.
"To maintain our culture, we have been very strategic about who we invite to join our family," said Cole in the company's press release. "Both our firms' cultures and values are well aligned and we share the same entrepreneurial approach to doing business. It's truly a win-win for both our firms and the marketplace. We are thrilled to have found the perfect firm to join forces with, one that puts clients first."
Colin Ellis is managing editor of Canadian Accountant. Pictured above, left, Doug Greenhow, MNP Regional Managing Partner, Southwestern Ontario, and right, Jeremy Cole, executive vice-president for Ontario, Quebec & Atlantic, MNP. Photos provided courtesy of MNP LLP.