Profession
Business
National
Sunday News Roundup 23.06.18: Russell Brown resigns, Carmine retires and more Canadian accounting news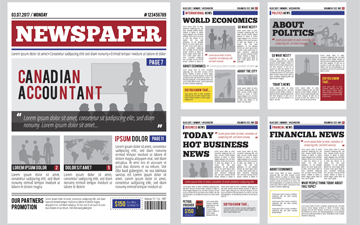 Wrapping up the odds and ends from the past week in Canadian accounting news
Subscribe to our weekly newsletter and get all the week's stories. Click here to sign up.
TORONTO, June 18, 2023 – Two high-profile departures of powerful people dominated news during the past week in Canadian accounting. The week kicked off with Justice Russell Brown announcing his retirement from the Supreme Court of Canada. Then EY Global chief executive Carmine Di Sibio, the architect of the failed Project Everest, announced his retirement a day later.
The details are messy in the Brown case and the former justice's alleged behaviour would have been dredged up once again in a planned public hearing before the Canadian Judicial Council. Of more interest to Canadian accountants is the former justice's record on tax planning.
It's worth noting that Brown's areas of practice included trusts and estates as well as commercial law, and he sided with the majority in the 6-3 Supreme Court rulling, penned by Justice Suzanne Côté, in Alta Energy. Brown also co-wrote the majority 4-3 decision in Livent, which circumscribed the scope of an auditor's duty.
Had Brown ruled on the more recent Deans Knight decision, it would not have changed the majority (7-1) decision. Of more interest to political pundits, however, is the upcoming decision on the constitutionality of Bill C-69 (officially the Impact Assessment Act), in which many feel Brown (a Western Canadian, Harper-appointed judge) would have supported the provincial rights of Alberta.
As for Carmine Di Sibio, having reached the mandatory retirement age, he will serve through the next fiscal year and retire in June 2024. Retirement didn't seem to be of much concern when EY Global said Di Sibio would run the advisory business after the planned split in Project Everest. Still, Di Sibio's statement focused on the strong financial position of EY, which ranks third among the Big Four globally and fourth in Canada.
With PwC is currently sullying its reputation in Australia, maybe there's an opportunity for Ernst & Young to make up a little ground, which looked rather bleak until PwC kindly bumped it off the headlines. And now, on to the rest of the news from the past week in Canadian accounting.
CRA workers vote in favour of wage deal
Sure, the news cycle has moved on, and we have already forgotten about tax season. But we thought you'd like to know that 88% of workers (who were the 12% who wanted to keep picketing?!?) at the Canada Revenue Agency voted in favour of their tentative deal. The Union of Taxation Employees just needs to formally sign the new collective agreement and then there's labour peace until October 31, 2025.
Globe columnist argues for higher taxes ... and better spending
Tony Keller at the Globe and Mail seems to be building a reputation as a contrarian. In Do Canada's governments spend too much? Or tax too little?, Keller issues a laundry list of problems with Canada, and then offers a novel solution (at least in the Globe): raise taxes. He points out that we too often compare ourselves to our neighbours to the south and their highly inequitable society, instead of reaching for more. His other solutions are interesting as well: toll roads, reversing the Harper-era GST cut, and reducing Old Age Security. God help the government that tries even one of Keller's ideas, but still.
Quick Hits: Articles of Interest
Canadian
Extraterrestrial Accounting: Are We Ready for Intergalactic Trade and Taxation? (LinkedIn)
Fraudsters scammed Ontarians out of $531M last year: OPP (Soo Today)
Taxpayer who hired mother-in-law, wife as assistants gets pushback from CRA (Financial Post)
Ottawa should consider windfall tax on grocery profits if they're found to be excessive: report (CBC)
The service sector faced the most cyber attacks last year (PwC Canada)
International
Accountancy watchdog faces scrutiny over CEO's six-figure 'payoff' (Sky News)
Big Four accounting firms urged to pay junior auditors more (Financial Times)
Belfast gang bugged in Northern Ireland's biggest ever tax fraud case (BBC)
NI's biggest ever tax fraud case sees 27 people sentenced after Belfast accountant's office bugged (Belfast Telegraph)
By Canadian Accountant staff.