Profession
Practice
Business
Special Report: Deloitte Canada tops rival Canadian accounting firms in annual revenue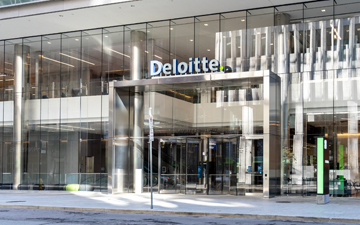 The Canadian member firms of the Big Four global accounting brands earned almost $10-billion on the strength of consulting contracts last year
TORONTO, Feb. 2, 2023 – Deloitte Canada is making more money than its Canadian accounting rivals due largely to the strength of its consulting business. In 2022, the professional services firm reported annual revenue of $3.4-billion (all figures in Canadian dollars), 50 per cent of which was earned through consulting, according to its annual transparency report. Deloitte's revenue accounted for 35 per cent of the $9.7-billion in revenue earned by the four largest Canadian accounting firms during the fiscal year ending in 2022.
The Big Four global accounting networks and their Canadian member firms are: Deloitte Touche Tohmatsu Limited (Deloitte Canada), Ernst & Young Global Limited (EY Canada), KPMG International Limited (KPMG Canada), and PricewaterhouseCoopers International Limited (PwC Canada).
Each year, the four Canadian firms publish "transparency reports," which disclose revenue earned from audit and non-audit services, though the presentation and amount of information differs, as do the dates of their fiscal year-ends.
Deloitte tops but KPMG a surprising second
2022 was a successful year for the Deloitte Touche Tohmatsu Limited global network, which was recognized for the fourth consecutive year by Brand Finance as the strongest and most valuable commercial services brand in the world. Deloitte Canada increased its revenue by 25 per cent over the $2.7-billion it earned in the previous fiscal year, surpassing the 19.6% increase in global earnings of US$59.3 billion by Deloitte in 2022.
Coming in second place among the Canadian Big Four was KPMG Canada with $2.385-billion in revenue for the fiscal year ending September 30, 2022. This represents an increase of 19.4% over the previous fiscal year in which the professional services firm earned $1.996-billion in revenue. KPMG Canada's success is noteworthy as KPMG International Limited typically trails its Big Four rivals in global revenue. The Canadian member firm is punching far above its global weight in Canada.
EY Canada earned $1.950-billion in 2022, an increase of 33.1% over 2021, in which it earned $1.465 billion. PwC Canada is the only member of the Canadian Big Four that does not provide total revenue earnings. Based on its transparency report, we estimate its total revenue in 2022 to be $2.03-billion and its revenue in 2021 to be $1.8-billion. (In 2021, Dun & Bradstreet estimated PwC Canada's revenue to be in the "ballpark" of US$1.2 billion, or $1.6-billion in Canadian dollars today.)
| | |
| --- | --- |
| Big Four Global Revenue (US$) | Big Four Canadian Revenue (CDN$) |
| 1. Deloitte – $59.3 billion | 1. Deloitte – $3.4 billion |
| 2. PwC – $50.3 billion | 2. KPMG – $2.385 billion |
| 3. EY – $45.4 billion | 3. PwC – $2.03 billion |
| 4. KPMG – $34.64 billion | 4. EY – $1.950 billion |
A few trends behind the numbers
Unlike the public reporting requirements of an annual report, each transparency report differs in the type of information it discloses. For example, Deloitte is the only firm to offer a breakdown of its FY2022 revenue, of which audit and assurance services accounted for just 16 per cent. Deloitte is the only firm to report its consulting revenues (50%).
As previously reported in Canadian Accountant, Deloitte Canada has transformed itself in recent years from an accounting firm to a professional services firm that rivals consulting brand McKinsey or technology brand IBM. While Deloitte has led the way, its three rivals also look to consulting contracts to boost their bottom lines. Together, the federal government paid the Big Four a combined total of about $338-million in 2020-21 and $354-million in 2021-22, according to a Carleton University analysis (as reported by the Globe and Mail).
It is no longer reasonable to refer to Deloitte, EY, KPMG, and PwC as "accounting firms." They are commercial services firms that provide accounting and audit services, including tax planning, as part of a service suite.
While KPMG does not disclose overall audit and non-audit service revenues, EY and PwC provide similar (though not the same) detail in their transparency reports. Seventy-six per cent of EY Canada's revenues came from non-audit services provided to clients outside the European Union. PwC, on the other hand, earned $690-million in audit services outside the EU/UK, but 1,282-million in non-audit services in the the same region.
The transparency reports also provide some comparison between headcounts at the four firms. For example, Deloitte leads the way with 1,006 partners and 13,211 staff (14,217 employees). KPMG reports an average of 10,000 people, 890 of whom are partners. PwC reports "9000+ people," including partners, while EY Canada's report does not include workforce numbers.
(In a report on EY Canada and a planned split of its audit and consulting businesses, a spokesperson confirmed to the Globe and Mail that EY has 477 partners and a total workforce of 7,000 as of September 2022.)
Perhaps most noteworthy among the trends is that, despite a Canadian labour shortage and broad workplace trends such as working from home, all four firms substantially increased their revenue in 2022, with EY Canada leading the way in the percentage of its revenue increase.
By Canadian Accountant staff based on the transparency reports of Deloitte Canada, EY Canada, KPMG Canada, and PwC Canada.