Profession
Practice
Business
Sunday News Roundup 23.02.19: Tax Season GO!, EY churn, Deloitte summit, and more Canadian accounting news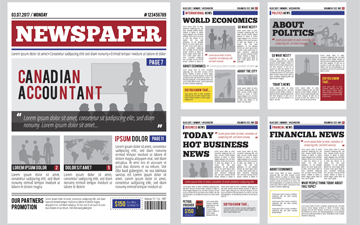 Wrapping up the odds and ends from the past week in Canadian accounting news
Subscribe to our weekly newsletter and get all the week's stories. Click here to sign up.
TORONTO, Feb. 19, 2023 – On your mark, get set, GO! Tax season launches at midnight tonight as the Canada Revenue Agency offically begins tax season on February 20, 2023. Good luck to all the tax preparers and accounting firms in your rush to EFILE and maintain your mental health. We'll be here to report on tax season news, both good and bad.
Meanwhile, signs appeared this week that higher interest rates may be having an effect on public practice. According to Reuters, KPMG became the first Big Four accounting firm to cut staff in U.S., cutting close to two per cent of its workforce. The downsizing was blamed on financial firms slashing jobs amid a "turbulent macroeconomic environment." So far, Canada has bucked the trend of mass layoffs, and Canada's hot job market sees no sign of slowing.
Meanwhile, speaking of labour conditions at the Big Four, Bloomberg Tax reported this week that the EY Split Sets Stage for Big Labor Shuffle Among Big Four. There will be a lot of churn among the staff at Ernst and Young over the coming year, as Ernst and Young both promotes and recruits staff, while others may be poached by Big Four rivals or smaller firms that see a rare opportunity to recruit Big Four names.
And now, on to the rest of the news from the past week in Canadian accounting.
Deloitte Canada reaches "Summit" of Canadian accounting
All hail, Deloitte Canada! As exclusively reported by Canadian Accountant, Deloitte Canada is by far the biggest accounting firm in Canada, with revenues that far surpass its Big Four rivals. And now there's a new castle for the king … in Vancouver, anyway.
Deloitte has finally opened its new headquarters in Vancouver: Deloitte Summit. The 24-story HQ, which is comprised of a system of four-story cubes stacked around a central concrete core, is "inspired by both Vancouver's renowned natural landscape and the shape of a Japanese lantern," and is powered and heated by 100 per cent renewable energy. The building has 18 different types of workspaces, moveable furniture and walls, no private offices, and Deloitte's signature Green Staircase, located in the centre of the building.
Generational warfare over latest healthcare deal
No topic seems to get Canadians more riled up than that of generational wealth. In "Recent health care deal is a win for retirees. The finances of younger Canadians are collateral damage," writer Paul Kershaw makes the basic assertion that today's retirees will benefit more from the new healthcare funding deal, without paying their fair share of tax towards healthcare.
Cue the outrage in the comments section of the Globe and Mail. You don't have to read far to get a sample of the generational warfare. So spend your time instead on reading Kershaw's work in the Canadian Tax Journal, which has been around for 70 years, and the Intergenerational Justice Review.
Carbon Tax: New Brunswick caves, Conservatives exploit
Like Ontario, like Alberta, and like every other province before it, New Brunswick caved to political and legal pressure this week and agreed to adopt the federal carbon tax. "I would rather see no carbon tax at all … But I don't have a choice," said Premier Blaine Higgs. Meanwhile, the federal Conservatives were buying airtime on television stations in Atlantic Canada to air an ad attacking the Trudeau government over the government's carbon pricing scheme, according to Global News.
Sustainability standards: Coming soon to Canada (maybe)
The Globe and Mail published a piece this past week on the progress of sustainability standards in Canada. The International Sustainability Standards Board (ISSB) is close to finalizing what it calls a global baseline of reporting practices, according to the article, but there is no timeline, only vague promises, as to when such standards will be adopted in Canada.
As previously reported by Canadian Accountant, Charles-Antoine St-Jean, the former head of CPA Canada, was appointed in 2022 as the Regional Director —Americas of the International Sustainability Standards Board — an appointment we predicted. While the article does not mention St-Jean, it's dateline is MONTREAL, where the ISSB satellite office is located.
While much has been done on the sustainability front in the past years, we're now getting down to brass tacks, so to speak. How an international set of accounting standards designed to stop greenwashing will be adopted by a economy still somewhat dependent on resource extraction both domestic and global, will be interesting to watch.
Corporate fraud and Canadian capital markets
Alexander Dyck is a controversial Canadian professor whose research indictaes there is far more corporate fraud than is reported in Canada and the United States. His research has been published by the New York Times and attacked by former officials at the Securities and Exchange Commission. We came across this article published this past week by the University of Toronto News.
More interesting, however, is that Dyck will be part of a panel this Thursday at Rotman. It will feature some pretty high-profile folks from the Ontario Securities Commission, Siskinds (the class-action law firm), and KPMG. Should be a fascinating discussion. It also includes David Milstead of the Globe and Mail, who has written frequently on accounting and finance topics.
Accounting profession a going concern?
Adrienne Gonzalez of the US accounting website Going Concern was a guest on NPR affiliate WBUR this past week. When asked "Why is there a shortage of accountants?," Gonzalez summed up the answer in one word: salary.
Young people who may aspire to be accountants often take technology-related courses as part of their training and find better offers in other sectors. According to Gonzalez, the entry salary for young accountants hasn't budged much from $50k in the past years. It's well worth a listen as there are far more insights from Gonzalez.
Accounting Dealbook: MNP picks up BBA
Homegrown national accounting firm MNP has snapped up three of the four directors from BBA Accounting Group of Vancouver: Patrick Ruscitti, Howard Bickford and Jess Hennan. The trio have worked in the Vancouver market for over 25 years collectively and, according to a press release, "are delighted to be joining a like-minded firm in MNP that complements their current service offerings and has the same commitment to delivering personalized solutions to clients."
Quick Hits: Articles of Interest
Canadian
The CRA is actively looking for people who day trade investments in their TFSAs (National Post)
Welcoming Crowe Soberman's Newest Partner (News Release)
Unlikely targets: More young Canadians report being a victim of financial fraud than older Canadians: CPA Canada survey reveals (CPA Canada)
International
Ex-CEO of Germany's Wirecard Denies Charges at Fraud Trial (Associated Press)
French Accountant Behind 'LuxLeaks' Scandal Wins Whistleblower Appeal (Barron's)
Lack of Crypto Audit Regulation Raises Questions About PCAOB Authority (Wall Street Journal)
By Canadian Accountant staff.