Profession
Business
National
Sunday News Roundup 23.02.05: KPMG success, property taxes and more Canadian accounting news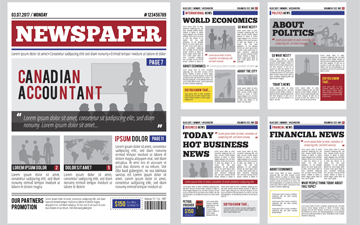 Wrapping up the odds and ends from the past week in Canadian accounting news
Subscribe to our weekly newsletter and get all the week's stories. Click here to sign up.
TORONTO, Feb. 5, 2023 – The official start of tax season is just two weeks away as Canadians can start filing their income tax and benefit returns on February 20, 2023. For those chartered professional accountants working as practitioners and tax preparers, these next two weekends will be the relative calm before the storm, when self-care and preparation will be paramount.
For the rest of us, that means plenty of articles about tax brackets, deductions and exemptions. Most of these are generic and superficial in nature, the kind of information easily gleaned from government websites. But some writers, like Tim Cestnick in the Globe and Mail (Dodge the taxman with tax-free sources of income), or Jamie Golombek in The Financial Post ('Nonsensical': CRA denies taxpayer's headhunter fees, but judge sees things differently), are well worth reading, even by experts.
And now, on to the rest of the news from the past week in Canadian accounting.
CPA Canada Business Monitor report: pessimism down
Canada's national accountancy body released its quarterly survey on economic attitudes this past week. The headline is pessimism about the Canadian economy started to decrease in 2022 Q4, with much of the conversation centred around inflation and interest rates. Rising inflation was causing a lot of concern back in 2022. Now it's the impact of rising inflation rates.You can read the full report here.
KPMG Canada advisory business doing well on M&A
Consulting.ca reported this week that KPMG Canada advised on most mid-market M&A deals in 2022. The Big Four firm surpassed rivals PricewaterhouseCoopers and Ernst & Young by booking 55 Canadian transactions in 2022 according to a report by global financial data firm Refinitiv.
This past week, we reported that KPMG — which typically trails its Big Four rivals in global revenue — earned the second highest revenue in Canada in 2022. While KPMG does not provide a breakdown of its revenue, its advisory services clearly contributed significantly to its $2.385-billion in revenue for the fiscal year ending September 30, 2022.
Canadians complain about increased property taxes
If you've got your property tax bill in the mail lately, it likely came as a rude shock. Municipalities from coast to coast to coast are struggling with inflation and hiking property taxes to levels not seen in decades. The CBC has been running stories about residents, especially senior citizens, complaining in Thunder Bay, Kitchener, Prince Edward Island, Ottawa and Toronto. Most of these municipalities are unwilling to hold the line on core services such as police, firefighters and emergency services, and are instead passing on the increases in user fees and property taxes to homeowners.
CPA CFE Honour Roll student gets local press
Always nice when you see a young accountant profiled in the local press. Emma Roszell, who works at Root Bissonnette Walker LLP in the small town of Fonthill, Ontario, was profiled in Thorold Today. We mentioned Emma back in January but the Thorold Today reports on her childhood on a dairy farm and her upcoming marriage.
Hollywood star talks accounting on Twitter
Canadian actor Simu Liu must have one helluva PR agency. No one's gotten more mileage out of being an ex-accountant than the former star of Kim's Convenience turned marvel action hero. This week it was Simu giving accounting lesssons on Twitter as breathlessly repoted by ET Canada. At least the context was correct, with one fan tweeting: "Haven't lost a step… respect- once an accountant always an accountant. An IFRS Superhero."
Quick Hits: Articles of Interest
Canadian
Freeland to call for joint federal-provincial effort to counter Biden's tax credits (CBC)
Ruse of Canadian trusts used to shield uber-wealthy billions from France's tax system: court (Bloomberg Tax)
Billions in COVID supports may have been abused, and the Liberals don't seem to care (National Post)
International
UK accounting watchdog tightens scrutiny of ESG in company audits (Reuters)
Brazil group seeks injunction against PwC, regulator for Americanas accounting scandal (Reuters)
EY came close to uncovering Wirecard fraud in 2016 (Financial Times)
KPMG UK CEO Says Audit Fees Will Increase Despite Complaints (Bloomberg Tax)
IRS more likely to audit Black taxpayers (Accounting Today)
Nearly 2,000 CEOs think their companies won't be able to make money in 10 years, [PwC] survey says (CNBC)
A shortage of accountants is pushing the industry to reboot its image to win over young talent: 'You have to sell them' (Yahoo Finance)
OECD offers final guidance for governments on global minimum corporate tax (Reuters)
By Canadian Accountant staff.