Profession
Practice
Business
Regional accounting firms gained new publicly traded audit clients in 2020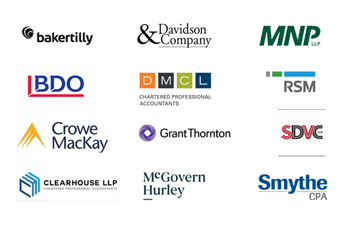 2020 SEDAR filing data of Canadian accounting firms crunched by Audit Analytics
TORONTO, Apr. 15, 2021 – As the COVID-19 pandemic roiled both the Canadian economy and the accounting profession in 2020, several regional and local (R&L) public practice firms posted significant new audit engagement gains among public companies. According to SEDAR analysis provided to Canadian Accountant by Audit Analytics, an independent research provider based in the United States, the smaller firms gained market share at the expense of mid-size, brand name accounting firms with national networks.
2020 marks the fourth consecutive year that Audit Analytics has provided its annual analysis of auditor changes in Canada exclusively to Canadian Accountant prior to publication. Each year, Canadian Accountant reports on Big Four clients gains and losses (read Big Four accounting firms fell short of net new client gains in 2020), with a subsequent report published on mid-tier market accounting firms as well as their regional and local competitors. 2020 also marked the first year that, with the support of Audit Analytics, Canadian Accountant published mid-year reports (2020 H1) on new audit client gains and losses among Big Four and SME accounting firms.
Net Gains and Departures
With 12 new engagements and no departures, the clear winner in net new engagements was Baker Tilly WM LLP. The firm, which is based in Toronto and Vancouver, is the result of a merger between Wolrige Mahon, Collins Barrow Vancouver and CW Group. (Collins Barrow rebranded as Baker Tilly Canada in 2019.) Baker Tilly WM also posted almost $1.4 million in new audit fees, good for sixth place overall among all audit firms.
Coming in second place is an entirely new name, Clearhouse LLP Chartered Professional Accountants, a Mississauga firm formed by the merger of SDVC LLP, Huron Partners LLP, and Pinnacle Valuation Group. According to Audit Analytics, Clearhouse gained 11 new engagements, without departures. The total market cap of its new engagements and new audit fees were good for 16th and 12th place respectively.
Two regional firms — Davidson & Company LLP and McGovern Hurley LLP — tied with eight net new engagements. Vancouver-based Davidson & Company led all SME accounting firms in net new audit clients in 2019. The firm posted the most new audit engagements (26) overall in 2020, while McGovern Hurley, which is based in North York, Ont., posted 15 new engagements overall, good for fifth place.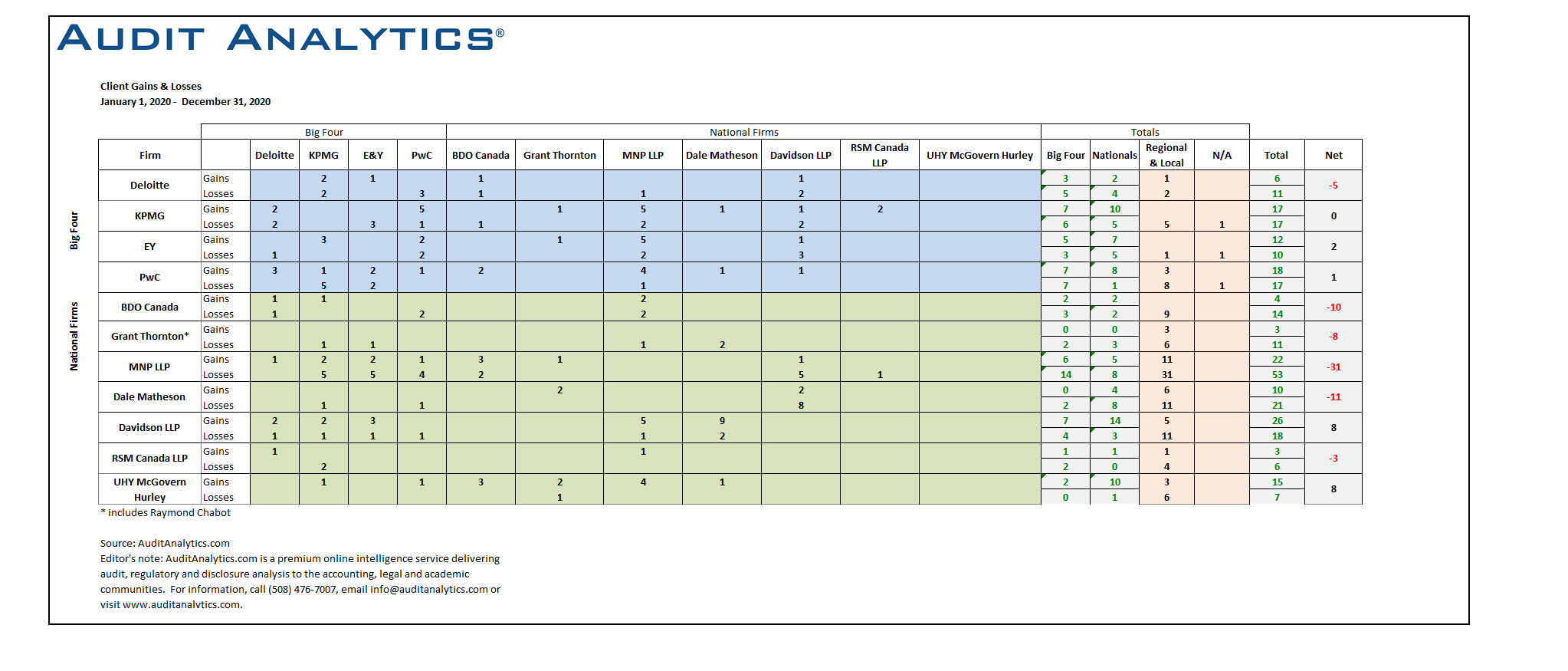 CLICK ON IMAGE TO ENLARGE. 2020 Audit Client Gains and Losses Matrix (courtesy Audit Analytics).
Public Companies and Medium-Sized Accounting Firms
While the Big Four accounting firms audit approximately 98 per cent of all Canadian reporting issuers by market capitalization (typically on the TSX), there are still a large number of publicly traded companies on secondary exchanges, such as the TSX Venture Exchange and the Canadian National Stock Exchange, whose audits are highly coveted by medium-sized accounting firms.
MNP LLP, the fifth largest accounting firm in Canada, gained 22 new engagements and had 53 departures, for a net loss of 31 engagements overall. The company made headline news this year when it acquired 26 Deloitte Canada offices, substantially increasing its presence Quebec and expanding its presence in Southwestern Ontario. Significantly, none of the 53 departures had audit fees of over one million dollars, while a new engagement, cannabis company Cansortium, had audit fees of $1.25M.
Several other medium-sized national firms experienced net engagement losses during the year. The data from Audit Analytics points to the majority of departures landing at regional firms. Virtually all of the companies were micro cap stocks traded on secondary exchanges. Some of the other regional and local firms making significant audit engagement gains were Smythe LLP (9), De Visser Gray LLP (6), Stern & Lovrics LLP (6), Charlton & Company (5), A Chan & Company (5), and Kreston GTA (4).
Once the pandemic has subsided and the Canadian economy has returned to full force, it will be interesting to watch whether micro cap companies migrate back to the national firms.
Read our analysis of 2020 Big Four gains and losses: Big Four accounting firms fell short of net new client gains in 2020). Read analysis from Audit Analytics (published April 15, 2020) on Auditor Changes in Canada: 2020.
2020 Client Gains and Losses are provided by Audit Analytics, which provides insight into the Canadian audit marketplace through market intelligence, due diligence, compliance monitoring and trend analysis. Its Canadian databases provide detailed research and expert analysis on nearly 4,000 companies filing with SEDAR. Contact them through 508 476.7007 or info@auditanalytics.com.
Colin Ellis is a contributing editor to Canadian Accountant.