Profession
Practice
How SME accounting practitioners are spending the summer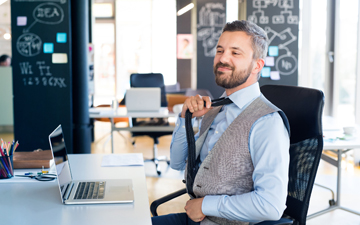 In the first of a two-part series, we find that workflow management projects are a major focus of firms in the summer
OTTAWA, June 4, 2018 – While the late spring and summer months provide CPA accounting practitioners with an opportunity to wind down from the stress of the personal tax season, it would be a stretch to apply George Gershwin's famous lyrics, "Summertime and the livin' is easy" to the life of a busy CPA. Most Canadian accountants in small to medium-size public practice firms are busy this summer with workflow management and technology planning.
"Typically in the summer, we try to do a lot of staff training. We identify gaps that might have come up during tax season. And there is also more time for continuing professional development in the summer months," says Dawn McGeachy, a partner with Colby McGeachy Professional Corporation in Almonte, Ont.
The firm also uses the summer to examine how to improve work flow. For example, "if there are changes in processes, or there's a new technology we've heard about that we want to research, we maybe want to meet with the company and find out a little bit more about it, so we can pick that up in the fall," McGeachy explains.
Special projects and planning exercises are also on the agenda.
"The other kinds of things that we try to do that are really important in the summer months are website updates or updates to our marketing materials … when we can slow down and be more creative, because we have the time to think about it in the summer," McGeachy elaborates.
Practice technology a major project for summer months
Jason Kingston, a principal with DSK LLP in Kitchener, says that, during the busy personal tax season, corporate restructuring work tends to get put on the backburner, but "I jump right into that come May, June, and try to get it all caught up during the summer," he notes.
Also, during the summer months, DSK tends to assess practice-management related issues. For example, in 2016 the firm decided to make the move to a new system to handle its contact management, time and billing functions. In 2017, a decision was made to change its major tax preparation software.
There are connections between the two systems and "so it all kind of came together from the same investigation," Kingston elaborates.
Other typical summer activities for DSK include computer maintenance, such as cleaning up the firm's server and documents, and archiving old material.
For Denise Wright-Ianni, a sole practitioner in London with one additional full-time employee, summer is a time to catch up on important activities such as updating her marketing plans and engaging in networking for new clients. It also presents an opportunity to continue automating her practice.
"Last year, I started to automate things, and this year, we're getting even more automated in terms of getting processes and procedures documented and automated. Our files are pretty much going paperless now," she says.
Jeff Buckstein, CPA, CGA, is an Ottawa-based journalist. Next: Using the summer months for team-building and engagement.