Profession
Practice
National
Changing of the guard in northern BC accounting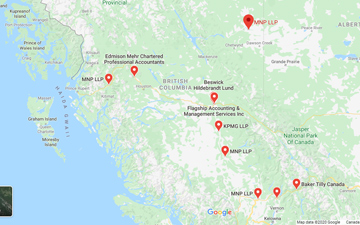 As Deloitte and PwC leave, MNP expands its footprint through mergers
TORONTO, Mar. 13, 2020 – The names of national accounting firms are changing in northern B.C. and the Central Interior, as homegrown national accounting and consulting firm MNP LLP continues to expand its presence in the region, following the departure of two of the Big Four. This week, MNP announced the acquisition of Schwab & Associates Chartered Accountants, which is based in Fort St. John and serves the Peace Region and northern B.C. The merger is effective June 1, 2020.
While Schwab & Associates was seeking to deliver more specialty services to their clients, MNP was looking to expand its presence and add more professional resources to serve the Peace Region and Northern B.C. "Changing market conditions are impacting the way businesses must operate. As such, we are continually looking at new ways to enhance our service offerings and help our clients achieve their goals," said Marco Schwab, Schwab & Associates.
The acquisition brings the national firm's presence across B.C. to 23 firms and is part of MNP's strategic plan for continued growth in the province and its regions. In September 2019, MNP acquired the Prince George practice of Deloitte, which had been operating under the Deloitte brand for 40 years. The roots of the office dated back to 1913 and was serving clients across central and northern B.C. (and even one in Nunavut).
Deloitte's departure from the region was followed in January 2020 by the departure of PwC Canada, which sold its practice to Beswick Hildebrandt Lund (BHL) Chartered Professional Accountants, just four years after establishing its practice through the acquisition of RHB Schmitz de Grace in 2015. At the time, Deloitte was looking forward to supporting clients in the Central Interior. The moves leave KPMG as the Big Four firm with the largest presence in northern B.C. and the Central Interior, with three locations. Deloitte, Ernst & Young (EY), and PwC no longer have offices in the region.
Bridget Noonan of Clearline Consulting, a Vancouver-based firm that provides a suite of services and advice to CPA firms and practitioners, says mergers and acquisitions succeed or fail for the same reasons regardless of whether the firm is large or small. "I believe the number one factor to successful mergers is the ability to continue to meet client expectations. All firms regardless of size, are facing the same issues: recruitment and retention of a talent workforce, a need to clearly define services, service delivery and related pricing, and the identification of the target market who values those services."
In "The #1 factor for accounting practitioners looking to sell," Noonan writes: "When discussing succession in a group setting, the number one question is, 'What is the going rate?', which refers to the percentage of total billings. However, this is not really the deciding factor when a practitioner selects a successor. The number one question has always (and likely will always be) 'How do I ensure my clients will be taken care of?'"
MNP Mergers Stress Culture
MNP mergers with regional accounting firms tend to stress the importance of culture. Marco Schwab of Schwab & Associates says one of the factors in deciding to join MNP was the culture: "Although MNP is a large national firm, it's always been known for being local in focus with a small-firm culture and a commitment to supporting the communities where they live and work. We knew joining MNP would be a good fit for our clients and our team and we are excited about the future. To join a firm with the depth of resources that MNP offers, while maintaining our local focus, is truly a unique and exceptional opportunity."
"This merger is truly a win-win for both our firms and the marketplace," said Kory Brazel, regional managing partner for the Peace Region, MNP. "As the largest firm in the market, we will be able to provide our clients in Fort St. John , Chetwynd and surrounding areas with unparalleled access to teams who can help their organizations succeed. We are thrilled to welcome a well-established and respected accounting firm that shares our values and client-focused approach."
By Canadian Accountant with files from MNP LLP and PwC LLP.