Profession
Practice
Business
Special Report: KPMG Canada beats Big Four accounting rivals in net new client gains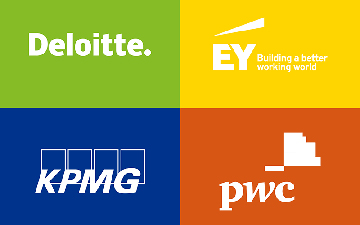 But Ernst and Young Canada was the real winner in new audit engagements in 2022, according to data compiled by Audit Analytics
TORONTO, May 18, 2023 – For the second year in a row, KPMG Canada has surpassed its Big Four rivals in net new audit client gains, helping to offset the loss of a controversial company as an audit client. While KPMG gained more clients than it lost, Ernst and Young LLP was the only member of the Big Four accounting firms to post positive net new audit fee gains for all of 2022, according to Audit Analytics.
Since our launch in 2017, Ideagen Audit Analytics has provided SEDAR analysis exclusively to Canadian Accountant prior to publication, for our annual reviews of client gains and losses among Canadian auditors of publicly traded companies. Based on the data provided, we publish a Big Four report, a mid-tier firm report, and a report on interesting aspects and trends in the overall data.

CLICK ON IMAGE TO ENLARGE.
George Weston Limited changes auditors after 25 years
As reported by Canadian Accountant, the KPMG brand punches above its weight in Canada — KPMG Canada is second only in annual revenue to Deloitte Canada — despite trailing its rivals elsewhere around the world. After acquiring 26 new audit clients among public companies in 2022, KPMG Canada posted a net gain of 14 new engagements in 2022, surpassing its Big Four rivals.
Most notable among its losses was the departure of George Weston Limited (GWL) — the parent company of Loblaw and Shoppers Drug Mart — to another auditor after more than 25 years with KPMG. In acquiring GWL as a client in September 2021, PricewaterhouseCoopers LLP (PwC Canada) gained a client with a $20-billion market cap, Canadian audit fees of almost $9-million, and a year of unrelenting scrutiny over the company's finances.
Throughout 2022, GWL was accused of profiting from "greedflation," and Galen Weston Jr., the public face of grocery giant Loblaw, was called to appear before a House of Commons committee. In a rare moment of accounting interest, politicians, pundits and the public discussed accounting standards that allowed GWL to combine operating segments, thereby obscuring profits from different products lines.
CP Rail just the ticket for a fast track to big audit fees
In contrast, Ernst and Young (EY Canada) quietly posted five net new audit clients (second to KPMG), and a net gain of $190,000 in new audit fees. In doing so, it was the only member of the Big Four to post positive net gains in both new audit clients and new audit fees. Among its top new clients are two miners, American Lithium and Assante Gold, but the big prize was Canadian Pacific Railway (CP Rail).
The historic railway, with a market cap of $75-billion, announced a change in auditors from Deloitte to EY Canada effective at the start of 2022. The lucrative audit fees from the CP Rail engagement, which were not recorded this year, will be sure to boost the bottom line of EY Canada. CP Rail is one of the largest railway companies in the world, even before it completed a US$31-billion acquisition of Kansas City Southern Railway in December 2021.
Deloitte, PwC and the key takeaway from 2022
With seven new audit clients but 10 departed, Deloitte came in third place with a net loss of three public companies, with its new clients coming from the small cap resource sector. As reported by Canadian Accountant, however, Deloitte tops all Canadian professional services firms in annual revenue, having successfully transitioned to consulting and digital services in recent years.
PwC Canada posed a net loss of 29 audit clients in 2022 but its acquisition of GWL as a client more than made up for the loss. How big is the boost from GWL and its household brand names? For perspective, consider that PwC posted $16.7 billion in the net market cap of its clients, while the second highest gain, by affiliate member firms of PKF International, was $5.4 billion.
It is important to note that, according to the Canadian Public Accountability Board, the Big Four firms audit 98 per cent of all Canadian reporting issuers by market capitalization, typically on the TSX. That leaves the Big Four to wrest away a client (like GWL or CP Rail) from a rival, capitalize on a new business trend (like cannabis or cryptocurrency), or nibble at the edges of the Canadian stock markets.
The key takeaway? One large cap client is still worth more than a roster of smaller clients.
2022 Client Gains and Losses data is provided by Audit Analytics, an Ideagen Solution, which provides insight into the Canadian audit marketplace through market intelligence, due diligence, compliance monitoring and trend analysis. Its Canadian databases provide detailed research and expert analysis on nearly 4,000 companies filing with SEDAR. Contact them through 508 476.7007 or info@auditanalytics.com.
Colin Ellis is a contributing editor to Canadian Accountant. Next: 2022 Client Gains and Losses for mid-tier accounting firms in Canada.