Partner Posts
Practice
Technology
Advanced Data Analytics central to CaseWare's latest AI-driven solution for all engagements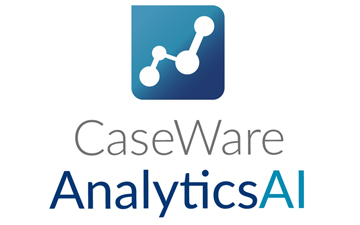 Technology leader seeks to improve efficiency, quality, and value of engagements with new offering for the audit profession
Toronto, October 24, 2019 – Bolstering its 30-year legacy as a leading innovator of audit, financial reporting, and data analytics technology, CaseWare has unveiled AnalyticsAI, an AI-based advanced analytics solution poised to revolutionize the audit industry. AnalyticsAI promises to grant auditors and business service professionals unprecedented access to advanced data analytics throughout an engagement, something that has become critical to the data-driven audit.
"We're bringing this groundbreaking technology to market to address a new reality: conventional auditing processes simply cannot keep pace with the volume of data generated in today's digital business environment," said Matt Dodds, CaseWare IDEA General Manager, emphasizing that until now, similar advanced analytical capabilities were only available to data specialists.
"We've designed AnalyticsAI so anyone on the audit team can use it to easily spot exceptions in client data that warrant further investigation and indicate areas of higher risk," Dodds added.

With CaseWare AnalyticsAI, auditors receive results back into their audit workflow, quickly and easily, enabling them to complete more thorough audits in less time and offer value-added services to their clients based on the results. (IMAGE: CaseWare)
AnalyticsAI is unique in the industry because of its ability to drive results directly into any working papers solution, meaning auditors don't need to leave an engagement workflow to perform analytics as a separate function. Integration of analytics right into the engagement also ensures compliance with standards set out by various governing bodies in the audit industry.
"We're on the ground, working with different partners, networks, and associations to ensure the audit industry is keeping pace with the future," said Ross Hampton, CaseWare International Head of Business Development for the Americas. "Data is the driver of everything we do, so it's an exciting time for us in that we're shaping the future of analytics in the audit industry. The most rewarding part of this initiative to drive transformation will occur when firms look back and wonder how they used to work any other way."
With AnalyticsAI, auditors receive results back into their audit workflow, quickly and easily, enabling them to complete more thorough audits in less time and offer value-added services to their clients based on the results. Another key differentiator is the tool's ability to test entire datasets at once. Whereas other tools perform analysis on smaller data subsets, AnalyticsAI analyzes 100 percent of transactions, identifying anomalies.
"AnalyticsAI will even identify anomalies outside of the parameters of the audit, allowing for higher quality and more efficient bookkeeping overall," added Hampton, explaining that auditors can receive an analysis summary to better understand how the risk-based view of data was created and can then focus their audit effort on areas of higher risk accordingly.
Key features of AnalyticsAI include:
Auditors can request and receive client data directly through the client inquiries portal, or import trial balance and transaction data from multiple accounting packages.
Analysis can be tailored based on the entity being audited, including the ability to increase the risk score of 'influencer' accounts.
Auditors can safely rely on the accuracy of uploaded data and confirm the completeness of data uploads using the data reliability checklist and other data reconciliation functionality.
Multiple users can simultaneously drill down and review specific transactions.
A clickable Risk Summary widget enables users to isolate areas of interest on the fly and examine them in more detail.
Artificial intelligence and machine learning techniques are leveraged to generate trusted, repeatable, and defensible results for every engagement.
Created by the internationally recognized team that has been developing audit data analytics solutions with CaseWare IDEA for over three decades, AnalyticsAI is a prime example of the company's powerful blend of industry expertise and leadership in the technology space. Both the cloud-based and on-premise analytics solutions seamlessly integrate with each other and other platforms within the CaseWare ecosystem.
"One of the advantages of being able to tie AnalyticsAI and IDEA together is that it takes away the notion of the 'black box' — the primary criticism of AI products on the audit market today," said Matt Dodds, adding that data scientists can easily go behind the scenes to dive deeper into the results reported by AnalyticsAI. "If further investigation of the data is needed, they simply move the data over and slice and dice it in IDEA," he said.
The rollout of AnalyticsAI will start in North America, followed by Europe, Asia and then across CaseWare's broader global network. To learn more about CaseWare AnalyticsAI, or to book a demo, click here.
About CaseWare International
CaseWare International Inc. (www.caseware.com) develops cutting-edge software solutions for accounting firms, corporations, and governments. The company continually works to produce a stream of successful product improvements, innovations, adaptations and extensions that will change the future of audit, financial reporting and data analytics. CaseWare Working Papers, IDEA and Cloud platforms are using artificial intelligence and machine learning to change the way we think about and work with data. The result: measurable returns on efficiency, quality, and value for firms and their clients. Leading the industry for over 30 years, CaseWare solutions support 16 languages and are used by more than 500,000 people across 130 countries.