Business
National
Technology
Economy slowing, digital rising, says accounting firm RSM Canada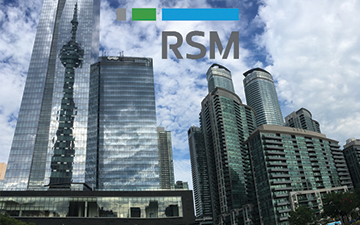 New economy outpacing broader economic growth
TORONTO, July 30, 2019 – The Canadian economy will slow in the remainder of 2019 and throughout 2020 as the economies of Canada's global trading partners slows as well. According to the latest report from accounting firm RSM Canada, the Canadian economy will slow from two per cent in the second and third quarters of 2019 to 1.6 per cent by the third quarter of 2020.
Canada is seeing the benefits of government investment in the technology and digital economies, according to volume two of The Real Economy, a quarterly business insights publication from RSM Canada. The digital economy, defined as "economic activity that produces or services technology and telecom equipment, or that is involved with e-commerce," grew faster than the economy as a whole between 2010 to 2017, and now comprises 5.5 per cent of the total economy — a larger share than the oil and gas extraction sector.
"While not as large at tech, the digital economy is not dependent on the erratic behavior of the global commodity market," states the report. There is, however, a digital skills gap that needs addressing before Canada can continue to develop its position as a technology leader.
"The numbers show that Canada's relative openness to immigration is a clear benefit for many middle market businesses," said Joe Brusuelas, chief economist, RSM US LLP. "As the digital economy grows, it brings in the right skillsets to help bridge the widening skills gap, but it will also support Canada's plans for economic growth, where a broad spectrum of diversity and perspectives will develop the country into a major tech and industry player."
Global growth to slow
The forecast for slower Canadian growth coincides with what looks to be a similar decline in growth among Canada's trading partners. Analyst expectations are for sub-2 per cent U.S. growth in 2019 and 2020, while the major nongovernmental organizations are looking for a slowdown in global growth from 3.6 per cent in 2018 to a range of 2.9 per cent to 3.3 per cent in 2019, and 2.8 per to 3.6 per cent next year.
The Real Economy asserts that "the markets are nonetheless pricing in apprehension over endless trade negotiations and the potential impact of global supply chain disruption on an already-slowing global economy." U.S. President Donald Trump continues to use protectionist measures such as tariffs to engage in ongoing trade disputes with China, Mexico and other countries, often without warning.
Amidst volatile economic factors, the report states that financial markets are pricing only a 40 per cent chance that the Bank of Canada will lower rates in 2019, but argues "perhaps a rate cut now is a safer choice than multiple rate cuts later." It does acknowledge, however, that "arguably, interest rates have been too low for too long, which had the unintended consequence of creating an asset-price bubble in housing and aiding and abetting the over-leveraging of the balance sheets of Canadian households."
New economy, traditional economy
According to an analysis by IMD, Canada is ranked eighth in total digital competitiveness and is the third-largest economy ranked in the top 10 after the United States (ranked first) and the U.K. (ranked 10th). As the RSM report points out, the Canadian public's acceptance of the New Economy tends to differ based on demographics. "For households that were affected by the hollowing out of traditional manufacturing to low-wage, offshore locations over recent decades, the prospect of the New Economy and further automation might only add to their alienation, posing another reminder of their forgotten contributions to the 'old' economy."
Canada's traditional resource economy would benefit broadly from the completion of the Trans Mountain Expansion Project, says the report. "While Alberta's employment stands to fair [sic] best under the TMX with an estimated 55 per cent of the impact, BC will also do well, gaining nearly a quarter of the expected jobs, the CBC has estimated." RSM Canada asserts that, "From this perspective, TMX is rightly considered to be in the national interest."
Small and medium-sized enterprises — generally defined in Canada as companies with fewer than 500 employees — would be among the largest beneficiaries of TMX."
By Canadian Accountant with files from RSM Canada.