Business
National
Management
Canadian economy to slow in 2020, says RSM Canada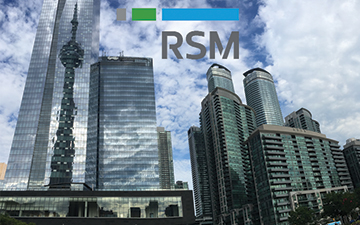 Canada facing headwinds of a global manufacturing recession
TORONTO, November 5, 2019 – The latest economic report from accounting firm RSM Canada is warning that Canada's GDP growth is in for a rocky ride in 2020 due to a global manufacturing slowdown. According to "The Real Economy," a quarterly economic report with a focus on medium-sized businesses, the world's largest manufacturing economies are slowing or already in manufacturing recessions.
Geopolitical tensions and trade wars are the main culprit for Canada's slowing economy. President Donald Trump's tariffs on China in 2018 kick-started an ongoing trade war, along with a sense of hesitation around the world. Compounded with ongoing political tensions such as Brexit, this has had a ripple effect on Canada's economy, particularly on small-to-medium size enterprises in Canada. If the trade war between China and the U.S. escalates, the country's economy will continue to be impacted, and SMEs will feel the main force of this.
As the RSM Canada report points out, the GDP of Canada's manufacturing sector is roughly equal to resource extraction (7.8%) and agriculture (2.1%) combined. Ninety per cent of Canadian crude oil is exported to the U.S., a sector that has suffered since the oil price shock of 2015. With global manufacturing powerhouses such as Germany and the U.S. in a manufacturing recession, and China posting its slowest economic growth in years, Canada is now feeling the side effects.
As the RSM report poetically points out, "So when U.S. manufacturing business sneezes, Canada catches a cold; and when Lehman Brothers collapsed in New York, Toronto was caught in the maelstrom, along with every other financial centre in the world. This seems obvious from the parallel movement of U.S. and Canada's business sentiment, and of the similar returns on equity investments in each economy."
Canada currently has the lowest debt-to-GDP ratio in the G-7 at about 31 per cent. GDP growth, however, has not surpassed four per cent since 1999-2000, raising a sobering question: Has Canada, along with its economically mature trading partners, entered a period of secular moderation, with faster growth limited to developing economies?
Canada has fared well over the past five years — the unemployment rate is at a near historic low—but Canada faces some major headwinds, and if these risks materialize, additional fiscal policy measures may be required.
According to RSM Canada, the "hotly-debated" Trans Mountain Expansion Project could provide the boost to the economy "that Canada needs." RSM research asserts that the project could add $164 billion to Canada's GDP and create 40,000 jobs, with half of those going to SMEs. Additional measures around employment insurance, tax relief for businesses and individuals, and credits would also soften the economic blow.
By Canadian Accountant staff. Read the full report from RSM Canada: The Real Economy, Canada.