Profession
Practice
Business
Strong showing by Canadian R&L accounting firms in H1 audit client gains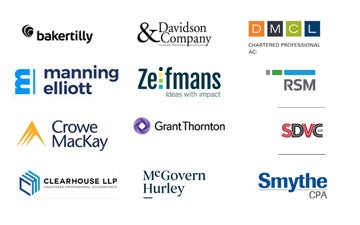 Exclusive: 2021 H1 SEDAR data of Canadian firms crunched by Audit Analytics
TORONTO, Sept. 13, 2021 – As the coronavirus pandemic impacted the Canadian economy in the first half of 2021, regional and local accounting firms across Canada posted better new engagement numbers than their larger, national rivals. With the exception of Grant Thornton, smaller auditors such as Manning Elliott LLP and Ziefmans LLP — hardly household names — did better in 2021 H1 in acquiring new audit engagements of publicly traded companies than their larger, national rivals.
New audit client gains and losses are based on SEDAR analysis provided exclusively to Canadian Accountant by Audit Analytics, an independent research provider based in the United States. Canadian Accountant publishes half-year and year-end reports, separating our reporting into Big Four accounting firms, followed by reporting on the mid-market tier of accounting firms in Canada.
While the Big Four accounting firms audit approximately 98 per cent of all Canadian reporting issuers by market capitalization (typically on the TSX), there are still a large number of publicly traded companies on secondary exchanges, such as the TSX Venture Exchange and the Canadian National Stock Exchange, whose audits are highly coveted by national, regional and local auditors.
Gains and Losses, Audit Fees
With $934 million in net audit fees gained, Manning Elliott LLP had a great start to the year, staking third place behind PwC Canada and KPMG Canada, followed closely behind by Marcum LLP and Zeifmans LLP respectively. While Manning Elliott is a B.C. regional firm and Zeifmans is a local firm based in North York, Ont., Marcum LLP is a US national firm with offices in China. It is included on this review due to its audits of two companies listed on Canadian exchanges.
The two Canadian audit firms earned more in net new audit fees separately than Deloitte Canada and EY Canada combined. Manning Elliott accomplished the feat largely though a combination of mining and cannabis companies listed on secondary exchanges. Zeifmans scored the coffee company formerly known as The Second Cup, which Aegis Brands sold to Foodtastic of Quebec in early 2021, and continues to be listed on the TSX.
Harbourside CPA, a mid-size firm (formerly known as Akeroyd Leung Amlani), based in Vancouver, led all firms with five net auditor engagements (five gains, no losses). Harbourside and its five net new audit engagements were followed closely by local firms Jones & O'Connell, Mao & Ying, and MSLL CPA, each with three net new engagements.
Market capitalization is a strong indicator of the prestige of a client in terms of engagement work and audit fees. National accounting firm Grant Thornton added Zomedica Corp. (formerly Zomedica Pharmaceuticals Corp.), an American company listed on the TSX Venture Exchange to its roster of clientele. Zomedica has a market cap of $1.7 billion.
Grant Thornton also added PyroGenesis, a plasma company listed on TSX, which helped the national firm achieve third place overall in total market cap of its new clients ($2.5B), just behind KPMG and PwC respectively.

2021 H1 Client Gains & Losses, courtesy Audit Analytics. CLICK ON IMAGE TO ENLARGE.
Further summaries of the SEDAR data will be posted by Audit Analytics on its website blog this month.
As the Canadian economy slowly emerges from pandemic business restraints, we will continue to track public practice client gains and losses. We typically report year-end figures annually in the spring.
2021 H1 Client Gains and Losses are provided by Audit Analytics, which provides insight into the Canadian audit marketplace through market intelligence, due diligence, compliance monitoring and trend analysis. Its Canadian databases provide detailed research and expert analysis on nearly 4,000 companies filing with SEDAR. Contact them through 508 476.7007 or info@auditanalytics.com.
Colin Ellis is a contributing editor to Canadian Accountant.