Profession
Practice
Business
In a tough year for accounting firms, PwC Canada leads Big Four in H1 audit client gains, losses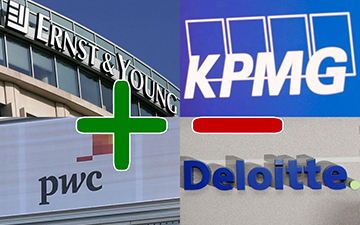 2020 H1 SEDAR data of Canadian Big Four firms crunched by Audit Analytics
TORONTO, Oct. 13, 2020 – As the COVID-19 pandemic roiled the Canadian economy in the first half of 2020, PWC Canada was the only accounting firm among the Big Four in Canada to post a net gain in new audit engagement clients, according to SEDAR analysis provided exclusively to Canadian Accountant by Audit Analytics, an independent research provider based in the United States. With 10 new client gains and seven client departures, PwC Canada also posted the largest net increase in new audit fees amongst its competitors, at $2.7 million (all figures in Canadian dollars).
Since our launch in 2017, Audit Analytics has provided its analysis to Canadian Accountant prior to publication, for our annual review of net audit engagement client gains and losses among Canadian accounting firms. This year, with the continued support of Audit Analytics, we are introducing half-year reports, effectively doubling our reporting. In this report, we focus on the Canadian Big Four accounting firms, to be followed by our reporting on the mid-market tier of accounting firms in Canada.
Gains and Losses, Audit Fees
The Big Four accounting firms audit approximately 98 per cent of all Canadian reporting issuers by market capitalization (typically on the TSX), according to the Canadian Public Accountability Board. When a change of auditors occurs at a large-cap company, it almost always occurs from one member of the Big Four to another.
Such was the case at PwC Canada, the only member of the Canadian Big Four to post a net audit client gain during the first half of 2020, as seen in the chart below.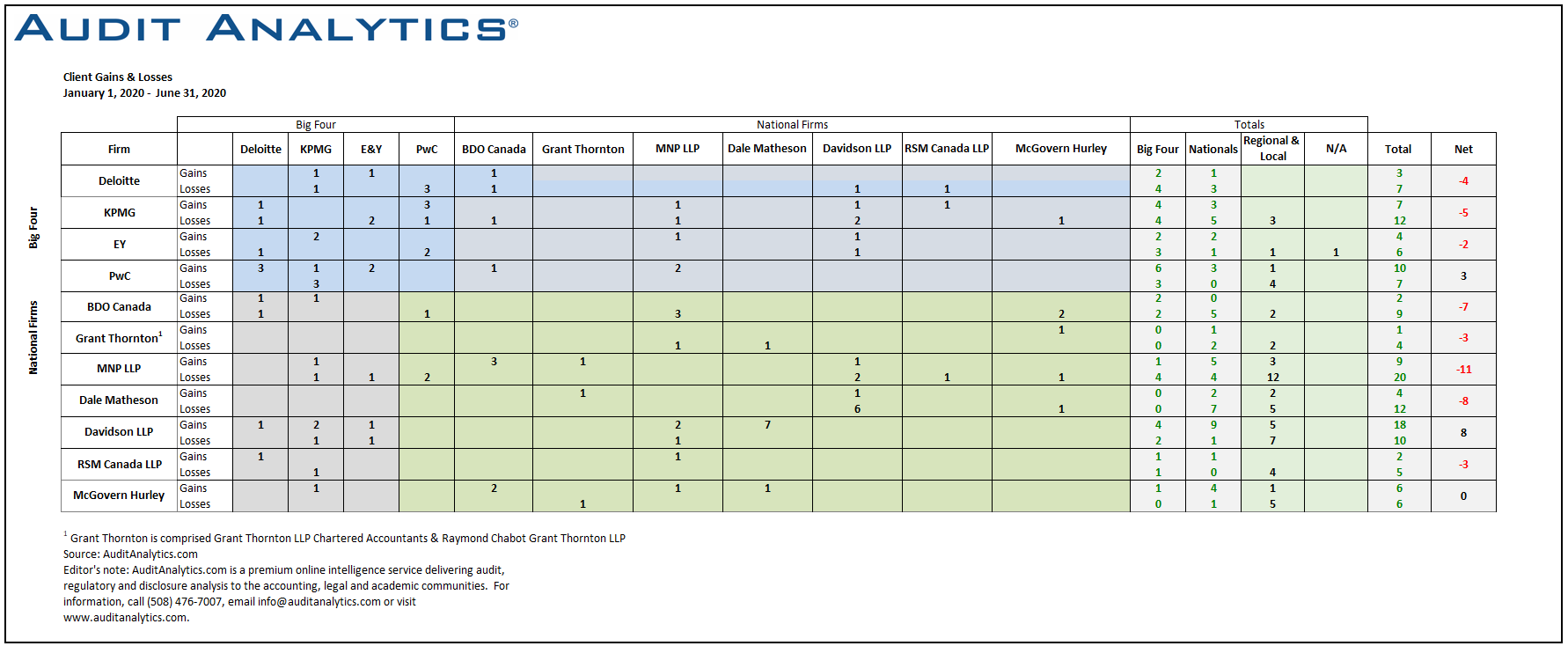 2020 H1 Client Gains & Losses (AUDIT ANALYTICS).
PwC gained BlackBerry (market cap: $3.3B), which was announced in April 2020, and new audit fees of $3.4 million, accounting for roughly 60 per cent of its overall new audit fees. Its net new audit fees was first among its rivals at $2.7 million.
Continuing the theme, KPMG Canada, which acquired the second highest number of audit client gains (seven), benefitted greatly from the acquisition of Turquoise Hill Resources, a former audit client of PwC. The Canadian copper mining company, a subsidiary of multinational mining giant Rio Tinto, led to $1.4 million in new audit fees, accounting for almost half of overall new audit fees. KPMG Canada was also second in net new audit fees among its rivals at approximately $700k.
Deloitte Canada and EY Canada both posted negative numbers for net new audit clients as well net new audit fees. EY Canada, however, made its mark by acquiring the largest private residential mortgage insurer in Canada, Genworth MI.
Audit industry caught by coronavirus troubles
Audit client gains and losses are not necessarily an indication of the overall health of the audit industry. Yet the economic impact of the pandemic has affected the sector just as it has the greater economy. The first half of 2020 was noteworthy for how quickly the pandemic economic effects were felt by professional services providers.
The year began with the report, on New Year's Day, that China's Huanan Seafood Wholesale Market, the suspected centre of the coronavirus outbreak, had been closed. China officially notified the World Health Organization of the outbreak on January 3, 2020. By March 2020, the Canadian economy had lost one million jobs, and the official jobless rate had climbed to almost eight per cent. The Canada Emergency Wage Subsidy (CEWS) and the Canada Emergency Response Benefit (CERB) were introduced on April 1, 2020.
On February 21, Canadian Accountant became the the first media outlet to question the Canadian Securities Administrators (CSA), an umbrella group of Canada's 13 provincial and territorial securities regulators, as to whether it would extend regulatory filings required of public companies to be made on or before June 1, 2020. "At this time, we believe that Canadian exposure is fairly low," said a spokesperson for the CSA.
Four weeks later, however, the CSA issued a press release announcing regulators would provide a 45-day "temporary relief" from some regulatory filings required to be made on or before June 1, 2020.
In April, the Globe and Mail reported partner compensation cuts and time-off measures imposed at Canada's major accounting firms, including the Big Four. American accounting website Going Concern began reporting layoffs at Canadian major accounting firms, including the Big Four, throughout the summer and into September. The website Big 4 Accounting Firms has also listed Canadian firms on its Big 4 Layoffs & Pay Cut Tracker 2020. (We noticed a number of email accounts on our subscriber list at one Canadian Big Four firm were all closed on August 11, 2020.)
In part two of this report, we will look at the 2020 H1 results for medium-size accounting firms, as well as some regional and local firms across Canada, with data provided by Audit Analytics. We typically publish our year-end wrap-up of results in March.
2020 H1 Client Gains and Losses are provided by Audit Analytics, which provides insight into the Canadian audit marketplace through market intelligence, due diligence, compliance monitoring and trend analysis. Its Canadian databases provide detailed research and expert analysis on nearly 4,000 companies filing with SEDAR. Contact them through 508 476.7007 or info@auditanalytics.com.
Colin Ellis is a contributing editor to Canadian Accountant.