Profession
Practice
National
Exclusive Report: Big Four audit client gains, losses in Canada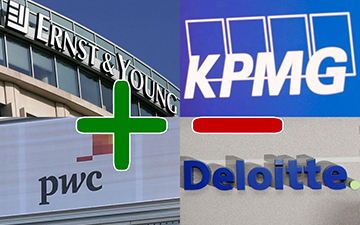 Our annual report of 2018 SEDAR filing data crunched by Audit Analytics
TORONTO, March 15, 2019 – Accounting giant KPMG Canada led the Big Four in net audit gains for 2018, according to SEDAR analysis provided to Canadian Accountant by Audit Analytics, an independent research provider based in the United States. 2019 marks the third consecutive year that Audit Analytics has provided its annual data analysis of auditor changes in Canada exclusively to Canadian Accountant prior to publication. This year, we are separating our reports into Big Four clients gains and losses, with a subsequent report to be published on the mid-tier market.
With 26 new client gains and 10 client departures, KPMG Canada posted a net total of 16 gains, far outstripping its rivals in the audit industry. KPMG Canada also scored the highest gains in total audit fees ($12.4 million, all figures in Canadian dollars) and the total market cap of its new clients ($122 billion). Its mammoth gain in market cap was driven largely by oil patch giant Suncor ($88.6 billion market cap), which filed a notice of change of auditor on August 1, 2018 with the U.S. Securities and Exchange Commission.
KPMG Canada's leap was also driven by two cannabis companies, Aurora Cannabis and Canopy Growth, with market caps of $12 billion and $13.1 billion respectively. The cannabis market is a common theme throughout the gains and losses for the Big Four in 2018.
While Deloitte had a net loss of 15 clients in 2018, among Deloitte's seven gains were Harvest One Cannabis, with the largest market valuation among Deloitte's gains, and True Leaf Medicine International, which has two operating divisions, True Leaf Medicine Inc. and True Leaf Pet Inc., a "global cannabis and hemp wellness brand for pets."
The accounting practices and valuations of the cannabis industry have come under scrutiny from a wide range of critics. These include both cannabis industry executives and Canadian Accountant columnist Al Rosen, a critic of international financial reporting standards. However, the legalization of marijuana in Canada is a boon to Canadian accounting firms, which have benefited from a new sector of client companies to audit.
EY Canada snagged second place in overall gains in terms of both audit fees and market cap in 2018. Mid-market companies like Enghouse Systems, Superior Plus, and SunOpta drove new audit fees of $7.3 million for 12 companies with a total market cap of $5.1 billion. (EY Canada broke even with a net gain/loss of zero for the year.)
PwC Canada, meanwhile, gained $2.1 million in new audit fees and a total market cap $1.5 billion. PwC is the auditor of Namaste Technologies, "Your Everything Cannabis Store™." (PwC had the second highest net gain/loss of the Big Four.)
The Big Four accounting firms and their foreign affiliates audit approximately 98 per cent of all Canadian reporting issuers by market capitalization. When a change of auditors occurs at a large cap company, it almost always occurs from one member of the Big Four to another, as was the case of Suncor in 2018. In addition to its cannabis companies, KPMG also landed a diversified range of public companies in the $1 billion market cap group.
Coming soon, Canadian Accountant will report on 2018 audit client gains and losses in the mid-tier market. The full data on audit client gains and losses will be published next week by Audit Analytics. We will inform Canadian Accountant readers through social media when it becomes available. Read the 2017 report from Audit Analytics here.
Firm

Gain/Loss

Net

KPMG Canada

26

16

10

PwC Canada

18

1

17

EY Canada

12

0

12

Deloitte Canada

7

-15

22

2018 Client Gains and Losses are provided by Audit Analytics, which provides insight into the Canadian audit marketplace through market intelligence, due diligence, compliance monitoring and trend analysis. Its Canadian databases provide detailed research and expert analysis on nearly 4,000 companies filing with SEDAR. Contact them through 508 476.7007 or info@auditanalytics.com.

Colin Ellis is the managing editor of Canadian Accountant.