Profession
Practice
Business
Special Report: Foreign accounting firms dominated Canadian mid-tiers in 2022 and the audit regulator is concerned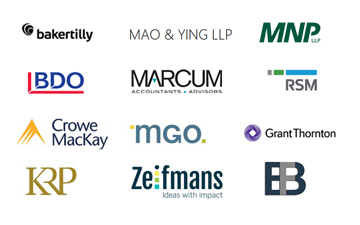 Audit firms based in the United States made the most net client gains in the Canadian mid-tier accounting sector, according to data compiled by Audit Analytics
TORONTO, May 26, 2023 – For the first time in our exclusive reporting of new audit client gains and losses, accounting firms based in the United States have topped our annual list of mid-tier accounting firms in Canada. BF Borgers CPA BC, which is based in Colorado, posted the most net new audit clients, while Marcum LLP, a firm headquartered in New York State, posted the highest net new audit fees. The Canadian Public Accountability Board (CPAB) flagged the audit quality of foreign firms operating in Canada in its most recent annual inspection report.
Since our launch in 2017, Ideagen Audit Analytics has provided SEDAR analysis exclusively to Canadian Accountant prior to publication, for our annual reviews of client gains and losses among Canadian auditors of publicly traded companies. Based on the data provided, we publish a Big Four report, a mid-tier firm report, and a report on interesting aspects and trends in the overall data.
Mid-Tier accounting firm audit client gains and losses
The success of BF Borgers coincided with an acquisition by homegrown national accounting firm MNP LLP. In August 2022, MNP added three partners from Harbourside LLP, which was based in Vancouver, and the firm permanently closed. According to data provided by Audit Analytics, of the 21 clients acquired by BF Borgers, eight were former clients of Harbourside. Eight former Harbourside clients moved to Buckley Dodds LLP, run by Con Buckley and Geoff Dodds, the founding partners of Harbourside.
Just one client of BF Borgers was traded on the Toronto Stock Exchange, with the rest trading on venture exchanges. Several of its audit clients include cannabis companies and reverse takeovers. In May 2022, the US Public Company Accounting Oversight Board sanctioned a former BF Borgers audit director for violating PCAOB rules in relations to the audits of companies with connections to China.
While Big Four professional services firm KPMG Canada came in second place overall in net new audit clients, BF Borgers was followed by regional auditors Crowe MacKay LLP, Mao & Ying LLP, and Kingston Ross Pasnak LLP respectively among mid-tier accounting firms.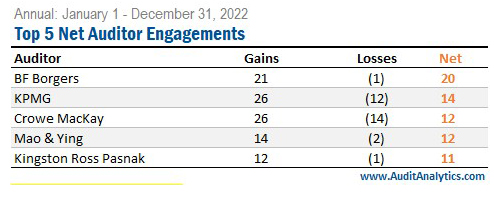 CLICK ON IMAGE TO ENLARGE.
Mid-Tier accounting firm audit fee gains and losses
Marcum LLP, a US firm censured by the Canadian Public Accountability Board (CPAB), topped all mid-tier firms in net new audit fees in 2022. The firm made $6.3 million in net new audit fees, based largely on two companies, SNDL (formerly SunDial Growers) and TCPO Holding, both cannabis companies. Marcum had the distinction of being the first auditor to be sanctioned under new transparency rules by CPAB, and has been barred from accepting new "high risk" reporting issuers in Canada.
The top four accounting firms with the most in net new audit fees were all foreign firms. Macias Gini & O'Connell LLP (MGO), which has offices on both coasts of the US and three offices in India, came in second to Marcum. MGO made $2.6 million in its audit of cannabis company Verano Holdings. MGO was followed by BF Borgers and PKF, with auditors in the US and UK.
Kingston Ross Pasnak LLP, which is based in Edmonton, came in fifth place and leads the list of Canadian firms. These firms include brand names such as BDO and Grant Thornton, as well as regional firms such as Zeifmans, and a newcomer to the list, Mao & Ying LLP.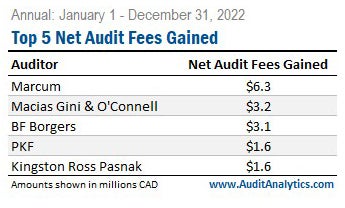 CLICK ON IMAGE TO ENLARGE.
Audit quality of foreign firms flagged by audit regulator
In its most recent annual inspection report, CPAB reported an increase from 50 per cent in 2021 to 81 per cent in 2022 in the number of significant findings in the audits of non-annually inspected firms. Three of the firms were based outside of Canada and all three had significant findings. CPAB has also flagged audits of companies in the technology, cannabis, psychedelics, and crypto sectors.
It is important to note that, according to CPAB, the Big Four firms audit 98 per cent of all Canadian reporting issuers by market capitalization, typically on the TSX. That leaves the mid-tier audit firms to capitalize on new business trends (such as cannabis or cryptocurrency) and work exclusively in venture exchange markets such as the TSX Venture Exchange and the Canadian Securities Exchange.
2022 Client Gains and Losses data is provided by Ideagen Audit Analytics, which provides insight into the Canadian audit marketplace through market intelligence, due diligence, compliance monitoring and trend analysis. Its Canadian databases provide detailed research and expert analysis on nearly 4,000 companies filing with SEDAR. Contact them through 508 476.7007 or info@auditanalytics.com.
Colin Ellis is a contributing editor to Canadian Accountant. Watch for our third and final part in this series, focusing on trends and oddities from the 2022 net client gains & losses data.