Profession
Practice
Business
KPMG Canada leads Big Four in audit client gains, losses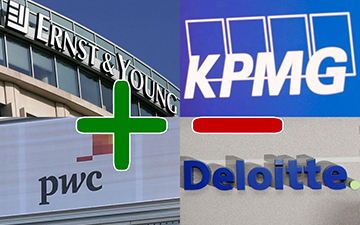 Our annual report of 2019 SEDAR filing data crunched by Audit Analytics
TORONTO, March 20, 2020 – KPMG Canada was the only accounting firm among the Big Four to post a net gain in audit clients during 2019, according to SEDAR analysis provided to Canadian Accountant by Audit Analytics, an independent research provider based in the United States. With 24 new client gains and 16 client departures, KPMG Canada posted a net total of eight gains, while its competitors (Deloitte Canada, EY Canada, and PwC Canada) all posted net losses.
2020 marks the fourth consecutive year that Audit Analytics has provided its annual data analysis of auditor changes among public companies in Canada exclusively to Canadian Accountant prior to publication. This year, we are separating our reports into Big Four clients gains and losses, with a subsequent report to be published on the mid-tier market, and a subsequent analysis of overall trends.
Audit Fees and Market Caps
KPMG Canada also scored the highest gains in total audit fees ($8.7 million, all figures in Canadian dollars) and total market cap of its new clients ($91.5 billion). These gains are somewhat misleading, however, as they were driven largely by the addition of one client: Suncor Energy.
The oil patch giant ($88 billion market cap) filed its change of auditor in 2018 and its audit engagement with KPMG Canada became effective as of March 31, 2019. Take away the Suncor addition and the numbers look more similar across the board for the major players in the accounting industry.
EY Canada (Ernst & Young LLP) took second place by adding 12 new audit clients in 2019. Troubled cosmetics company MAV Beauty Brands, which was growing by acquisition and recently changed its executive leadership, helped to drive EY Canada's new client audit fees to $3.7 million. Charlotte's Web Holdings, which sells cannabis wellness products, helped drive new client market cap totals to $2.7 billion total.
PwC Canada came in a close second by adding 11 new audit clients in 2019. Chief among these was Liminal Biosciences, a Canadian biopharmaceutical company with a $1.1 billion market cap, helping to drive PwC Canada's total new client market cap to $2.2 billion and audit fees to $2.0 million. Deloitte Canada added four new audit clients, all in the energy and mining sector, with Polymet Mining leading the way.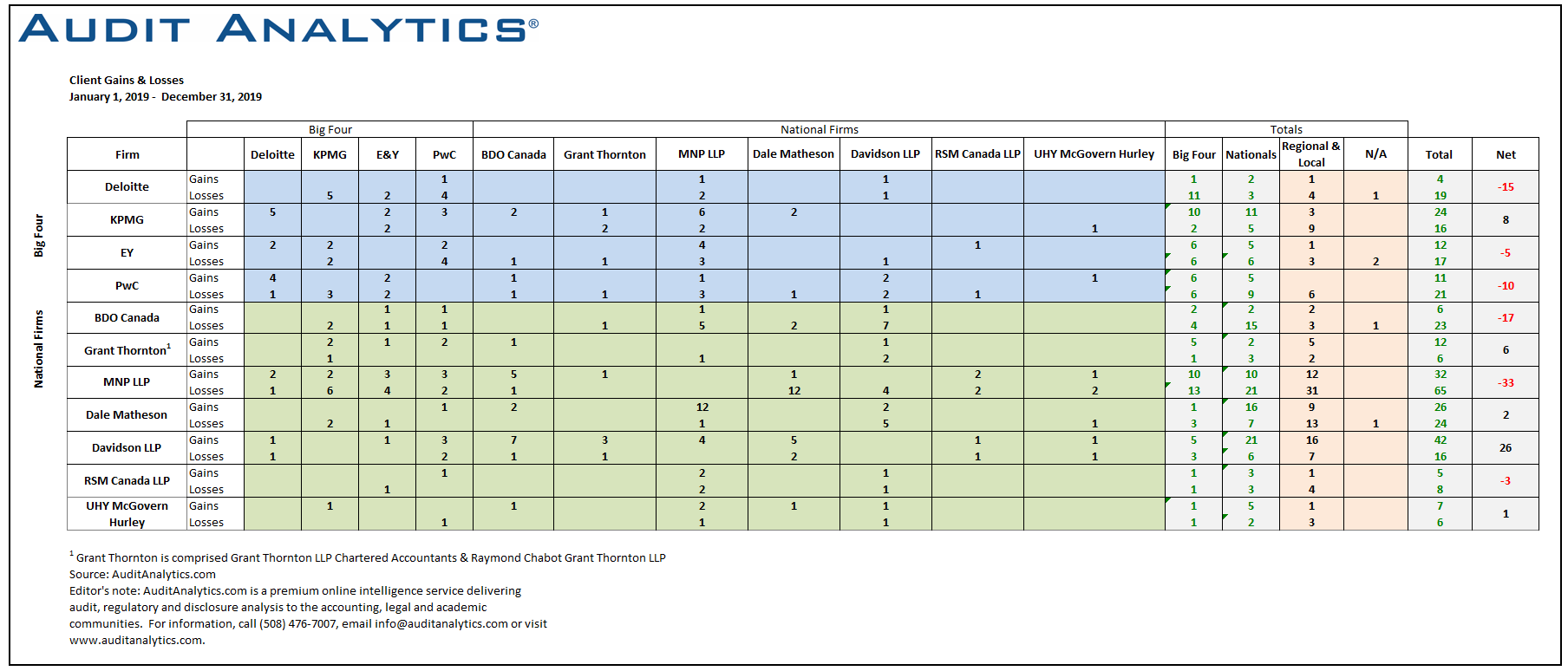 Source: Audit Analytics.
Big Four: Accountants and Consultants
The Big Four accounting firms audit approximately 98 per cent of all Canadian reporting issuers by market capitalization (typically on the TSX), according to the Canadian Public Accountability Board. When a change of auditors occurs at a large cap company, it almost always occurs from one member of the Big Four to another, as was the case of Suncor in 2018.
As reported by Canadian Accountant, the Big Four professional services firms, comprising accounting, audit and advisory services, dominate the Canadian consulting market. The Big Four has posted above-average growth in the $4 billion domestic consulting market, a figure that points to a worldwide trend: accounting firms are increasing revenue largely through advisory services rather than traditional channels such as audit or tax.
Another trend of note in the Big Four new audit client gains and losses is the absence of new cannabis companies. The legalization of marijuana drove sky-high audit fee gains in 2018, as reported by Canadian Accountant, as newly listed public companies needed their books to be audited. That trend appears to be levelling off, as the accounting giants added just a handful of companies in 2019, such as Westleaf (KPMG), Charlotte's Web (EY), Auxly (EY), Fire & Flower (PwC).
Watch for our report on 2019 audit client gains and losses in the mid-tier market. A combined Big Four/mid-tier report on audit client gains and losses will be published by Audit Analytics. We will inform Canadian Accountant readers through social media when it becomes available. Read the 2018 report from Audit Analytics here.
2019 Client Gains and Losses are provided by Audit Analytics, which provides insight into the Canadian audit marketplace through market intelligence, due diligence, compliance monitoring and trend analysis. Its Canadian databases provide detailed research and expert analysis on nearly 4,000 companies filing with SEDAR. Contact them through 508 476.7007 or info@auditanalytics.com.
Colin Ellis is a contributing editor to Canadian Accountant.