Profession
Practice
Business
KPMG Canada leads all Canadian accounting firms in 2021 H1 audit client net gains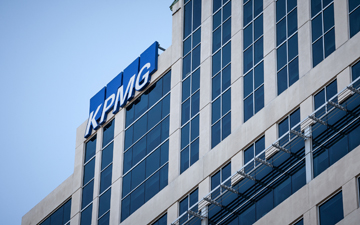 SEDAR filing data of Canadian accounting firms crunched by Audit Analytics
TORONTO, Sept. 10, 2021 – As Canadian accounting firms and their clients struggled during the first half of 2021, KPMG Canada outpaced all rivals in net new audit client gains, according to SEDAR analysis provided exclusively to Canadian Accountant by Audit Analytics, an independent research provider based in the United States. The Big Four accounting firm also came in second to PwC Canada in net audit fees gained.
Since our launch in 2017, Audit Analytics has provided its analysis to Canadian Accountant prior to publication, for our annual reviews of net audit engagement client gains and losses among Canadian accounting firms. We publish half-year and year-end reports, separating our reporting into Big Four accounting firms, followed by reporting on the mid-market tier of accounting firms in Canada.
Six months of economic turmoil due to Covid-19
The first half of 2021 was a challenge for Canadian accounting firms and their clients. A second wave of the Covid-19 pandemic roiled the Canadian economy, disrupting business through government-mandated shutdowns, labour shortages and supply chain disruptions. Tax deadlines changed and clients both corporate and individual grasped at financial lifelines from the federal government.
Despite the challenges, many companies thrived, implementing new strategies with long-lasting results. As reported by Canadian Accountant in a five-part series last May, the pandemic accelerated change to the typical business model of accounting firms, as accountants transitioned to remote work, virtual meetings and cloud-based efficiencies. MNP expanded its presence in Quebec, Deloitte scored large public sector coronavirus-related contracts, and KPMG launched its new Finance Plus cloud accounting service.
KPMG Canada outpaces rivals in net auditor engagements
With 16 new client gains and eleven client departures, KPMG posted five net auditor engagements in the first half of 2021. That was enough to lead its Big Four rivals in net audit client gains.
The Big Four accounting firms audit approximately 98 per cent of all Canadian reporting issuers by market capitalization (typically on the TSX), according to the Canadian Public Accountability Board. When a change of auditors occurs at a large-cap company, it almost always occurs from one member of the Big Four to another.
Market cap is a strong indicator of the engagement work and audit fees of an accounting firm's clientele. KPMG Canada far outpaced its rivals in the market capitalization of new clients gained. The firm's new engagement clients had a total market cap of $18.2 billion, due chiefly to dairy powerhouse Saputo Inc., with a market cap of $16.3 billion.
Saputo helped KPMG post net new audit fees gained of $3.4 million, second only to PwC Canada, which posted net new audit fees gained of $4.5 million. PwC earned its first place finish largely through $5.8 million earned in audit fees from Stantec, an Edmonton-based global engineering firm. PwC also led its rivals in 2020 as the runaway winner in net new client audit fees, just surpassing $3 million.

2021 H1 Client Gains & Losses, courtesy Audit Analytics. CLICK ON IMAGE TO ENLARGE.
Auditor departures: Resignations and Dismissals
Based on SEDAR filings as of July 9, 2021, just seven per cent (two of 29) auditor departures at the Canadian Big Four were due to resignations. KPMG resigned from Wilton Resources and NexPoint Hospitality Trust, which terminated a merger with Condor Hospitality Trust one year ago. Seven per cent is an unusually low figure, as recent SEDAR data reveal that about one-quarter of all departures are due to auditor resignations.
2021 H1 Client Gains and Losses are provided by Audit Analytics, which provides insight into the Canadian audit marketplace through market intelligence, due diligence, compliance monitoring and trend analysis. Its Canadian databases provide detailed research and expert analysis on nearly 4,000 companies filing with SEDAR. Contact them through 508 476.7007 or info@auditanalytics.com.
Colin Ellis is a contributing editor to Canadian Accountant. Image: KPMG offices in Ottawa, Canada (iStock).