Business
Global
National
Do we need NAFTA more than NAFTA needs us?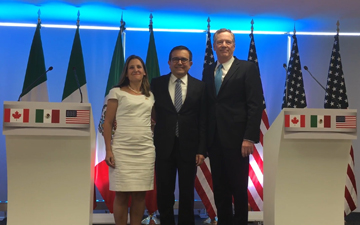 Business experts disagree on Canada's position on dispute resolution, trade imbalance in NAFTA talks
OTTAWA, Oct. 3, 2017 – As Canadian negotiators prepare for a fourth round of NAFTA talks, set to begin in Washington next week, observers are wondering how talks can progress in the face of serious policy disagreements. One business pundit is urging the Canadian government to "get serious" about access to the largest market in the world and work with Americans to create a stronger dispute mechanism.
"The Americans have empirical data from the OECD showing that the economic value added to the United States has diminished dramatically under NAFTA and increased substantially for Canada and Mexico," says Ian Lee of the Sprott School of Business. "If we don't acknowledge, recognize and adjust to that reality, then we are going to face very difficult times."
A frequent guest on business programs such as CBC-TV On The Money, Lee is concerned about the rising spectre of protectionism in the United States. "We know that trade is increasingly problematic in the U.S., and we should be doing everything we can not to add fuel to the fire."
He points to government bailouts of Bombardier as provocations to American protectionists. "We should have been working assiduously to prepare the Americans so that we were not going to raise their ire."
Lee says the Bombardier bailout shows the urgent necessity of a stronger NAFTA that has a stronger dispute mechanism. "Stronger rules to prevent subsidies and protectionism. Because we know that countries like to cheat in the trade arena. We need a stronger, better NAFTA, not a watered-down, weaker NAFTA."
Trade and dispute resolution are keys
The U.S. would like the dispute resolution mechanism under Chapter 19 of the NAFTA amended. But there is currently a large gap between the U.S. and its partners. Canada and Mexico support the existing dispute resolution process, which has, for example, ruled in favour of Canada with respect to softwood lumber disputes with the U.S. in the past, notes Brian DePratto, a senior economist with TD Economics in Toronto.
"I think Canada and Mexico are both going to be keen to see them preserved. That can definitely be a big wedge issue," he says.
Another area that has upset the U.S. is the trade balance. President Trump campaigned by repeatedly stating that the U.S. was getting the short end of the stick under NAFTA, particularly with Mexico. Lee says NAFTA has been good for all sides but very good for Canada. "For the past 20 to 30 years, Canada has had a very good NAFTA agreement, where we've been able to go into the U.S. and sell many products to many industries.
"We've said 'you give us access to your markets but we're going to protect ours.' We've not yet come to the existential recognition that it's not business as usual. We think we can continue and even increase our demands."
"I certainly hope that we don't etch in NAFTA what Donald Trump wants, which is for the Americans to have access to federal government procurement, provincial government procurement, and municipal government procurements in Canada," says Cyndee Todgham Cherniak, founder of LexSage Professional Corporation, an international trade law and sales tax firm in Toronto.
"However, they don't want Canadians to be able to bid on U.S. contracts. It has to be U.S. steel, U.S. aluminum, and it has to be U.S. labour. They're basically saying 'open your market, but we'll close ours.' That's just a no go," counters Todgham Cherniak. "Trade is a two-way street. There's give-and-take. Focusing in on trade deficits and trade surpluses is missing the mark," she emphasizes.
The U.S. is likely looking for a way to reduce its trade deficit, agrees DePratto. "Exactly what that might eventually look like is challenging. It could be bigger market access for U.S. agricultural products, for instance. That's something from a Canadian perspective that would involve giving up a little bit of ground but is certainly feasible given experience in recent negotiations."
Lee sees too many "Tarzans thumping their chests" about trade retaliation. "The solution for protectionism is not to pile on more. Nothing is more absurd and counter-productive than to get into a trade war. We need to do become more strategic and ensure that politicians don't cheat in the future because we need to greater access, not less, to the largest marketplace in the world."
Colin Ellis is editor-in-chief of Canadian Accountant. With files from Jeff Buckstein, CPA, CGA.