Business
National
Canadian business confidence sags amidst Trump vs. Trudeau in Q2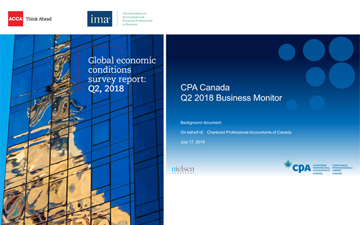 Taxes, trade and tariffs take their toll on business confidence
TORONTO, July 18, 2018 – Taxes, trade and tariffs took their toll on Canadian business confidence in Q2 2018, according to the latest economic surveys published by the Association of Chartered Certified Accountants (ACCA) and the Chartered Professional Accountants of Canada (CPA Canada).
The high-profile fight between Prime Minister Justin Trudeau and U.S. President Donald Trump at the G7 Summit did little to burst U.S. business confidence, but rising U.S. protectionism and the potential for a full-scale trade war between the Trump administration and any number of its economic partners has Canadian accountants in senior executive positions concerned.
Both Q2 2018 surveys were conducted in the first two weeks of June, during a contentious G7 Summit in which President Donald Trump refused to sign a communiqué supporting free trade and entered a testy exchange over tariffs with Prime Minister Justin Trudeau. On May 31, with the G7 Summit just days away, the Trump administration imposed tariffs on steel and aluminum imports from Canada, Mexico and the European Union, under the guise of national security.
"Confidence in North America fell slightly in Q2," according to the ACCA report, "but it is still fairly high compared with the past few years. The fall was mainly due to a sharp drop in Canada, where confidence had reached a record level in the first quarter."
According to CPA Canada's survey, "The number of respondents expressing optimism about the prospects for the Canadian economy over the next 12 months was 32 per cent, essentially unchanged from the opening quarter. However, that is down significantly from the second quarter of 2017 when 50 per cent of respondents expressed an optimistic outlook."
Corporate taxation, personal debt levels seen as threats
According to the CPA Canada survey, fully 68 per cent of respondents see Canada as less competitive to the U.S. as "a place to invest and do business compared to one year ago."
While 39 per cent of respondents cited U.S. protectionism as the top challenge to Canadian economic growth — and just five per cent cited tax reform in the U.S. — Canadian accountants in leadership positions tend to see taxation as the key driver of business competitiveness, rather than market access, business innovation or productivity.
More than three-quarters of Canadian accountants cited taxation as playing "the greatest role in impacting Canada's level of business competitiveness," with 29 per cent citing Canada's overall tax burden and 14 per cent citing U.S. tax reform.
Based on these numbers, CPA Canada renewed its call for a comprehensive review of the Canadian tax system. "Canada's tax system is fundamental to creating a competitive environment," stated Joy Thomas, president and CEO, CPA Canada, in a press release.
"The survey findings reinforce the need for a comprehensive review of Canada's tax system, led by an independent expert panel, that would strive to reduce complexities, address inefficiencies, improve fairness and ensure economic competitiveness."
Labour shortages, however, would also appear to be a threat to Canadian competitiveness. Almost six in ten Canadian business leaders say they have difficulty finding enough skilled workers and professionals to fill certain positions. According to the survey, the positions hardest to fill over the past two years were: skilled trades (37 per cent), skilled/IT positions (22 per cent) and middle management (17 per cent).
Canadian accountants also said the federal government should continue to warn Canadians to reduce their level of personal debt. Four in 10 say our level of personal debt is a threat to the future demand to their company's products and services. Just six per cent disagree that rising personal debt levels are a threat.
The "Global economic conditions survey report: Q2, 2018," is available through the ACCA and Institute of Management Accountants (IMA). The "Q2 2018 Business Monitor" is available through CPA Canada.
Colin Ellis is the managing editor of Canadian Accountant.