Business
Global
Canada 9th of 28 economies in "shadow economy," says ACCA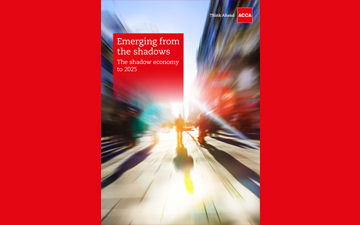 Tepid showing but downward trend in underground economy anticipated through to 2025
TORONTO – Canada has much room to improve in eliminating its "shadow economy" — otherwise known as the "underground economy" — according to a new study from the Association of Chartered Certified Accountants (ACCA). Emerging From the Shadows: The Shadow Economy to 2025 finds the U.S. has the smallest shadow economy (and Azerbaijan the largest), which is defined as the production of and trade in legal goods and services that are deliberately concealed from public authorities.
Out of 28 nations surveyed, Canada has just the ninth smallest shadow economy, representing 14.4 per cent of Gross Domestic Product (GDP) in 2016 — or a loss of approximately $292 billion in untaxed goods and services. This will fall slightly in the coming years, to 13.8 per cent by 2025.
The shadow economy is a fact of life," says Boon Yew Ng, chair of ACCA's Accountancy Futures Academy. "Call it what you will – the informal economy, the underground market, the parallel economy — it represents a significant part of global economic activity. Yet it is unregulated, untaxed and unlawful, and as such represents a significant economic problem."
Globally, the shadow economy is estimated to represent an average 22.5 percent of GDP at the end of 2017. The report admits that "by its nature, it may not be possible to measure with any degree of certainty the size and extent of the SE, but there is no doubt of its existence." Earlier studies have estimated the SE to be worth US$10 trillion and employ 1.8 billion people.
The report cites a wide range of factors for the growth of the SE, with economic factors such as high tax burdens, complexity of the tax system, and tax evasion/ease of tax avoidance all on the rise. In Canada, the three main factors are GDP growth, employment growth, and unemployment. In Azerbaijan, they are corruption control, democratic accountability, and GDP growth.
"The role of professional accountants," says the study, "in an individual and professional capacity, emerges as a key factor that could determine how the SE might develop over the next decade and whether it will shrink or grow over time."
Colin Ellis is the editor-in-chief of Canadian Accountant.