Business
Technology
Companies
Xero launches Analytics Plus, inks global deal with DFK International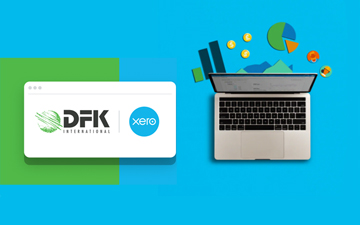 DFK association firms in Canada to use Xero SMB accounting software
TORONTO, July 28, 2020 – Global small business platform provider Xero has announced two new developments that will further support Canadian accounting firms and their SMB clients. The company continues to expand its presence in Canada and position its cloud-based accounting software at the forefront of a post-pandemic economic recovery.
Xero recently announced the launch of Analytics Plus, a new suite of planning and forecasting tools powered by artificial intelligence, designed to help small businesses and their advisors plan for the future. Xero has also officially released Xero Analytics, a free tool for all Xero Business Edition subscribers that combines the existing short-term cash flow tool, which visually projects cash flow over 30 days, and business snapshot tool, providing real-time insights on their business performance.
Canadian businesses are entering the second quarter of 2021 with a positive outlook. However, with supply chain issues and a labour shortage making headlines, and given that 42% of Canadian millennial SMBs identified being better prepared for financial instability as their primary business goal for 2021, it's increasingly clear that SMBs need real-time insights into their cash flow and business performance if they want to weather any uncertainty ahead.
"To truly grow and thrive, every business needs to have access to trusted, insightful data that helps them understand where they are now, make decisions for today and where they might be headed in the future," says Xero Chief Product Officer, Anna Curzon. "Over the past two years, we've worked closely with small businesses and advisors all around the world to build simple, beautiful and powerful tools and reports that give them access to that data, all on the Xero platform," Curzon continues. As our business scale has grown, we now are able to provide powerful AI-powered products that use rich, trusted data, to help small businesses not only understand their current position, but make decisions with confidence based on their future potential."
Canadian DFK firms already using Xero platform
Xero has also signed a three-year global agreement with DFK International, one of the largest international associations of independent accounting firms, which will recognized as a Xero Global Partner. Xero will now be the accounting platform of choice for all DFK independent member firms and SMB clients.
Canadian accounting firms Davis Martindale and Noseworthy Chapman are two members of the DFK alliance that already use the Xero platform. Local DFK member firms who sign a Xero adoption agreement will get access to a range of benefits that provide them with high quality service and support from Xero as part of the Xero Global Partner status.
"DFK is a global association built on local knowledge and expertise," says Martin Sharp, Executive Director at DFK International. "Our member firms are able to connect and share knowledge with their peers around the world, helping them to stay ahead of the curve with new innovation.
"Working with Xero will equip advisors in our network with up-to-date financial data that allows them to provide valuable, tailored support to their clients. We're very excited to be working alongside Xero to help small and medium businesses succeed."
The Xero Global Partner status was launched in March 2021 and is a new way Xero recognises global agreements of this nature with large enterprise accounting firms or associations.
Published by Canadian Accountant with files from Xero and DFK International.