Technology
Business
Profession
Why Deloitte Canada won Ottawa's lucrative vaccine platform contract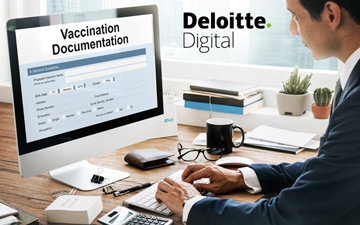 Technology provider Deloitte also delivers US vaccine management platform
TORONTO, Jan. 12, 2021 – Deloitte Canada has won a lucrative federal government contract that will surpass the value of total audit fees earned from new engagement clients of the entire Big Four last year. Public Services and Procurement Canada (PSPC) and Deloitte Canada confirmed to Canadian Accountant that the Big Four professional services firm is the recipient of a $16 million contract to build a new National Vaccine Management IT Platform (NVMIP).
According to the PSPC, the platform currently in use "is functional and is being used to support COVID-19 vaccine roll-out requirements." However, a PSPC spokesperson explained that "the NVMIP solution will provide further functionality to an existing operational system that is already in place, to ensure rapid and successful management of the COVID-19 vaccine administration program across Canada."
The NVMIP contact was not an open tender. According to the Globe and Mail, a draft "request for proposal" letter was on November 30, 2020 to seven companies considered capable of delivering the platform: Big Four professional services firms Deloitte Inc., Ernst & Young LLP, KPMG LLP, and Pricewaterhouse Coopers LLP, as well as consulting firm Accenture Inc., Canadian information technology firm CGI Inc., and global computer giant IBM.
Ottawa told the potential providers that the new system must start working by January. The contract, worth exactly $16,138,945.90 (taxes included), was awarded to Deloitte on January 7, 2021.
Lucrative NVMIP contract far exceeds new audit fees
The vaccine tracking platform contract is further evidence that the Big Four professional services firms are no longer strictly auditors but technology companies as well. As reported by Canadian Accountant, the Big Four lead the consulting market in Canada, earn roughly as much globally from consulting as from audit services, and are leaders in both providing and adopting digital services. (They also regularly name marketers and IT experts as partners in their firms.)
In 2019, the Big Four earned a combined $15,197,438 in audit fees from new engagement clients, with KPMG leading the way with new audit engagement fees of $8.7 million. (All figures in CDN dollars and provided to Canadian Accountant by Audit Analytics from SEDAR analysis.)
But audit fee growth is limited as the Big Four already audits approximately 98 per cent of all Canadian reporting issuers by market cap, according to the Canadian Public Accountability Board. When a change of auditors occurs at a large cap company, it almost always occurs from one member of the Big Four to another.
Deloitte US experience in vaccine tracking
In awarding the contract, Ottawa had only to look to the United States, where a Deloitte Vaccine Administration Management System (VAMS) is in use at the Centers for Disease Control and Prevention. A single-source contract for a new VAMS was announced last September by the Trump Administration.
The Deloitte VAMS application is built on its existing GovConnect Salesforce platform. Deloitte Digital and Salesforce has practitioners in over 30 countries, including across Canada and the USA. Tony Krajewski is Deloitte Canada's Digital Partner and the leader of Deloitte's Americas Salesforce practice based out of Toronto, Canada.
According to ProPublica, a sole source VAMS contract worth a potential $32 million was awarded to Deloitte, effective December 14, 2020. According to Deloitte US, VAMS provides a centralized vaccine management platform that can help state and local public health officials manage vaccine distribution at scale and expedite vaccine administration for a large population.
Many of the concerns expressed by critics of current tracking systems in Canada mirror those of critics in the United States. As reported by Politico, U.S. states already had vaccine registries in place, but the Trump Administration felt the scope of the pandemic required a new, centralized infrastructure at the national level.
Canadian critics have explained that provincial tracking methods are "extremely diverse." The Ontario Medical Association has also stated that "Canada lacks a centralized vaccine-tracking system that would allow government and policy-makers to keep track of who is vaccinated, what vaccines have been used, where vaccine administration has taken place, and identify gaps in uptake."
The Deloitte NVMIP, according to a PSPC spokesperson, will support national visibility and evidence-based decision making at a federal level, while also supporting key provincial, territorial, and other stakeholders in the administration of COVID-19 vaccines by increasing the capabilities of the current operational systems. The NVMIP will help:
support vaccine orders through situational monitoring, supply chain visibility, and functionality for inventory tracking and logistics;
gather information from all available public health entities and provide analytics on vaccine administration and outcomes; and
manage the immunization administration program at various points of administration.
Colin Ellis is a contributing editor to Canadian Accountant. Editor's Note: Deloitte Canada confirmed the contract but referred all questions to Public Services and Procurement Canada.