Practice
Strategy
Global
Accounting firms look globally to serve clients locally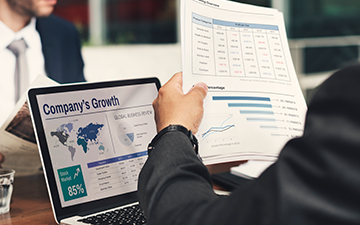 Part 2 of a two-part series on accounting firms providing value-added service
This is part two of a two-part series. Read part one: Why accountants are discussing global trends with clients.
OTTAWA, Nov. 15, 2019 – Accounting firms need to be proactive in providing financial information to their clients. That includes indicators and insights into broader economic trends, say the firms interviewed by Canadian Accountant for our two-part series on global insights as a value-added service. Jim Lutes is a managing partner for EY Canada in the Maritimes. The traditional accounting model does a great job of coalescing historical financial information that is relevant to financial decisions, says Lutes, who is based in Saint John, N.B. But when an entrepreneur operates either a private or public business they must always look forward and be monitoring leading indicators and anticipating future events. So financial information also needs to be proactive.
When a client is pressure-testing a strategy and thinking about the kinds of things they should be monitoring, and the kinds of questions they should be asking, if they've got a seasoned financial professional on the other side of the table, they will always be looking forward, says Lutes.
For example, notes Lutes, business owners are typically looking at issues such as "'How do we optimize or grow cash flow? How do we minimize taxes?' The environment — whether it's the economic environment or interest rates, or tariffs or exchange rate predictability — all of those types of things that bear on performance are the things that they need.
"If you're an owner, you need as rich a perspective as you can get," he stresses.
Canadian Accountants look to the horizon
Paul Drouillard, a partner with DSK LLP in Waterloo Region, Ont., notes that, when the professionals at his firm sit down with their personal and business clients, they will, in addition to going over the financial statements, inquire about what their client sees over the horizon.
"We always want to know 'where do you see your company going?' For example, if they're doing a lot of work, let's say internationally, and are affected by currency exchange fluctuations, if they're operating on tight margins, then we'll discuss strategies such as hedging and buying futures. For example, we will explain, 'What does hedging mean? How does that work?' and ask, 'Is this something that you can consider as a strategy for yourself to protect your margins?'
"Depending on their market that they service, we try and inform them of how to stay in touch with what's going on out there. So if, for example, they are doing a lot of work in the European market, we'll help them tap into the news source of the European market, and tap into all the discussions that are going on with Brexit, because that's going to affect the European Union," says Drouillard.
Many clients are so busy with the day-to-day running of their business, they don't have a lot of time to do the additional research and everything else required to keep informed of international economic and big picture trends.
"As their accountant, we have to become sort of their resource base so we can advise them about what to look at. With the magnitude of the changes in our environment, I think we've become more advisors than anything else. If we don't help to inform them, then they're not going to be able to find the right road," Drouillard elaborates.
Clients always looking for leading-edge indicators
Clients for the most part are pretty savvy. They are generally on top of the news and understand some of the big impacts. Many have been running businesses for years. "But they're always looking for that other insight that perhaps they're missing, and they look to us for that," notes John Hughes, national leader of private enterprise for MNP LLP in Toronto.
"Our firm runs a number of seminars for our clients. It could be on new accounting pronouncements. It could be an economic update. We just did a session recently on cyber-security," he explains.
Experts stress the need for frequent communications as part of a strong, open, and flexible professional-client relationship. Especially in a complex global environment, if anything is occurring anywhere in the world that could impact the client and/or their business, the client needs to be informed.
"If you see something relevant that's potentially impacting your client, then go see them. Talk to them about something that you're aware of that can maybe give them a broader perspective," Lutes advises.
"If you're not talking to your client, somebody else is," he warns.
Jeff Buckstein, CPA, CGA is an Ottawa-based freelance business journalist. Read part one of this two-part series: Why accountants are discussing global trends with clients.