Profession
Standards
New Deloitte Canada report stresses stakeholder role in financial reporting quality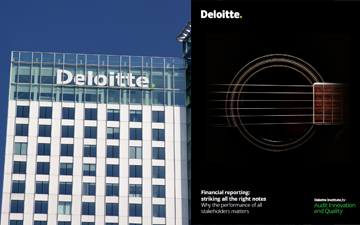 A new report from the Deloitte Institute for Audit Innovation and Quality reinforces the need for all parties to contribute to quality financial reporting
TORONTO, April 19, 2018 – The quality of financial reporting is a shared responsibility between auditors, audit committees, and management, according to a new report by the Deloitte Institute for Audit Innovation and Quality.
In "Financial reporting: striking all the right notes," Deloitte takes a broad view beyond the role of the auditor, examining how the interactions and activities of all the stakeholders involved matter as they relate to quality financial reporting.
The report, which was co-authored by Richard Olfert and Nathalie Tessier, managing partners at Deloitte Canada, "highlights the optimal conditions that companies can aim for in order to achieve high-quality, transparent, and reliable financial reporting," according to a Deloitte spokesperson.
The Deloitte report reinforces comments made by Brian Hunt, the recently retired CEO of the Canadian Public Accountability Board (CPAB), in an interview with the editor of Canadian Accountant. Hunt praised the trend towards a closer collaboration between the three traditional audit parties, noting that "directors of audit committees and the auditors have a role to play in coming up with a quality audit."
While noting that "every business is different," the Deloitte report asserts that "understanding the risks unique to an organization is imperative for everyone involved in the financial reporting process, because business risk manifests itself in a company's financial reporting. The more risks there are, the more they affect how the audit is executed."
The report is most useful for the 10 questions it poses to CFOs and audit committee chairs and its catalogue of corresponding leading practices. For example, the first question for an audit committee chair is, "Do you believe the audit committee has the right composition and dynamics?"
It then describes four leading practices to ensure effective composition: financial literacy and expertise; onboarding and training; audit committee dynamics; and self-assessment. Each leading practice is broken down into actionable items that are simple and easy to follow.
Collaborative, holistic audits
As the Deloitte report notes, "A lot of attention is being paid of late to audit quality. Regulators, think tanks, and auditors have invested considerable effort exploring what precisely generates a quality audit."
While this has taken the form of an international focus on defining audit quality indicators, many organizations are looking at the interpersonal dynamics of the audit cycle. CPAB, for example, has called for what best can be described as an "holistic" approach, and "the need to manage audit quality through robust and effective quality processes, embedding quality along the full audit cycle, not just assessing it at the end through internal and external inspections."
There is also, according to CPAB's 2017 Big Four Inspections Report, "an opportunity for directors to improve this oversight through enhanced engagement with the external auditor and ensuring appropriate quality systems and processes are in place at both the firm and file review levels."
"Financial reporting: striking all the right notes" can be accessed through the Deloitte Institute for Audit Innovation and Quality. Colin Ellis is the managing editor of Canadian Accountant.