Profession
National
Standards
Former Auditor General Sheila Fraser appointed to CPAB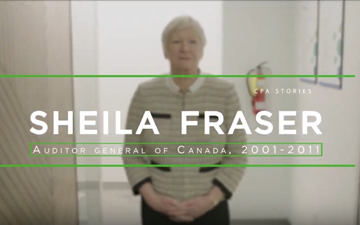 Original activist auditor general joins national audit regulator
TORONTO, March 22, 2019 – Sheila Fraser, arguably the most famous federal auditor general in Canadian history, has been appointed to the board of directors of the Canadian Public Accountability Board (CPAB). Fraser served as Auditor General of Canada from 2001 to 2011, the first female to hold this position, and is best known for her report revealing the "sponsorship scandal," which played an instrumental role in the defeat of the Liberal government and the election of Prime Minister Stephen Harper.
Sheila Fraser, O.C., FCPA, FCA, is also a member of the board of the International Federation of Accountants (IFAC). She was nominated by CPA Canada. She became a chartered accountant in 1974 and is a former partner at Ernst & Young (EY Canada). She was appointed as an Officer of the Order of Canada in 2018 and was a 2009 recipient of the Award of Outstanding Merit, a legacy honour of the Institute of Chartered Accountants of Ontario (ICAO).
In our four-part series, "Canada's activist auditor generals," Fraser is seen as the fountainhead of high-profile auditors general such as Carol Bellringer in B.C. and Bonnie Lysyk. "Sheila Fraser's tenure is, I think, in the modern era of the Auditor General's office, certainly the big turning point. Suddenly the public is aware of who this person is in a very pronounced way," said Emmett Macfarlane, an associate professor of political science at the University of Waterloo.
Support was not universal, as noted in our series. The academic Sharon Sutherland referred to the Office of the Auditor General as a "government in exile," and argued its governing act "made it possible for the OAG to abandon spending accounts in favour of more adventurous consulting-type studies." During Fraser's time in office, however, a Readers Digest poll listed her as one of the top five most trusted Canadians.
The appointment of Fraser was one of several governance changes announced this week by CPAB. The audit watchdog announced the appointment of Benita Warmbold as chair and Sheryl Kennedy as vice chair, effective March 18, 2019. (Warmbold is the first woman to hold the position of board chair at CPAB.) CPAB also announced the appointment of Kevin Kelly, lead director and a former commissioner for the Ontario Securities Commission.
"It is my honor to accept this appointment and to work with such a strong board of directors and management team at CPAB," said Warmbold, a former senior managing director and CFO of the Canada Pension Plan Investment Board. "As a board, we will be focused on overseeing CPAB's continued drive for consistent, high quality public company audits while also meeting the evolving challenges in public company auditing and its regulation."
Added Warmbold, "CPAB's global leadership in audit regulation is a credit to the organization's board and executive leadership, most notably our outgoing Chair Nick Le Pan. I would like to thank Nick for his many years of service and visionary stewardship of the organization. He has left a very strong foundation for us to continue to build on.
"I would also like to welcome Sheila and Kevin to the board; both bring incredible depth of experience to CPAB and will play important roles in CPAB's journey towards sustainable audit quality, in Canada and around the world," said Warmbold.
By Canadian Accountant staff.