Profession
Practice
Standards
Big Four audit quality shows improvement in 2019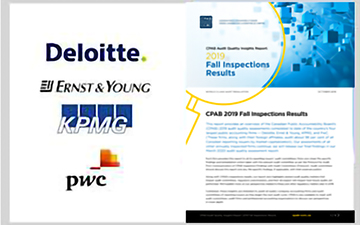 Auditing estimates remains a challenge says CPAB
TORONTO, October 11, 2019 – Canada's audit watchdog says accounting deficiencies are lower this year at the Big Four accounting firms. The Canadian Public Accountability Board (CPAB) releases a fall inspections report each year to report on its inspection of audit engagement files across the four firms. A final, more detailed analysis is released each spring.
CPAB has inspected 66 of 72 audit engagement files that will be reviewed by the end of 2019 across the four firms (Deloitte, Ernst & Young, KPMG, and PwC). It has identified significant findings (deficiencies in the application of generally accepted auditing standards that could result in a restatement of the company's financials) in 12 (18%) of the files. In its 2018 report, CPAB had inspected 77 out of 80 planned engagement files and identified 14 significant inspection findings, also 18 per cent.
By 2021, CPAB wants the firms of the Big Four, which audit 98 per cent of all Canadian reporting issuers by market capitalization, to achieve a performance target of at least 90 per cent of files inspected with no significant findings. Currently, one (unidentified) firm is meeting this target; it is also the most advanced in formalizing its quality management systems (QMS).
Areas of Challenge
One particularly prickly thorn in the side of the Canadian audit and securities regularities is the lack of access to the audit work of foreign companies listed on Canadian exchanges. "Certain countries, including China, continue to prevent CPAB from inspecting the audit work of Canadian public companies conducted in their jurisdictions."
On October 3, 2019, the Canadian Securities Administrators (CSA) published proposed amendments to National Instrument 52-108 (CPAB's governing document) intended to improve CPAB's access to audit working papers, particularly in foreign jurisdictions. If approved, the proposed changes will require reporting issuers to direct audit firms who complete a significant portion of audit work for a reporting issuer's audit to enter into an agreement with CPAB to access their files and inspect their work if those firms will not provide access to CPAB voluntarily upon request.
"We are supportive of the CSA proposal," said Carol Paradine, CEO, CPAB. "It is a streamlined approach that will not unduly increase the efforts of audit firms, reporting issuers or regulators, while allowing CPAB to continue to safeguard audit quality and protect the interests of the investing public in Canada," said Paradine. The amendments are now posted on the CSA members' websites for a 90-day public comment period closing January 2, 2020.
In a recent interview with the Financial Post, however, Paradine admitted that audit access has stalled: "We had been negotiating access arrangements with China, and that has recently stopped," said Carol Paradine, CEO of the Canadian Public Accountability Board. "I think the whole trade environment between Canada, China, the U.S., et cetera, has had an impact on that."
The audit watchdog also noted its ongoing concern with auditing estimates, particularly in the marijuana sector ("cannabis companies"), where the critics of International Financial Reporting Standards (IFRS) have long warned of the potential for fraud. "In particular, assessing financial statement amounts where estimates of fair value are required continues to be a challenge for auditors."
Strengthening Audit Quality through QMS
CPAB has evolved its audit oversight methodology to assess the effectiveness of quality management systems at the four largest firms. This quality assessment approach underscores the need for firms to systemically embed audit quality into ongoing operations across the entire assurance portfolio. CPAB notes the level of commitment from the Big Four and, "while there is more work to do before we can complete our final assessments, some firms have noted the benefit of implementing certain practices which are expected to have a longer-term positive impact on audit quality outcomes."
CPAB will publish its final report for the year in the spring of 2020. This will include an overall evaluation of firms' QMS. CPAB also notes that it is examining several critical audit quality matters concerning the future of the audit, the profession and regulatory oversight. These include the detection of fraud, assessment of going concern, the audit of crypto-assets, and the use of audit quality indicators (AQIs) to provide meaningful quantitative measures of the external audit.
Colin Ellis is a contributing editor to Canadian Accountant.