Partner Posts
Technology
Software
A pause for reflection on the eve of tax season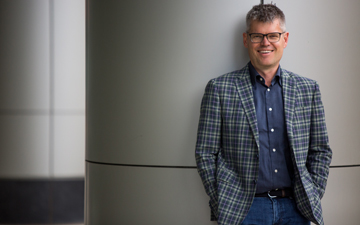 TaxCycle Chief Executive Officer Cameron Peters looks back on the past year of TaxCycle's acquistion by Xero and ahead to the first tax season of integration
IT'S HARD to believe we're halfway through December. It's a crucial time of year for accountants and bookkeepers as not only are the holidays just around the corner, but it's also the eve of tax season. This month also marks the one-year anniversary of TaxCycle being acquired by Xero, so I thought it was a great time to take a look back on the highlights.
Reflecting on the year that was
With a year under our belts as part of Xero, we have a lot to be proud of. Perhaps what makes me the most proud is our ability to maintain our company culture while becoming part of a larger global business. I attribute that to how closely our values align with Xero's.
When a company goes through an acquisition, there's a natural fear the fit won't be quite right. I admit to feeling nervous at the outset. However, my trip earlier this year to the Xero headquarters in Wellington, New Zealand, reaffirmed that joining Xero was the right decision.
The trip showed me Xero's values in action. In fact, this was the first time I'd met many of our new colleagues in person because the entire acquisition process took place remotely. Even the way the office is set up is a direct reflection of the way Xero operates, which is very much in sync with that of TaxCycle: open, collaborative, and communication-oriented. We share a human-centered commitment to keeping accountants and bookkeepers at the heart of everything we do.
This theme continued through the other events I participated in with Xero. At Collision in Toronto, I took part in a mentorship session with several Canadian SMBs and joined my colleagues from Xero on stage to talk about the power of using Xero and TaxCycle for an end-to-end workflow. And Xerocon in New Orleans was hands-down the highest-energy accounting event I've ever attended. The passion among attendees was inspiring.
Back at home, our recent online conference underscored how we've retained the TaxCycle spirit and its close connection to the Canadian accounting community that has driven our innovation up until now. It also shed light on customer responsiveness to the acquisition and how much TaxCycle customers are warming toward Xero. It's been encouraging to see our customer base continue to grow, and take advantage of offers to introduce their small business clients to Xero.
From a tax technology perspective, the most exciting part of this first year was finishing TaxCycle's T2125 and T776 integration with Xero only a few weeks ago. This followed closely on the launch of the T2 GIFI (General Index of Financial Information) integration in the fall of 2021, extending that feature to support sole proprietorships in T1 personal tax returns.
It was a hands-on coding project for me – reminding me of the early days of TaxCycle when every new feature we designed had the power to change how tax preparers worked. I had long dreamed of closing this loop to seamlessly move small business data from accounting systems to our tax software. It seems like a simple idea, but it took the right partner to help us work through the nuances of this integration.
Looking ahead
What's next? Now that the integration is out there, we're looking forward to putting it to the test during its first tax season. And along with that, hearing your feedback.
So much of this first year has been about building the foundation within TaxCycle and Xero to deliver the next generation of tools for our customers. Our team is growing – in Calgary and beyond. The Calgary tech ecosystem is vibrant and we're thrilled that Xero shows such a strong commitment not only to this dynamic tech scene but to Canada as a whole.
In some ways, it's like being back at the beginning of TaxCycle again: gathering ideas, designing architecture and planning projects. I can't wait to start coding and share the results.
I truly feel the best is yet to come. In Xero, we've found a family of like-minded people who share our human values and our passion for building beautiful software. I hope you'll join us on that journey.
Have a great holiday season and smooth tax season.
Cameron Peters has been creating software for the Canadian tax and accounting communities since 1985. Having started his first company, 'Cameron Peters Software Company,' in high school, and subsequently programming his first tax software package (Cantax®), Cameron's career embarked on a successful string of companies and innovative products. He co-founded GreenPoint Software in 1995, and as CEO and chief architect, developed the ProFile® Professional Tax Software Suite that became part of Intuit Canada in 2000. After leading the Professional Tax Business at Intuit Canada for a few years, he became the Director, Consumer Tax in Intuit U.K. launching his third tax software architecture.
In 2005, he returned to Canada as the CTO of Intuit Canada & U.K., leading over 250 development and support staff and helping take the QuickBooks® product from 41% to 60% retail market share. Since leaving Intuit, Cameron has been slowly but surely working towards defining the future of accounting tax services; Trilogy is the culmination of his efforts thus far and was acquired by Xero in December 2021.