Profiles
CPAs
Practice
Obituary: Everett Colby, charismatic Ottawa-area accountant, dies at 57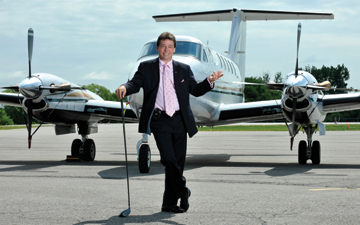 Accounting career allowed former Chair of CGA Ontario and principal of Colby McGeachy Professional Corporation to indulge his passions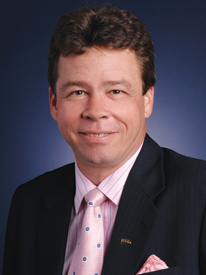 Everett Edward Colby, Jr., FCPA, FCGA,

October 01, 1963 - February 08, 2021.
Ottawa, Feb. 10, 2021 – Everett Edward Colby, Jr., FCPA, FCGA, who built a successful accounting practice in Almonte, Ontario with partner Dawn McGeachy, FCPA, FCGA, died on Monday at age 57. The former Council Chair of the Certified General Accountants of Ontario was known as a gifted storyteller and charismatic personality who, in the words of his family, "could make friends with a rock."
A born entertainer, his roster of clients included actors, singers, authors and professional athletes—and, like many performers, Everett took pride in his appearance. He had an extensive wardrobe and vast collection of dress shirts. He was also an avid golfer who had played at both unique and championship courses around the world. In an interview I conducted with Everett in 2009 for CGA Ontario's Statements Magazine, he stated: "My philosophy is 'you work hard to play hard.' And my life as a CGA has taken me around the world and allowed me to indulge my passion for the game of golf."
Colby was born in Brooklyn, one of the five boroughs of New York City, and bore some of the pleasantly pugnacious quality of his birthplace. He grew up in a family of bankers that moved often, from state to state, which he credited with broadening his horizons. Eventually, his practice reflected his upbringing, with clients in more than 10 countries around the world, and from coast to coast in Canada and the United States.
Following the signing of the Free Trade Agreement in the 1980s, Colby worked in Canada as a cross-border banking consultant, when an invitation to a dinner with a number of professional accountants changed his life. Within weeks he joined an accounting firm and enrolled in the CGA program of professional studies, prior to the merger of the three legacy professional accounting designations.
After marrying Dawn McGeachy in 2005, Colby moved to the Ottawa region and two firms (Colby and Associates, McGeachy & McGeachy) became Colby McGeachy Professional Corporation. Colby became widely known as an expert on cross-border tax issues and anti-money laundering legislation. He earned his certified fraud examiner and chartered director designations. And he served as CGA Ontario Council Chair in 2009-10.
In 2009, Everett agreed to meet me at the Buttonville Municipal Airport outside Toronto, for his incoming Chair's Profile for Statements Magazine. The photographer, Gary Beechey, and I pitched a visual way to tell Everett's story, a concept to which he agreed enthusiastically. Not only did he dress up for the occasion, he brought along his golf clubs.
As Gary snapped away, searching for the right shot, the sun rose higher and the tarmac got hotter. Wiping at his brow, Everett never flagged — gracious and funny until we captured just the right moment, with Everett grinning broadly, his golf ball suspended in the air above his palm. As McGeachy Colby wrote on its Facebook page: "In a beautiful suit, colourful shirt and tie, with a golf club in his hand, beaming in front of the airplane, his spirit was perfectly captured along with his passion for work, golf and travel."
Colby McGeachy was a trusted source for practice stories on Canadian Accountant, including Jeff Buckstein's series on how the coronavirus was accelerating change at SME accounting firms across Canada. In 2018, Colby was open about his struggles with Type 1 diabetes, and the challenges of taking insulin four times a day. He was pleased with the Canada Revenue Agency's decision to return to earlier criteria on disability tax credit (DTC) applications. "Kudos to whoever was lobbying on the unfairness of this. It's nice to see that [the CRA] can admit when something just isn't right," he said.
To read more about Everett Edward Colby, Jr., read his official obituary. Condolences can also be posted on the Colby McGeachy Facebook page. Click here to download a PDF of his profile in Statements Magazine.
Colin Ellis is a contributing editor to Canadian Accountant and the former editor of CGA Ontario's Statements Magazine.