Profession
Thought Leaders
Why the accounting profession should regulate legal services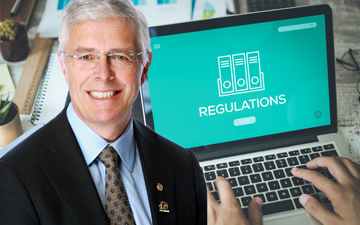 Non-lawyer regulation would benefit accountants and lawyers, says Gary Goodwin
WINNIPEG – To facilitate innovation and access to justice, should law societies relinquish their monopoly? If the various law societies could accept this idea in principle, entering a strategic alliance would be one way to co-ordinate this type of divestment. The major accounting firms are already providing advice of a legal nature in many cases, and fulfilling the public's legal needs this way could alleviate any pressure for the province to step in and deregulate.
For example, if a law society intended to regulate lawyers and non-lawyers, then the accounting profession could be encouraged to develop the various standards and competencies for these new non-lawyers. The accounting firms would be well positioned to develop a viable business model for this category of alternative legal service providers. Viability means providing the unmet legal services at a much lower cost by operating at a larger scale, providing larger volumes of legal advice and requiring smaller margins. These lower costs could come about by the greater use of technology and artificial intelligence.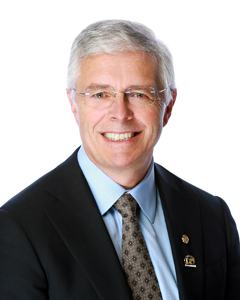 Gary Goodwin, BSc LLB MBA LLM
The benefits of relinquishing control
To structure this alliance, we should determine what type of monopoly law societies have over legal services. The term monopoly has a somewhat negative connotation. Generally, a monopoly provides control over a supply or service or erection of barriers to new entrants, but some groups do not accept that lawyers and law societies maintain a monopoly over the supply of legal services.
Manitoba, where I live, is currently addressing whether it should relinquish some control over legal services. The Manitoba Law Society's strategic plan outlines that it intends to explore the notion of giving up its monopoly. Manitoba's Legal Profession Act states that the purpose of the society is to uphold and protect the public interest in the delivery of legal services with competence, integrity and independence. The society must also establish standards and regulate the practice of law in Manitoba.
Whether this defines a true monopoly could be difficult to argue, since anyone passing the law society's set standards could then practise law and charge the market price or anywhere below this to attract market share. This ability to set one's own price undermines the idea that this is a monopoly.
Law society legislation also provides exemptions in that anyone acting on their own behalf is not practising law. Also, a notary public acting within their own powers is not practising law. Manitoba's legislation offers other situations that encompass the practice of law, such as drafting documents, litigation or any documents dealing with the sale of real or personal property.
Whether lawyers do in fact have a monopoly, there are many compelling reasons why a strategic partnership is important to consider. The most important is that access to justice continues to be a major issue.
More individuals represent themselves in litigation. Many people do not even attempt to deal with their legal issues. They often question the cost and whether a lawyer is even necessary. However, people often then bring legal-type questions to their accountant, which suggests the public would more easily use this channel. In its Futures Initiative, the CBA also acknowledged that some legal services will not require delivery under regulated standards in the future.
Integrating non-lawyers into the legal system
Allowing non-lawyers to deliver legal services raises many issues. In B.C., where it is also wrestling with these issues, the Law Society of British Columbia's 2008 report entitled Towards a New Regulatory Model described how the time had come to look at potentially providing other groups the ability to deliver legal services. The policy direction took further shape in a 2013 background paper task force.
The LSBC examined different models and concluded that non-lawyers should also be governed by the law society instead of some separate regulatory authority. Having one governing body would help develop consistent standards. However, having strategic partners developing these criteria would certainly speed the process along as well.
The LSBC discussed what sort of education should be provided and what areas should these individuals be allowed to practise. By using a strategic alliance, the accounting firm could develop these standards for consideration. The accounting firms could also examine what markets require legal services and the potential revenues that could be generated.
Since these non-lawyers would have different skills and training, how would they integrate into the existing legal system? Washington State, for example, has a slightly different lawyer governance model under the judiciary. The state successfully developed other levels of legal service providers such as "limited license legal technicians." This LLIT board governs this group and appears to have integrated well with existing legal service providers.
There is a second major reason to relinquish control over legal services. If we examine businesses other than law, we can see how competition becomes one of the main drivers of innovation. A monopoly does not face this same urgent need to innovate to remain competitive. The accounting profession has been quick to seize upon various technological innovations. The law societies could leverage this expertise to facilitate the work of these non-lawyers.
What impacts would such a change have on the legal profession? We can see that a substantial portion of the market for legal service is not being served by lawyers. Allowing non-lawyers to service this market segment should have minimal impact on the legal profession itself. Indeed, this could potentially increase the need for lawyer services by referrals from the non-lawyer group once it was recognized that professional services were required.
The LSBC raised concerns about the impact on the independence of the legal profession. This independence ensures that lawyers operate separately from the government and act against the government when necessary. They took the position that this independence could be negatively impacted by allowing non-lawyers to regulate. However, this issue should not override the concern that most of the population does not receive any type of legal service. This perspective does not adequately address the overall need for a client-centred approach.
One can lose sight of the overall objectives of increasing innovation and access to justice by focusing on potential impediments. The CBA Futures paper outlined client needs and a client-centric approach to drive innovation. This can't be stressed enough.
Looking at any other business, the needs of the client will help to develop strategies to fulfil those needs. Any business must establish its value proposition. The debate about loosening the monopoly of the governing structure for legal services cannot lose sight of this. Establishing the appropriate strategic alliances could help fulfil these objectives.
Gary Goodwin is an executive corporate secretary and counsel for a not-for-profit organization based in Winnipeg. He writes "The Untethered Lawyer" column for Canadian Lawyer. This article originally appeared in the September 2018 issue of Canadian Lawyer magazine, published by Thomson Reuters.