Profession
Terry LeBlanc, FCPA, FCGA, named chair, board of directors, CPA Canada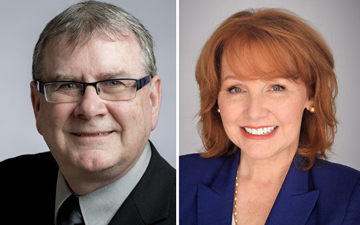 Amanda Whitewood, FCPA, FCMA, named vice-chair, Chartered Professional Accountants of Canada
TORONTO, Sept. 28, 2017 – Terry LeBlanc, FCPA, FCGA, has been named the new chair of the board of directors of the Chartered Professional Accountants of Canada (CPA Canada). The news was announced following CPA Canada's annual general meeting in Quebec City yesterday. Amanda Whitewood, FCPA, FCMA, assumes the role of vice-chair.
LeBlanc has served as a board member since 2013 and as vice-chair since 2015. He succeeds Alain Côté, FCPA, FCA, who leaves after four years on the board, including two as chair. "Terry brings valued experience and an unwavering commitment to our members and the profession," says Côté.
LeBlanc is a graduate of l'Université de Moncton and a retired executive of the Canada Revenue Agency (CRA). His 33 years of service with the CRA in the Atlantic Region involved a variety of senior leadership roles including overseeing criminal investigations, audits and tax services, culminating in appointment as account executive responsible for intergovernmental relations.
He also served as special advisor to the assistant commissioner and in 2010 was awarded the prestigious Public Service Award of Excellence by the Clerk of the Privy Council.
"I am honoured to play a leadership role as we expand the worldwide recognition and value of the Canadian CPA brand and equip our members to thrive in this era of ever-evolving change, especially with respect to technology," says LeBlanc. "Technology affects our members in so many ways when you consider data gathering, analysis and the management of that information."
Whitewood draws on more than 25 years of leadership experience in healthcare, post-secondary education and government sectors. A native of British Columbia, she currently serves as chief financial officer and director of finance and asset management for the Halifax Regional Municipality.
"The profession is going to be relied upon to keep organizations ahead of the curve in today's rapidly changing and technology driven world," says Whitewood. "I am privileged to serve as vice-chair and firmly believe the profession can successfully meet the challenges of tomorrow."
Both LeBlanc and Whitewood add that they are proud to be part of an organization that champions the Canadian ideal of good business where sustainable growth, compassion and social development are valued.
Colin Ellis is editor-in-chief of Canadian Accountant. All source content and images provided by CPA Canada.