Profession
National
Taxation
Sunday News Roundup 23.03.19: Tax change speculation, everything MNP everywhere and more Canadian accounting news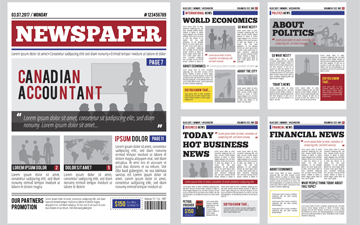 Wrapping up the odds and ends from the past week in Canadian accounting news
Subscribe to our weekly newsletter and get all the week's stories. Click here to sign up.
TORONTO, Mar. 19, 2023 – Finance Minister Chrystia Freeland announced this past week that the federal government will table its 2023 budget on March 28, 2023. Speculation has already begun as to how the Liberals will balance demands for deficit reduction with calls for increased health-care spending and keeping Canada competitive with the United States and its investments in clean technology.
For the benefit of Canadian accountants, however, we turn to the 273 times that the word "tax" is mentioned Responding to the Challenges of Our Time, the recent report from the influential Standing Committee on Finance. Among the highlights are the mention of Alta Energy Luxembourg not once but twice, "which alone deprived the government of tax revenues calculated on capital gains of approximately $380 million." Apparently hell hath no fury like a government that loses before the Supreme Court of Canada.
Jamie Golombek talks about the recommendations in Capital gains tax and more changes that could target higher-income Canadians in the next federal budget. In addition to Golombek's analysis — and the treaty shopping related to Alta Energy — the report mentions still more funding for the Canada Revenue Agency, and an "automatic and substantial penalty, the amount of which could be discretionary … giving the GAAR a more effective tax deterrent effect."
And now, on to the rest of the news from the past week in Canadian accounting.
The capital gains go round and round
About a month ago, Rhys Kesselman of Simon Fraser University destroyed the financial jiggery-pokery of a study conducted by the Fraser Institute on capital gains, "with errors at the levels of fact, concept and method." Cue the howls of outrage from readers of the Financial Post printed this past week. "We boomers have paid enough taxes already!" writes one reader. But what about inflation? writes another.
The Fraser Institute's study was originally reported by Jamie Golombek of the CIBC who writes regularly for the Financial Post. Golombek was nothing but fair-minded when he reported on Kesselman's capital gains criticism in the article previously mentioned. Golombek also linked to an interview with Bruce Ball of CPA Canada about "sophisticated tax strategies that could buy you some time if you're unsure what could happen to the inclusion rate on budget day."
The role of the FASB in SVP Bank failure
There's been a lot of commentary about the failure of Silicon Valley Bank. And just today the announcement of UBS in Switzerland taking over number two rival Credit Suisse. But this article from Yahoo Finance explains a 1993 rule from the Financial Accounting Standards Board that required companies to begin classifying the fair market values of debt securities in particular ways.
The article is somewhat amusing in unintended ways. For example, stating "regulators ... faced pushback from banks and some public officials," and compromised to allow smaller banks to opt out of rules, but "regulators moved the bar higher in 2019 to only encompass banks with more than $700 billion in assets." From another perspective, one might say that regulators bowed to the banking lobby, which was successfully lobbied the Trump Administration to lower the bar further.
Accounting Dealbook: Everything MNP everywhere all at once
Homegrown national accounting firm is everything everywhere and all at once when it comes to accounting deals. This past week the firm announced another acquisition, picking up SVS Group LLP out of Edmonton. With six partners and 40 staff members, SVS Group is large regional presence, and will remain at its present office location.
The acquisitions are coming "fast and furious." Last week MNP picked up another Quebec firm, Sylvain Béland CPA inc., in the Mauricie Region, where staff will join the Shawinigan office of MNP. By our count, that makes four acquisitions since the year began, plus another couple in December, in Alberta, Quebec and British Columbia.
Quick Hits: Articles of Interest
Canadian
How the proposed new EIFEL rules will affect Canadian taxpayers (MNP)
So an accountant and a chiropractor walk into a comedy club... (Ottawa Citizen)
Letters: We boomers have paid enough taxes already (National Post)
Claiming the Ontario staycation tax credit on an Airbnb trip? You may run into trouble (CBC)
International
KPMG Gave No Auditor Warning Before Back-to-Back Bank Failures (Bloomberg Tax)
SVB's Billions in 'Hidden' Asset Losses Reopen Accounting Debate (Bloomberg Tax)
Multinational Tax Details to Be Revealed In Accounting Plan (1) (Bloomberg Tax)
China Suspends Deloitte's Beijing Office Over Huarong Auditing (BNN Bloomberg)
China fines Deloitte $31 million for auditing negligence (Reuters)
US regulators to meet Deloitte, EY in Hong Kong next week to prepare for summer inspections of audits of US-listed Chinese firms (South China Morning Post)
How Xero's start-up buyout went from $31m to zero within three years (Financial Review Australia)
Costco Gets a Boost as Impact of Last-In, First-Out Accounting Fades (Wall Street Journal)
Fed's Magical Accounting Might Save Banks but Doom Rate Increases (Wall Street Journal)
Five questions to ask when hiring a contractor accountant (Contractor UK)
Bid opens to fire SC comptroller for $3.5B accounting error (Canadian Press)
By Canadian Accountant staff.