Profession
National
Taxation
Sunday News Roundup 22.02.20: Emergency Act, crypto accounting lawsuit, cutting taxes and more 
Wrapping up the odds and ends in this week's Canadian accounting news
Subscribe to our weekly newsletter and get all the week's stories. Click here to sign up.
TORONTO, February 20, 2022 – While the biggest global story in accounting this week was the news that accounting firm Mazars had dropped Donald Trump as a client, the crackdown on protestors in Ottawa had a financial aspect of interest to accountants. Under the Emergencies Act, banks have been ordered to freeze personal and corporate bank accounts suspected of being used by people violating the regulations, and are protected from civil liability in enforcing the order.
This comes about a week after the website Distributed Denial of Secrets published the names of donors who sent money to protestors through the crowdfunding platform GiveSendGo. The Globe and Mail has a breakdown of the funding here. And now, on to a few less volatile odds and ends in news from the past week in Canadian accounting.
Crypto company sues MNP LLP in BC Supreme Court over audit freeze
Both Stockwatch and Business in Vancouver published articles this week on a lawsuit currently in BC Supreme Court involving cryptocurrencies and accounting audits. DMG Blockchain Solutions is suing Canada's largest homegrown audit firm for backing out of its 2018 audit. The crypto company alleges that the accounting firm's actions led to a cease trade order.
There's an interesting back story this involving the Canadian Public Accountability Board (CPAB). Back in 2019, CPAB issued a report warning auditors of significant issues it was finding in blockchain audits. As the Globe and Mail reported at the time, cryptocurrency companies suddenly found they couldn't get their books audited, which in turn caused listing problems. The DMG lawsuit, according to BIV, alleges the CPAB guidance document "had the effect of scaring auditors like MNP away from working with cryptocurrency companies."
Deloitte digital expands in Atlantic Canada
New Brunswick is practically giddy over the prospect of 200 jobs in Moncton courtesy of Deloitte. For keen observers of the Big Four accounting firms, the planned "Canadian Delivery Centre," which will provide technical, functional, and HR-related "transformation services," is more evidence of Deloitte betting big on digital — a bet that is working out well. "This expansion will boost Deloitte's capabilities in the region, as its current delivery center is based in Montreal."
Speaking of Deloitte, the professional services firm announced this week that it was giving $175,000 annually for three years to Indspire, an Indigenous-led organization in education providing scholarships, training, and curriculum from coast to coast.
Cut taxes … or change the tax code
Not a week goes by without some group or person lobbying to cut their taxes. In the Toronto Star, Frank Stronach is back, lobbying to eliminate taxes on small businesses. Sorry, SME accounting firms, Stronach wants his idea to apply to manufacturers and providers of non-financial services only.
Over at the Globe and Mail, a former tax partner at a Bay Street law firm somehow got Patrick Brethour to promote his views, which mainly consist of shifting from income taxes to consumption taxes, and "a capital pool approach to capital gains." At the very least, the interview sparked over 200 comments, and the debates are as interesting as the article.
And finally, Jack Mintz at the Financial Post says "Canada's corporate income tax is a mess," in We need a big-bang corporate tax reform. Mintz says "My proposal isn't perfect, but it is better than the current system, which is exceptionally distortionary, with high economic, compliance and administrative costs."
Xero making news — three items of interest
Last December, global small business software company Xero made a major acquisition in Canada, when it bought TaxCycle, the homegrown professional tax preparation software for Canadian accountants and bookkeepers. It was arguably Xero's most significant acquisition in Canada since buying Hubdoc, the Canadian data entry startup used by many Canadian accountants.
TaxCycle, which is based in Calgary, has been a favourite for years amongst CPAs. CPA Canada's Pivot Magazine called its founder, Cameron Peters, "the Steve Jobs of Canadian tax preparation." Because the company was intimately familiar with the trials and tribulations of filing tax returns to the Canada Revenue Agency. It had built a customer base of 4,000 tax firms and over 16,000 individual accountants, bookkeepers, and tax preparers across the country with its desktop-based offering, according to Betakit. Xero bought the Canadian company for $75 million.
In 2021, Xero announced that it had signed a three-year global agreement with DFK International, under which Xero would become the accounting platform of choice for all DFK independent member firms. Just this past week, Xero announced a new partnership with Teed Saunders Doyle, an accounting firm based in New Brunswick, marking the first Canadian adoption of Xero's partnership with DFK. Expect more of such announcements in the future, as DFK boasts some very big brand names in Canadian accounting firms.
We don't know how much of this can be attributed to the leadership of Faye Pang, Canada Country Manager at Xero. But Pang continues to raise the profile of Xero in Canada. This past week, Pang was featured in the Globe and Mail, discussing the importance of employee incentive programs during the pandemic. You can read more on Pang and her classic Canadian immigrant story, in a series of articles about Xero on Canadian Accountant.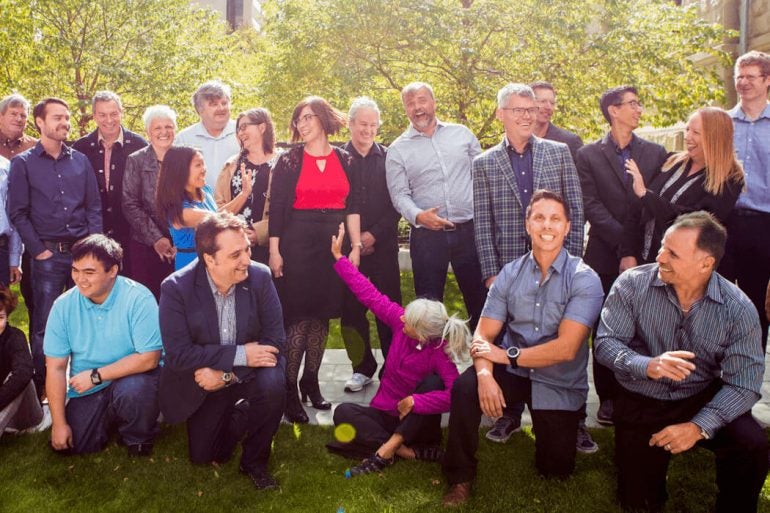 The Calgary-based team at TaxCycle. Company founder Cameron Peters is standing, fifth from the right (wearing eyeglasses). (Courtesy: TaxCycle.)
KPMG electric vehicle survey blows hot and cold
Five days ago, KPMG Canada came out with a survey that was pretty much summed up in the headline: Canadians hot on electric vehicles but cold on charging ability. Seven out of 10 Canadians would consider buying an EV as their next car purchase, according to the survey, but are concerned about battery life during cold conditions. Not surprisingly, the survey was taken between Dec. 17, 2021 and Jan. 4, 2022.
It was interesting to see how news outlets covered the story. Consider, for example, Most Canadians would consider EV, but worry about winter: survey (Driving) and versus Harsh winter conditions an obstacle to EV adoption in Canada: survey (Yahoo Finance), for a different spin on the same survey. We recommend reading Your next car will be electric. Why did it take so long? (Canada's National Observer) for perspective.
China's greenwashing Games
Samir Trabelsi is a well-known professor of accounting and governance at Brock University. This past week he weighed in on China's claims to be hosting the first carbon-neutral Olympic Games. "On the surface, these things look great," said Trabelsi. "But these are symbolic disclosures. They're not substantive; they don't really tell the whole story." Excellent article.
Quick Hits
KPMG makes every weekend a long weekend in July and August (Consulting.ca)
Conservatives ditch carbon pricing plan (National Observer)
By Canadian Accountant staff.